Official resigns over sexual assault case
'NEGLIGENCE': After reporting the incident, her superior allegedly asked her why she did not scream, which was an inappropriate attempt to ignore the allegations, critics said
An accusation of sexual harassment led to the resignation of a top Democratic Progressive Party (DPP) official, while President Tsai Ing-wen (蔡英文) has called for a thorough investigation into the incident involving a contractor.
Vice President and DPP Chairman William Lai (賴清德) yesterday said he approved the resignation of DPP deputy secretary-general Hsu Chia-tien (許嘉恬), who headed the party's Women's Development Department when the alleged incident happened in September last year.
"Gender equality is among our party's core values, that we have strived for and advanced along with Taiwanese society," Lai said. "The DPP did not handle it appropriately at the time, causing more pain for the victim... I apologize to the victim and to society."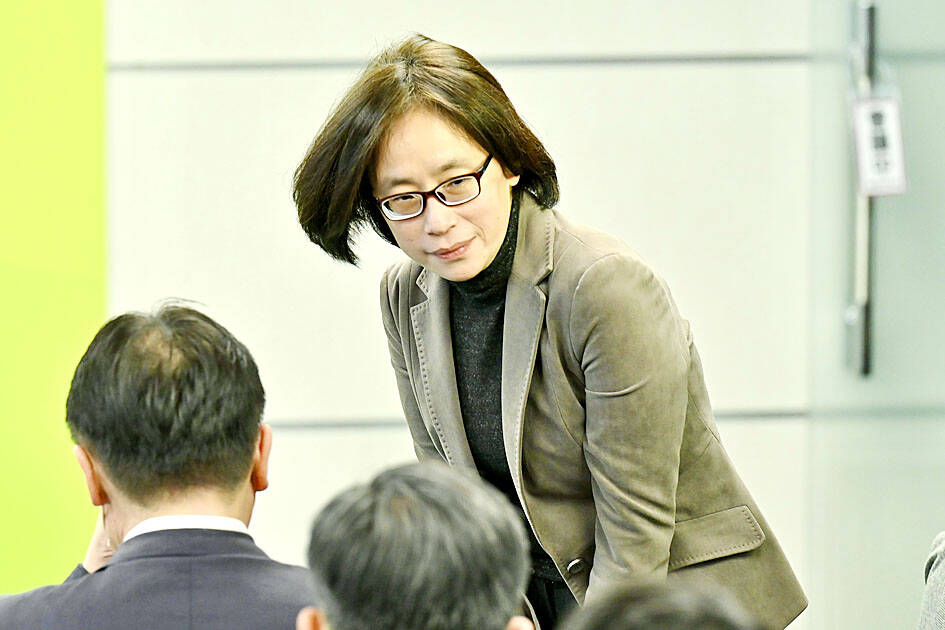 Democratic Progressive Party deputy secretary-general Hsu Chia-tien is pictured in Taipei on Jan. 18.
Photo: Tu Chien-jung, Taipei Times
After learning about the incident, Lai said he instructed DPP Secretary-General Hsu Li-ming (許立明) to ensure the party undertakes an "open and transparent" investigation, upholding the "zero tolerance" principle.
"We must assess our party's internal mechanism for filing complaints and reporting rights violations to office superiors. If there is negligence and deficiencies, then we must admit wrongdoing and rectify the problems. We must fully protect the safety of all party members while on duty," he said.
On Wednesday, a former female staffer at the department wrote online that when filming a video with a contracted media company in September last year, the director made sexual advances and groped her while seated inside a vehicle as the crew returned to Taipei after shooting on location.
She alleged that the male director caressed her on the neck, then groped her chest and shoulder area.
As she was tired after a long day of work, she said that at first she was confused, but she became fearful, adding that he made further sexual advances when they returned to the studio.
After returning, she informed her colleague of the incident and reported it to their office superior Hsu Chia-tien, she said.
Hsu Chia-tien treated her coldly and asked why she did not jump out of the vehicle or scream, the woman said.
The response was negligent and an attempt to sweep the alleged sexual harassment under the rug, critics said.
DPP spokespeople at a news conference yesterday issued a public apology for Hsu Chia-tien's inappropriate handling of the matter.
An investigation would be conducted and all projects with the video production team would be terminated, they said.
Meanwhile, Chinese Nationalist Party (KMT) Chairman Eric Chu (朱立倫) berated Lai, who is the DPP's presidential candidate.
"Lai did not face this matter directly, and he must take responsibility and explain to the public how the DPP handled the aftermath of the incident," he said.
New Taipei City Mayor and KMT presidential candidate Hou You-yi (侯友宜) said that Lai helped cover up the incident, and demanded a public explanation.
"Why did the DPP conceal this case for so long, and through these months, has Lai paid any attention to it?" he asked. "This case concerns Hsu Chia-tien, who covered it up. Did Lai promote her to DPP deputy secretary-general? Does the perpetrator have links with DPP officials?"
Comments will be moderated. Keep comments relevant to the article. Remarks containing abusive and obscene language, personal attacks of any kind or promotion will be removed and the user banned. Final decision will be at the discretion of the Taipei Times.