Nuclear-free homeland stance unchanged: DPP
'CAN'T BE DONE': Nuclear power is one among many options for the nation's energy supplies, and it is not possible to be 'nuclear-free' by 2025, Hou You-yi said
The Democratic Progressive Party (DPP) yesterday said that its stance on a "nuclear-free homeland" remains unchanged.
Vice President William Lai (賴清德), the DPP's candidate for next year's presidential election, at a forum on Sunday said that government agencies were studying the feasibility of maintaining closed nuclear reactors so they could be restarted in case of an emergency.
This led to speculation that President Tsai Ing-wen's (蔡英文) promise of a nuclear-free Taiwan by 2025 might not be fulfilled.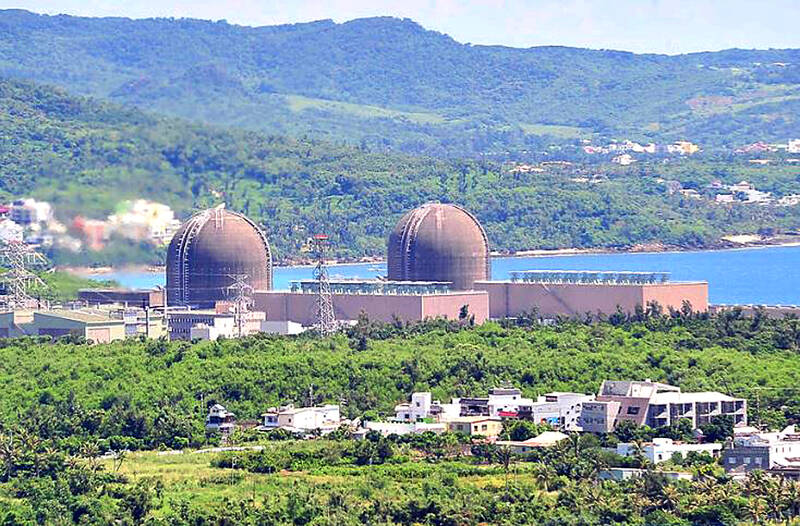 The Ma-anshan Nuclear Power Plant in Pingtung County is pictured in an undated photograph.
Photo: Tsai Tsung-hsien, Taipei Times
Chen Shih-kai (陳世凱), spokesperson for Lai's election campaign, yesterday said that Lai's remarks were in response to a student's question: If Taiwan got into an extreme situation such as a war or a blockade, how can the energy gap be filled?
Lai's answer was based on a hypothetical situation in which national security is at risk due to "extreme" external conditions, Chen said.
Taiwan should boost its energy self-sufficiency, Lai said, adding that it should develop plans to respond to emergencies and extreme situations.
Decisions made during unusual and extreme situations require social consensus, he said.
Lai did not mention or support extending the use of the Jinshan Nuclear Power Plant in New Taipei City's Shihmen District (石門) or the Guosheng Nuclear Power Plant in New Taipei City's Wanli District (萬里), the reactors of which have been shut down, Chen said.
DPP spokesman Chang Chih-hao (張志豪) yesterday said that the party's promise of a "nuclear-free homeland" remains unchanged and the government would continue to develop and increase the ratio of energy from renewable sources.
Lai repeatedly emphasized the importance of renewable energy development and energy self-sufficiency at the forum, Chang said.
It is the DPP's priority to expand self-sufficient renewable energy and energy storage equipment, to save electricity and reduce consumption, he said.
Premier Chen Chien-jen (陳建仁) has said many times that the goal of a "nuclear-free homeland" is a consensus in Taiwan, Cabinet spokesman Alan Lin (林子倫) said yesterday, adding that it has always been the government's goal.
New Taipei City Mayor Hou You-yi (侯友宜), the Chinese Nationalist Party (KMT) candidate for the presidential election, yesterday said that if elected, he would ensure nuclear safety and manage nuclear waste.
Nuclear power is one option among the nation's diverse energy sources that he supports, Hou said, making his first statement on nuclear power as a presidential candidate.
He said he would ensure that energy sources are in line with global trends, and that there would be no shortage of electricity.
Asked about the DPP's goal of creating a nuclear-free Taiwan by 2025, he said that "it can't be done, really can't be done."
Meanwhile, regarding the Supreme Court's ruling to uphold the life imprisonment of a man who was initially sentenced to death for setting fire to his rented residence, killing nine people, Hou said that the death penalty is fair, just and in line with public expectations.
"I'm against abolishing the death penalty," he added.
Additional reporting by Lai Hsiao-tung and Chung Li-hua
Comments will be moderated. Keep comments relevant to the article. Remarks containing abusive and obscene language, personal attacks of any kind or promotion will be removed and the user banned. Final decision will be at the discretion of the Taipei Times.