Communication vital to peace: official
INDO-PACIFIC SECURITY: US officials have proposed telephone calls, meetings and dialogue, but China has repeatedly rebuffed them, a US vice defense secretary said
Open communication channels between the US and China are important in maintaining peace and stability across the Taiwan Strait, US Assistant Secretary of Defense for Indo-Pacific Affairs Ely Ratner said on Thursday.
Ratner made the remark at an event held by the Washington-based Center for Strategic and International Studies to discuss the US' role in Indo-Pacific security.
The event was held prior to US Secretary of Defense Lloyd Austin's planned trip to Japan, Singapore, India and France next week, which includes attending the 20th Shangri-La Dialogue in Singapore, the US Department of Defense said in a press release on Thursday.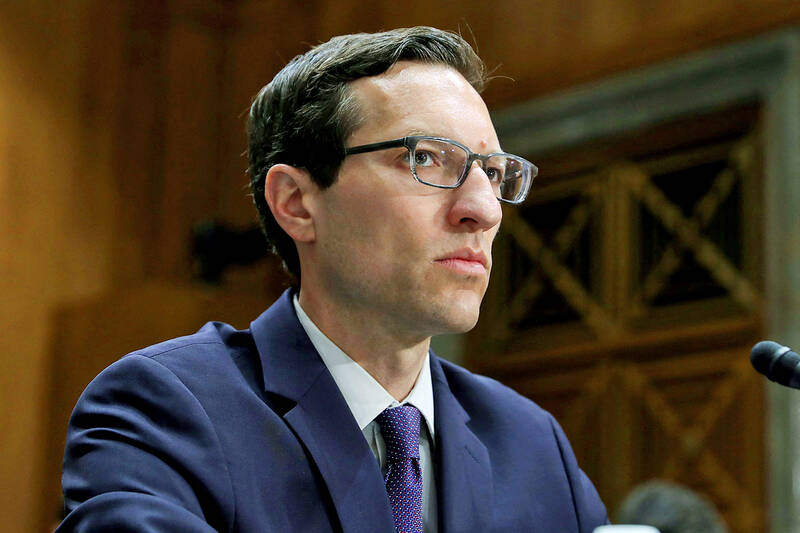 US Assistant Secretary of Defense for Indo-Pacific Security Affairs Ely Ratner listens to lawmakers' statements during a US Senate Committee on Foreign Relations hearing about the government's policy toward China in the "era of strategic competition" at the Capitol in Washington on Feb. 9.
Photo: Reuters
Deterring China does not only involve the defense capabilities of the US and its allies, but also the types of interaction between the US and China, where communication is "an important ingredient to maintain peace," Ratner said.
Austin has repeatedly underlined the importance of open lines of communication with Beijing to prevent misperception and miscalculation during peacetime or crisis, he said.
US officials, such as Austin, US Joint Chiefs of Staff Chairman General Mark Milley and US Indo-Pacific Commander Admiral John Aquilino, have proposed telephone calls, meetings and dialogue with Beijing, but has "repeatedly have had those requests rejected or not answered," he said.
The US and the department "have had an outstretched hand on this question of military-to-military engagement and we have yet to have had a consistently willing partner," he said.
For example, several weeks ago, Austin and the department initiated requests to meet with Chinese Minister of National Defense Li Shangfu (李尚福) at the Shangri-La Dialogue, which "has not been answered one way or another," he said.
China said that Li has been sanctioned under the Countering America's Adversaries Through Sanctions Act, but the sanction has "no legal or technical bearing on" the meeting, Ratner said.
The US often experiences difficulties in leveraging the communication channels with China, which is "often shifting from one reason to another as to why at any particular moment it is inopportune or inconvenient," he said.
Regarding US commitment to Taiwan, Ratner said that Washington has "a clear objective to maintain the 'status quo' in the Taiwan Strait" as it believes that to be in the best interests of the entire region.
Under the Taiwan Relations Act, the US is committed to providing Taiwan with the defensive arms it needs to defend itself and maintaining its own capacity to resist coercive efforts, he said.
"Conflict across the Strait is either inevitable or imminent," as the US is confident that "deterrence is real, and deterrence is strong," he said.
"Our job is to keep it that way tomorrow. Next week, next year and then of the future," he added.
Comments will be moderated. Keep comments relevant to the article. Remarks containing abusive and obscene language, personal attacks of any kind or promotion will be removed and the user banned. Final decision will be at the discretion of the Taipei Times.