EPA eyes gadget repairability scores
The Environmental Protection Administration (EPA) is to encourage the listing of repairability scores for electronic products starting with smartphones and laptops in a bid to promote consumers' right to repair, it said on Thursday.
Technology companies engage in planned obsolescence as a business strategy, which spurs consumers to buy new products to replace devices that could be repaired, resulting in waste, EPA Recycling Fund Management Board Executive Director Wang Yueh-bin (王嶽斌) said.
The right-to-repair movement — which is gaining traction in the EU — has resulted in labeling rule changes that would require manufacturers to list the repairability score of their electronic products, Wang said.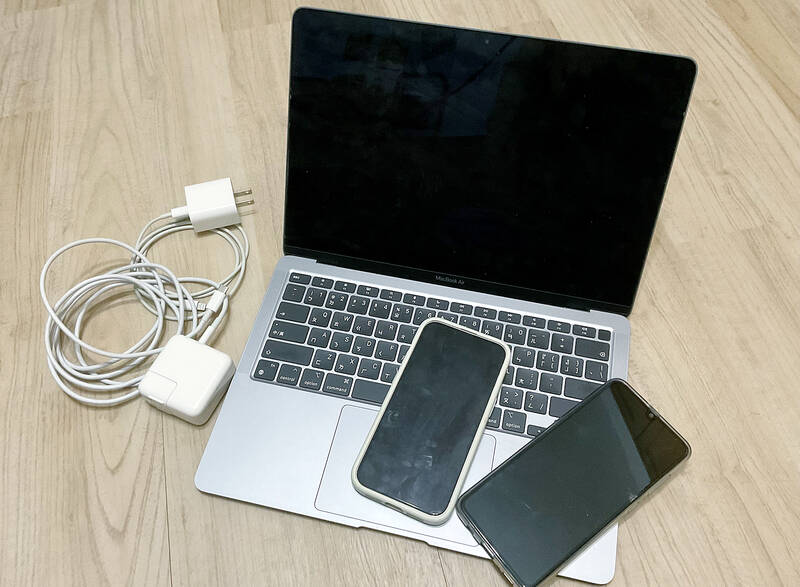 Electronic devices are pictured on Thursday.
Photo: Chen Chia-yi, Taipei Times
France unveiled a mandate in 2021 requiring electronics manufacturers or importers to list the repairability of their products, he said, adding that such rules help consumers make sustainable choices.
The EPA believes that Taiwan should adopt similar rules and measures should be introduced to ease manufacturers into the new regulatory environment ahead of time, he said.
The repairability score is to be based on the ease of disassembly, the availability and price of spare parts, and the availability of information on the product's service life and instructions about repairs, Wang said.
Manufacturers, importers and retailers would be urged to clearly label the repairability score of devices for consumers to make informed decisions about their purchases, he added.
A conference with 30 smartphone and laptop makers was to take place yesterday, where instructions for manufacturers were to be unveiled, Wang said.
The EPA would not mandate the listing of repairability scores for electronic devices immediately, but regulations in that vein are likely to be introduced eventually, he said.
Comments will be moderated. Keep comments relevant to the article. Remarks containing abusive and obscene language, personal attacks of any kind or promotion will be removed and the user banned. Final decision will be at the discretion of the Taipei Times.