First female reservists start training
REPORTING FOR DUTY: One of the reservists said it was important for women to have the same training as their male counterparts, particularly after Russia invaded Ukraine
A group of 14 female volunteer reservists yesterday morning reported to a site in northern Taoyuan to start five days of training, making them the first women in Taiwan to do so.
The reservists reported to a "strategic location" in Taoyuan's Bade District (八德) before the deadline at noon, Reserve Command Political Warfare Department head Major General Hsieh Yung-wei (謝勇維) said.
The military does not publicize strategic locations for security reasons.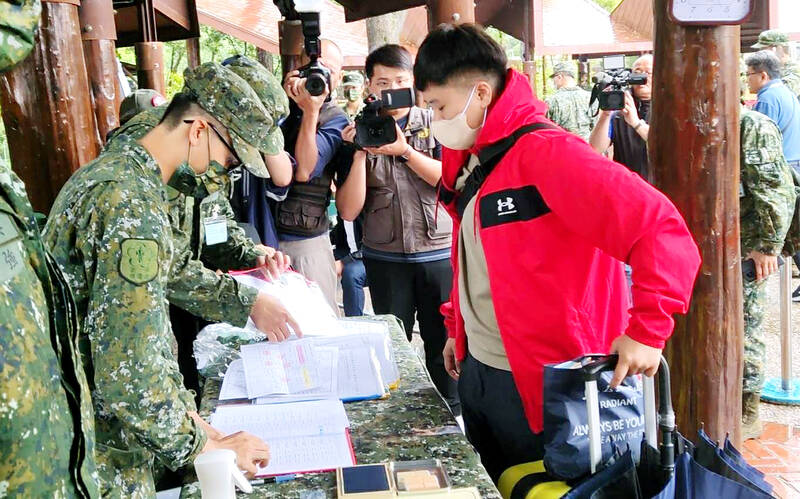 A female reservist, right, reports for training in Taoyuan's Bade District yesterday.
Photo: Cheng Shu-ting, Taipei Times
The 14 women are to go through the same training as their male counterparts, Hsieh said.
However, they would have separate dormitories and bathrooms from the men, he added.
During the training, all reservists, regardless of gender, participate in live-fire rifle exercises and training according to their expertise, he said.
One of the reservists, surnamed Chiu (邱), told reporters after reporting for duty that she was happy to be able to revisit her military life again for five days.
She said it is important for women to have the same reservist training as their male counterparts, particularly after the Russian invasion of Ukraine.
Another reservist, surnamed Chiang (江), who was discharged from the military more than a year ago, said although she volunteered for the training, she is nervous about the exercises, particularly as she works night shifts and is no longer used to waking up early.
However, refresher training is important given ongoing cross-strait tensions, she added.
"I want to do my part to safeguard the country," she said.
Chiang's husband, surnamed Ho (何), who accompanied her when she reported for training, told reporters that they met while serving in the military.
Ho said he has also left active military service and the couple have a one-year-old son.
He fully supports his wife's decision to volunteer for reservist training, as the armed forces are like a big family to them, he said.
The Ministry of National Defense in January announced that it would start asking female reservists to volunteer for the same training as their male counterparts this year.
Previously, the military said it only trained male reservists because it did not have sufficient capacity to accommodate men and women.
Participants in reservist training have complained for decades that this was a form of gender discrimination.
While men in Taiwan are subject to compulsory military conscription and reservist training, women are not, but they can join the armed forces voluntarily to serve as soldiers and officers.
The ministry said it is now requiring military training for female soldiers, as all reservists regardless of gender should have the same responsibilities.
As of 2021, 8,915 women were listed as reservists. In addition to the reservists, 15 percent of Taiwan's 180,000 active military personnel are women, military data showed.
The ministry said that 220 female reservists have volunteered to go through the required reservist training this year.
Comments will be moderated. Keep comments relevant to the article. Remarks containing abusive and obscene language, personal attacks of any kind or promotion will be removed and the user banned. Final decision will be at the discretion of the Taipei Times.