Student groups protest delay of representation law
University student representative groups on Monday last week protested the postponement of a draft amendment to the University Act (大學法), which would increase student representation in university councils to 20 percent from 10 percent.
Some of those protesting in front of the Ministry of Education speculated that university presidents pressured the ministry to put the amendment on hold.
Members of the National Students' Union of Taiwan were among those at the protest.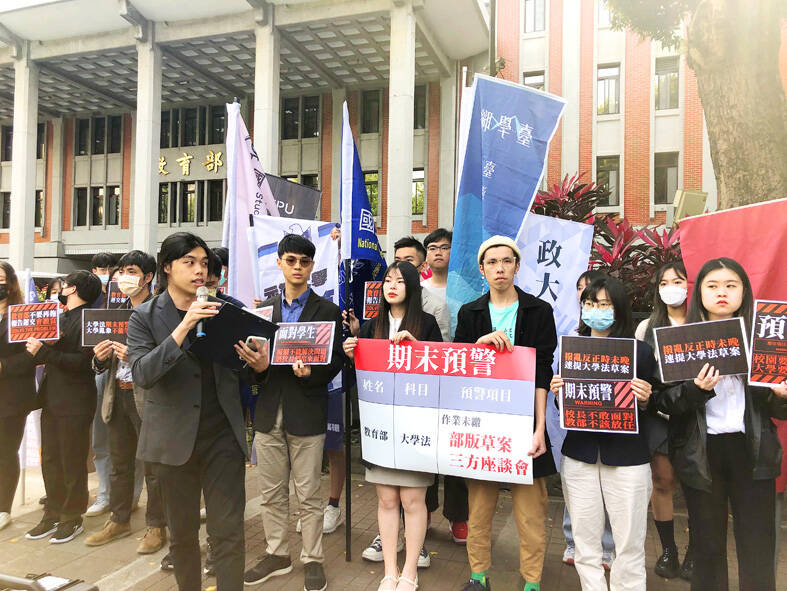 University student groups protest at the Ministry of Education in Taipei on Monday last week.
Photo: Rachel Lin, Taipei Times
University presidents are being "giant babies" and the ministry should hasten the amendment's passage, union secretary-general Huang Ting-wei (黃亭偉) said.
Union president Liu Yao-Wei (劉曜維), who studies at Yuan Ze University, said that capping student representation at 10 percent turns student voices into "white noise" at council meetings.
When meetings are held that affect students' studies and well-being, school administration limits the representatives allowed to attend, despite others wanting a say on matters, Liu said.
National Taipei University of Technology student council deputy speaker Chao Yuan heng (趙元亨) said some university presidents oppose increasing student representation because student turnover is high.
However, university presidents have a term of four years, and council representatives have a term of one year, Chao said.
National Dong Hwa University student council president Chen Yen-ling (陳彥伶) said students comprise 90 percent of the campus populations, but with only 10 percent representation in university councils, proposals from students often hit obstacles.
Only by increasing student representation on the councils can "teacher-student cogovernance" be realized, United Student Union of North Taiwan deputy chairperson Feng Hui-lun (馮輝倫) said.
Union of Private School Educators president Yu Jung-hui (尤榮輝) said that the legislature should proceed with a review of the amendment regardless of whether the ministry forwards it.
Department of Higher Education deputy head Liang Hsueh-cheng (梁學政) met with the groups and received a student petition.
The ministry has held nine discussions on the issue from September to November last year, and is seeking common ground between all stakeholders before moving forward with the amendment, Liang said.
Comments will be moderated. Keep comments relevant to the article. Remarks containing abusive and obscene language, personal attacks of any kind or promotion will be removed and the user banned. Final decision will be at the discretion of the Taipei Times.