KMT to forgo primary for presidential pick
The Chinese Nationalist Party (KMT) is to forgo a presidential primary in favor of nominating a candidate by special committee to avoid internal strife, the party said yesterday.
The announcement came after the KMT Central Standing Committee held a session to establish the makeup of the Central Nomination Committee at its headquarters in Taipei, amid calls for unity by KMT Chairman Eric Chu (朱立倫).
Party leadership must facilitate efforts to unite its forces and find a candidate with broad appeal outside the pan-green camp to win the presidential election next year, Chu told a news conference after the meeting.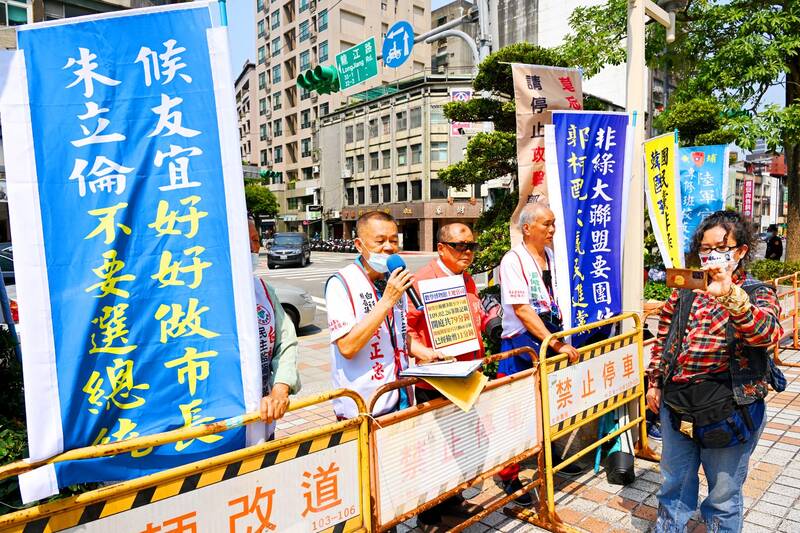 Members of the Non-green Alliance outside the Chinese Nationalist Party (KMT) headquarters in Taipei yesterday call for party unity and collaboration with other parties to oppose the Democratic Progressive Party in next year's presidential election.
Photo: Tien Yu-hua, Taipei Times
The nomination process for KMT legislative candidates would be conducted in three phases on April 22, May 20 and June 18, he said.
The KMT has communicated with former members of the US national security apparatus and Japanese representatives, and has emphasized its desire to remain friendly with the US, Japan and China, he said.
The party underscored its "2D strategy" to enhance national defense and cross-strait dialogue that would protect peace and democracy, Chu said, adding that foreign friends were impressed by the KMT's platform.
KMT Vice Chairman Andrew Hsia's (夏立言) two visits to China generated tangible results to help resolve a dispute over Taiwanese agricultural exports and former president Ma Ying-jeou (馬英九) is to visit the ancestral tombs of his family in China next week, he said.
The KMT's endeavor to achieve peace across the Taiwan Strait would be the foundation of its victory in the general election, he said.
Asked about New Taipei City Mayor Hou You-yi's (侯友宜) potential candidacy, KMT Culture and Communications Committee director-general Hung Meng-kai (洪孟楷) said that Hou knows his duty to the party well and will not shrink from it.
Meanwhile, the Democratic Progressive Party Central Standing Committee waived polling requirements for Vice President William Lai (賴清德) as the sole contender in the party's presidential nomination, clearing a procedural hurdle for the presumptive candidate.
An announcement of Lai's nomination is expected on April 12, while competitive polling for those seeking to become legislative nominees would be held two days after that, the party said.
Comments will be moderated. Keep comments relevant to the article. Remarks containing abusive and obscene language, personal attacks of any kind or promotion will be removed and the user banned. Final decision will be at the discretion of the Taipei Times.