Police escalate crackdown on organized crime
More than 100 people have been apprehended in sweeps of entertainment venues and businesses, as police are clamping down on organized crime, the Criminal Investigation Bureau said on Friday.
Increased surveillance and police patrols are part of efforts to crack down on criminal activities and maintain public safety by curbing communication between gangs, National Police Agency Director-General Huang Ming-chao (黃明昭) said at the bureau in Taipei.
The month-long police sweep commenced last week and is focussing on members of the Ming Ren Chapter of the Bamboo Union, which is active in Taipei and New Taipei City, Huang said.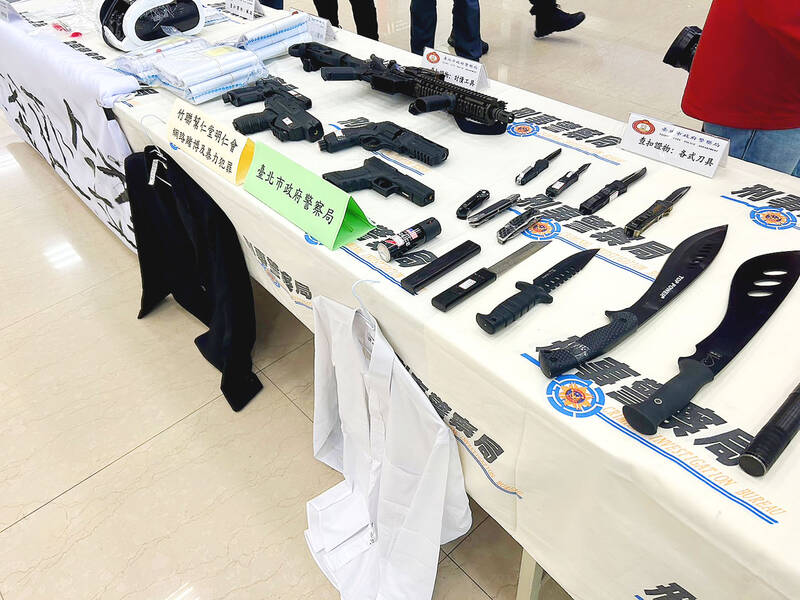 Weapons confiscated during a raid of the Bamboo Union's Mingren Chapter are displayed at the Criminal Investigation Bureau in Taipei on Friday.
Photo: Chiu Chun-fu, Taipei Times
The police questioned 109 people, including alleged Ming Ren Chapter Wanhua branch leader Lin Yi-hua (林易樺), Huang said.
Lin, 24, was arrested after allegations arose of intimidation stemming from debt collection, as well as gambling operations and drug trafficking, police said.
A suspect surnamed Chiu (邱) testified that last year he was unable to pay back a debt of NT$250,000 and was forcibly taken to a site in New Taipei City where he was beaten with metal bars and baseball bats, leaving him with serious injuries, police said.
The bureau displayed weapons and cash confiscated during the sweep, including 37 illegal firearms, such as rifles and modified handguns, as well as machetes, broad knives, switch blades, truncheons and metal rods.
A total of 283 people have been arrested on allegations of engaging in 76 cases of kidnapping associated with telecom fraud operations, police said.
On Monday last week, the Ming Ren chapter held an extravagant "spring wine" banquet at the Taipei Marriott Hotel, attracting public attention by hiring 170 female hostesses to greet attendees.
Following public pressure, Premier Chen Chien-jen (陳建仁) asked the National Police Agency to crack down on the Bamboo Union and other major organized crime groups.
Comments will be moderated. Keep comments relevant to the article. Remarks containing abusive and obscene language, personal attacks of any kind or promotion will be removed and the user banned. Final decision will be at the discretion of the Taipei Times.