Telecoms to waive fees over damage to undersea cables
CONNECTION LOST: Boosting a microwave connection to Lienchiang County is not an easy task, as it involves large equipment and heavy machinery, an official said
The nation's five telecoms would waive part or all of last month's mobile phone service fees for registered residents of and visitors to Lienchiang County after communication was disrupted by damage to two undersea cables connecting the outlying county to Taiwan proper, the National Communications Commission (NCC) said yesterday.
Telecom services in the county are provided by two marine cables: the Taima No. 2 cable connecting Dongyin Island (東引島) to New Taipei City's Tamsui District (淡水), and the Taima No. 3 cable connecting Nangan Island (南竿島) to Taoyuan.
The cables were damaged by Chinese boats on Feb. 2 and 8 respectively, leaving residents with slow Internet connections and unstable phone service.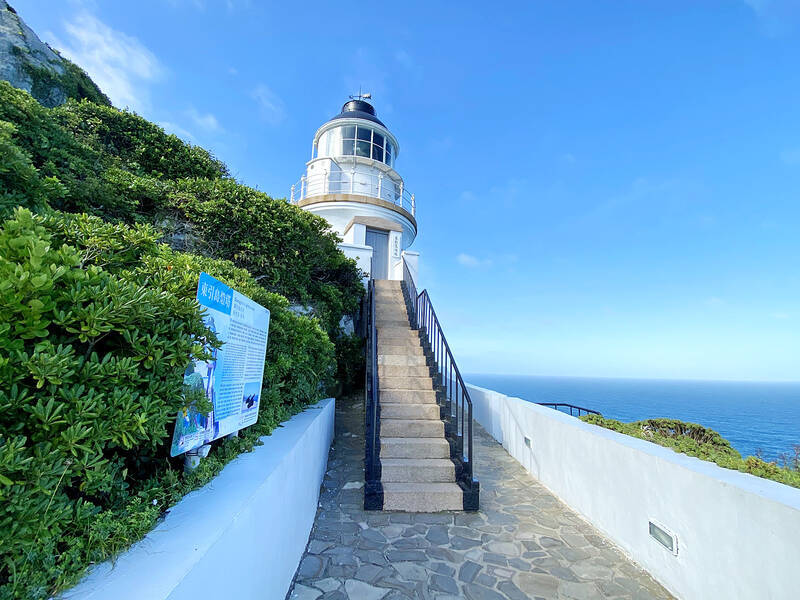 A lighthouse on Lienchiang County's Dongyin Island is pictured in an undated photograph.
Photo: Yu Chao-fu, Taipei Times
NCC Deputy Chairman and spokesman Wong Po-tsung (翁柏宗) said that the commission is aiming to resolve the matter from three aspects: repairing the cables, expanding the bandwidth of a microwave system connecting Taiwan proper and the county, and offering a compensation package for all parties affected by the incident.
"All five telecoms have agreed to completely waive last month's service fees for their mobile phone service subscribers in Matsu, including those who have their billing addresses or registered home addresses in the outlying islands," Wong said.
Monthly fees for those who traveled to Matsu last month would be reduced based on the duration of their stay there, Wong said.
For example, if a person spent five days in Matsu last month, 5/28 of the monthly fee would be deducted, Wong said.
Chunghwa Telecom would waive monthly fees for subscribers to its Hinet Internet service, as well as its multimedia-on-demand service for last month and this month, Wong said.
Whether the monthly fees for next month would be waived as well depends on the progress made in repairing the cables and expanding the bandwidth of the microwave system, he said.
Chunghwa Telecom last month said that it had booked a cable maintenance ship to start the repairs on April 20, but Wong said that the telecom has been contacting other ships to see if repairs could start earlier.
Meanwhile, the bandwidth of the microwave system is expected to be increased to 3.8 gigabits per second (Gbps) by the middle of this month and 8.148Gbps by the end of this year, Wong said, adding that the latter would achieve connection speeds close to those provided by cables.
Expanding the capacity of the microwave system is not an easy task, he said.
"Engineers must first install a receptor, with one end at Bamboo Lake (竹子湖) in Yangmingshan (陽明山) and the other on Dongyin Island," he said.
"The antenna in Dongyin has a diameter of 4.5m and weighs 950kg. The construction crane that lifts the antenna weighs 25 tonnes and needs to be transported from Taiwan to Dongyin, and the construction process could be disrupted by bad weather," he added.
Comments will be moderated. Keep comments relevant to the article. Remarks containing abusive and obscene language, personal attacks of any kind or promotion will be removed and the user banned. Final decision will be at the discretion of the Taipei Times.