KMT urges 'smart' travel policy, China links
The government should work with travel agencies on "smarter" tourism and seek to turn a crisis into gain, Chinese Nationalist Party (KMT) Chairman Eric Chu (朱立倫) said yesterday.
Chu accused President Tsai Ing-wen's (蔡英文) administration of failing to implement efficient tourism policies, which he said would lead to Taiwan failing to develop a trillion-dollar tourism industry and generating NT$30 billion (US$986.7 million) in income from tourism per year.
Chu said that Taiwanese in 2019 spent NT$20.5 billion on overseas travel, more than that year's combined income of firms engaged in domestic tourism of NT$14.4 billion.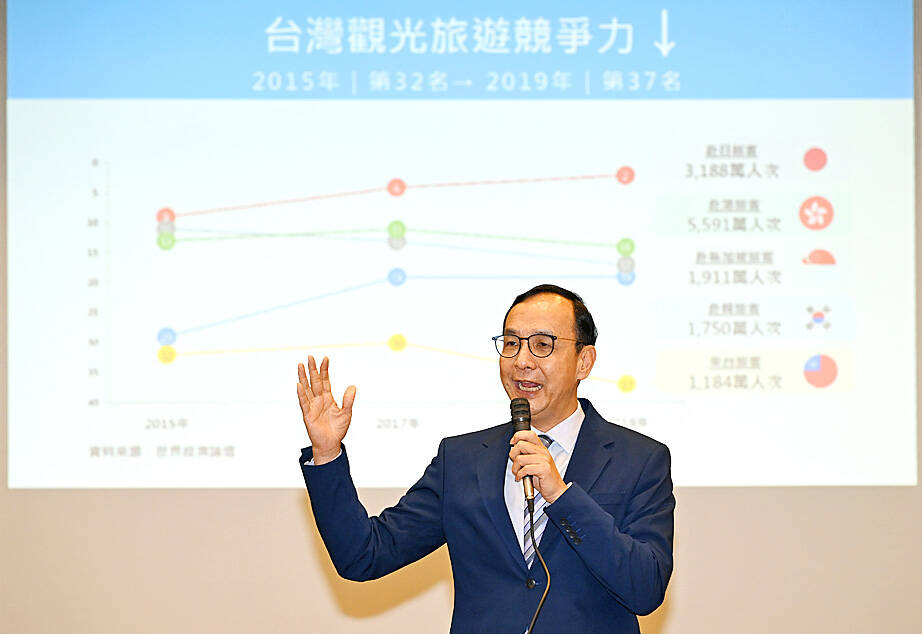 Chinese Nationalist Party (KMT) Chairman Eric Chu speaks at a news conference in Taipei yesterday.
Photo: Chang Chia-ming, Taipei Times
Chu said that under the previous KMT administration, foreign tourism grew 15 to 16 percent per year, but growth since 2017 has slowed to 2 to 3 percent.
The nation's competitiveness in attracting tourists has dropped from 32nd in the world to 37th, while the nation's regional competitors — Japan, Singapore, South Korea and Thailand — have seen rapid growth, he said.
This is a serious issue for the Tsai administration, Chu said.
Taiwan has not effectively marketed its Chinese cultural background, its indigenous cultures or local cuisine, while foreign media described the nation as a "pedestrian hell," Chu said.
Programs implemented by the Tsai administration to stimulate domestic travel do not meet the needs of Taiwanese, he said, adding that domestic travelers on average spend 1.47 days at their destination, while international travelers spend 6.76 days.
'TWENTY CHINESE CITIES'
Chu urged the Tsai administration to work to increase the number of cities in China that offer direct flights to Taiwan to 20 from four to make it easier for Chinese to travel to Taiwan.
Beijing has said it is willing to work with Taiwan on facilitating travel, Chu said.
The Tsai administration should not be blinded by ideology and should welcome tourists from all nations, including China, he added.
The Tsai administration's goal to entice 6 million foreign and 1 million Chinese tourists to travel to Taiwan this year is an empty slogan as long as it does not work to increase the number of flight connections, Chu said.
Comments will be moderated. Keep comments relevant to the article. Remarks containing abusive and obscene language, personal attacks of any kind or promotion will be removed and the user banned. Final decision will be at the discretion of the Taipei Times.