US senator doubts allies' willingness to defend Taiwan
A senior US senator on Monday questioned the willingness of some US allies to help defend Taiwan in the event of a Chinese invasion.
Although Chinese President Xi Jinping (習近平) expects the US and Japan to respond in a war in the Taiwan Strait, he was "a little less confident what our other allies would do," US Senator John Cornyn said.
Australia and New Zealand have voiced support for Taiwan, but it "is a far cry from committing troops to repel an invasion," Cornyn said during a discussion on China, Russia and the state of US military readiness at a forum hosted by Washington-based think tank the American Enterprise Institute.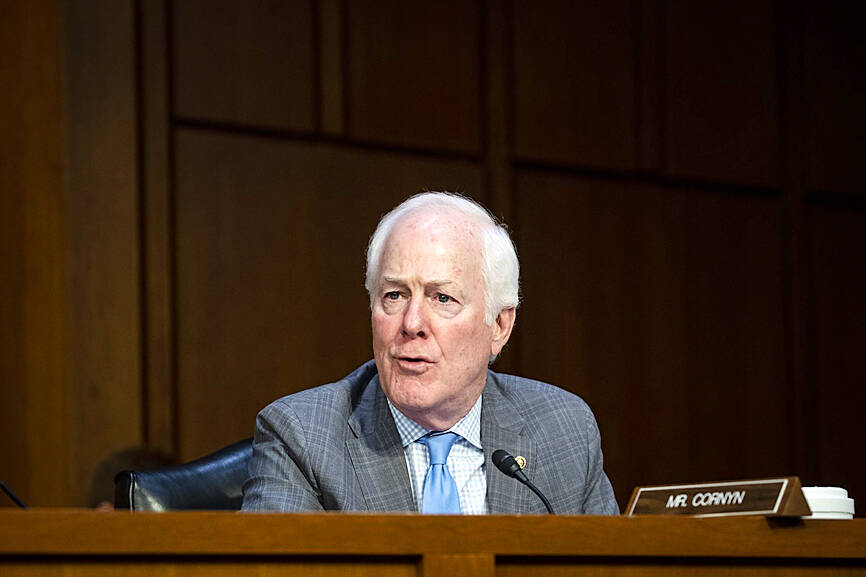 US Senator John Cornyn speaks at a hearing in Washington on Tuesday.
Photo: Bloomberg
He also questioned both countries' willingness to help Taiwan during a potential invasion.
As was the case with Russian President Vladimir Putin, "one guy decides whether to invade or not," when it comes to Taiwan's future, Cornyn said.
He also cast doubt over Taiwan's readiness to fend off a Chinese invasion.
"I don't think the Taiwanese are ready" for an attack, Cornyn said, adding that "we've see all the signs" of increased Chinese belligerency following then-US House of Representatives speaker Nancy Pelosi's visit to Taiwan in August last year.
He questioned whether Taiwan could "hold out for a couple of weeks ... until the cavalry arrives" for its rescue.
The situation in Taiwan is different from that in Ukraine, which has land connections with NATO countries to move support into the country, he said.
For Taiwan, support would have to come by air or sea, he said.
Asked what would deter Xi from an attack, Cornyn said the high "costs" of an invasion.
Tensions over Taipei between Washington and Beijing heightened after Pelosi's visit to Taiwan, the first by a sitting House speaker to the country in 25 years.
Beijing showed its displeasure after Pelosi's 19-hour visit by conducting several days of large-scale military drills around Taiwan, which included flying fighter jets into Taiwan's air defense identification zone, aimed at sending a message to Taipei and Washington.
Cornyn, who visited Taiwan in November 2021, has initiated several pro-Taiwan bills in the US Senate, including the "Taiwan partnership act," submitted in July last year. It calls for collaboration between the US National Guard and Taiwan's military. He also sponsored the "Taiwan deterrence act" this month to increase military aid to Taiwan and bolster its defense.
Comments will be moderated. Keep comments relevant to the article. Remarks containing abusive and obscene language, personal attacks of any kind or promotion will be removed and the user banned. Final decision will be at the discretion of the Taipei Times.