Court upholds jail terms in Holger Chen shooting
The Supreme Court on Thursday upheld prison sentences for two Bamboo Union members involved in the 2020 shooting of Internet celebrity Holger Chen (陳之漢).
The court rejected appeals from Liu Cheng-hao (劉丞浩) and Shih Chun-chi (施俊吉), who instructed Liu to carry out the attack. The duo are members of the Baohe chapter of the Bamboo Union organized crime group.
Shih was sentenced to 16 years in prison and Liu was sentenced to 15-and-a-half years for attempted murder, as well as separate charges of extortion and kidnapping for ransom.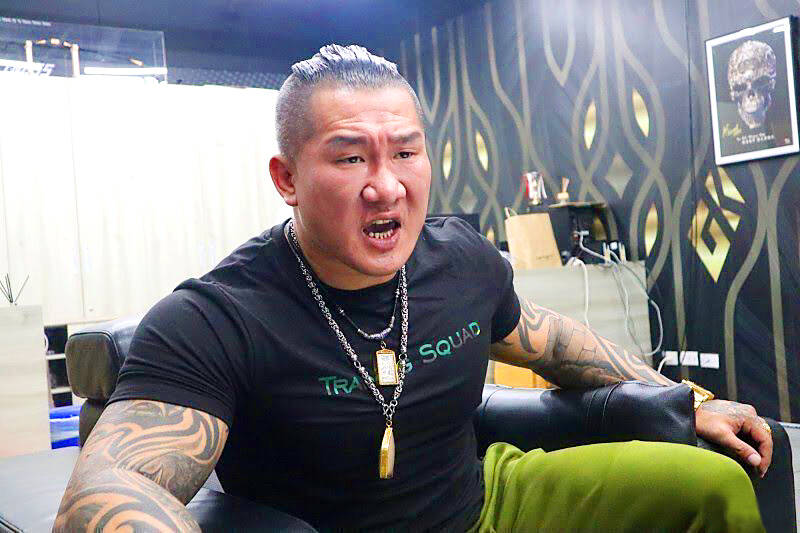 Internet celebrity Holger Chen is pictured in an undated photograph.
Photo: Chiu Yi-chin, Taipei Times
The shooting occurred at 2:23am on Aug. 28, 2020, outside a fitness center Chen owned in New Taipei City's Linkou District (林口).
According to witnesses, Liu shot Chen three times outside G.K. Fitness Club on Renai Road, hitting him twice in the arm and once in the leg.
Chen remained conscious throughout the incident and even began a livestream as he lay on the ground waiting for medical help. He later underwent surgery at Linkou's Chang Gung Memorial Hospital.
New Taipei City police identified Liu as a suspect after reviewing surveillance camera footage and interviewing a taxi driver who had taken Liu to G.K. Fitness Club.
Police at the time said Shih had instructed Liu to carry out the attack on a contract.
Shih, a ranking member in the Baohe chapter, refused to reveal who had hired the group to murder Chen.
In July 2021, the New Taipei City District Court sentenced Liu to six years in prison and Shih to five for attempted murder.
They were also concurrently found guilty on separate extortion and kidnapping charges, with the district court adding 10 years to Liu's sentence, and 13 years and six months to Shih's.
Following an appeal, the High Court in August last year reduced Liu's sentence to 15 years and six months, and Shih's sentence to 16 years after both men reached a settlement with some of their victims during a panel hearing.
The men appealed that ruling as well, resulting in Thursday's verdict by the Supreme Court.
The court also upheld the sentences handed to Baohe chapter leaders Lin Hsiu-po (林修伯) and Liang Chih-sheng (梁智勝) for their involvement in the extortion and kidnapping cases.
Comments will be moderated. Keep comments relevant to the article. Remarks containing abusive and obscene language, personal attacks of any kind or promotion will be removed and the user banned. Final decision will be at the discretion of the Taipei Times.