Lithuanian group to arrive in Taipei for a six-day visit
SECURITY TALKS: The delegation is scheduled to meet the president, senior officials and defense groups to share knowledge and support
A delegation from the Lithuanian Committee on National Security and Defense is scheduled to arrive in Taiwan for a six-day visit today, the Ministry of Foreign Affairs said.
The nine-member delegation is headed by committee chairperson Laurynas Kasciunas and Lithuanian Parliamentary Group for Relations with Taiwan vice chair Dovile Sakaliene, the ministry said in a statement.
During the delegation's stay until Saturday, its members are to meet with President Tsai Ing-wen (蔡英文) and other senior government officials including National Security Council Secretary-General Wellington Koo (顧立雄).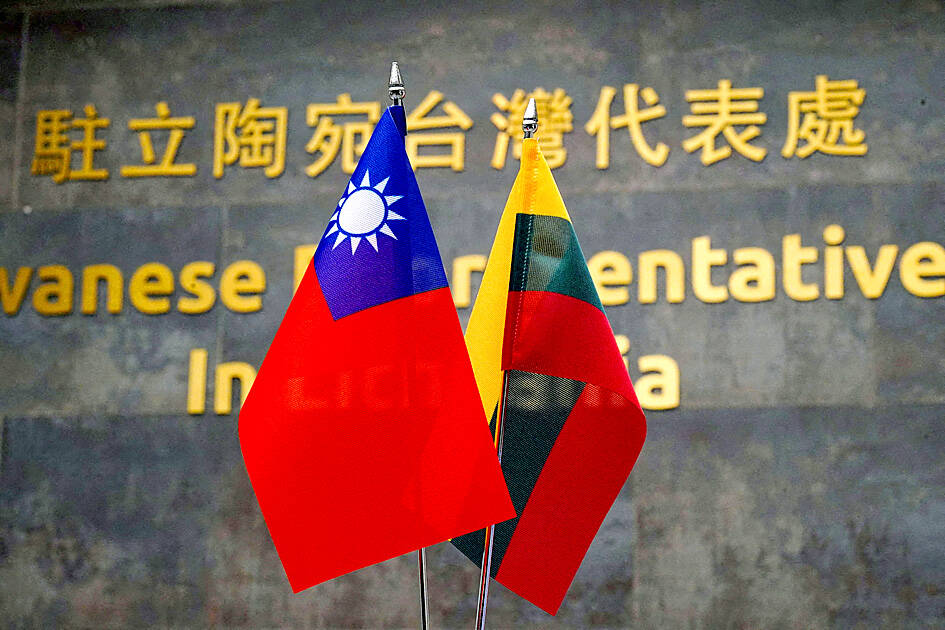 Taiwanese and Lithuanian flags are displayed at the Taiwanese Representative Office in Vilnius on Jan. 20 last year.
Photo: Reuters
They would also visit the Mainland Affairs Council, the Ministry of Foreign Affairs, the Ministry of the Interior and the Ministry of National Defense, the statement said.
The lawmakers would meet with local defense and security think tanks to discuss the cross-strait situation and exchange views on the hybrid security threat Taiwan and Europe are facing, and to gain a better understanding of Taiwan's all-out defense program, it added.
Other members of the delegation include Lithuanian lawmakers Audronius Azubalis, Eugenijus Sabutis, Edita Rudeliene, Ieva Pakarklyte and their aides, the ministry said.
The trip comes following four deputy ministerial-level visits last year: by Lithuanian Vice Minister of the Economy and Innovation Karolis Zemaitis in September, his predecessor Jovita Neliupsiene on June 12, Vice Minister of Agriculture Egidijus Giedraitis on June 22 and Deputy Minister of Transport and Communications Agne Vaiciukeviciute on Aug. 6, it said.
As Lithuania's ties with Taiwan have improved, the Baltic state has come under heavy political and economic pressure from Beijing over the name of Taiwan's office there — the Taiwanese Representative Office in Lithuania.
Taiwan typically names its overseas representative offices "Taipei Economic and Cultural Office" or "Taipei Representative Office," in keeping with the host countries' preference to avoid any language that would imply Taiwan is a separate country from China.
Beijing has punished Lithuania for the inclusion of "Taiwanese" in the name of Taiwan's office, seeing such moves as encouraging formal independence.
Comments will be moderated. Keep comments relevant to the article. Remarks containing abusive and obscene language, personal attacks of any kind or promotion will be removed and the user banned. Final decision will be at the discretion of the Taipei Times.