FSC panned over Shopee
The Financial Supervisory Commission (FSC) is covering for Singapore-based online shopping platform Shopee and ignoring blatant contraventions of the law, the Economic Democracy Union said yesterday.
FSC Chairman Huang Tien-mu's (黃天牧) failure to control Shopee's capital flow threatens Taiwan's financial stability, Economic Democracy Union convener Lai Chung-chiang (賴中強) said, adding that financial crises in Taiwan have not always been caused by banks.
Staff layoffs around the world and the instability of its Web site show that the company is "in trouble," Lai said, adding that the problems might be due to one of Shopee's principal stockholders, Tencent Holdings Ltd, being affected by the Chinese Communist Party's (CCP) standard prosperity policy.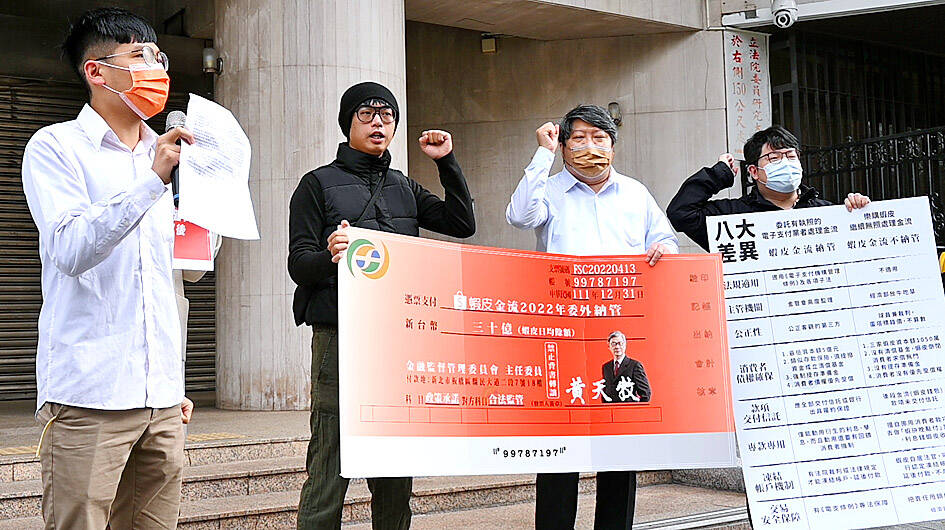 Economic Democracy Union members attend a news conference at the legislature in Taipei yesterday.
Photo: Liu Hsin-te, Taipei Times
In January last year, Tencent sold off a large portion of its stake in Sea Ltd, Shopee's parent company, reducing its share to 18.7 percent from 21.3 percent.
Economic Democracy Union researcher Hsu Kuan-tse (許冠澤) said that Shopee Pay (Taiwan) Co's online transactions average more than NT$3.1 billion (US$100.98 million) per day, exceeding a threshold that means the subsidiary should have to file capital increase documentation and apply to be an electronic payments institution, which would bring increased oversight.
However, the Investment Commission denied Shopee Pay's request to increase its capital and the FSC rescinded its electronic payments license in August 2021, Hsu said.
Shopee Pay should have reached out to businesses with electronic payment licenses to handle its cash flow, Hsu said.
However, Huang has instead allowed Shopee Taiwan Private Ltd to take over handling Shopee Pay's cash flow, Hsu said.
The FSC's promises that Shopee Pay would seek a licensed institute to handle its cash flow cannot be trusted, as the FSC promised that the move would be completed by last year, the Economic Democracy Union said, adding that Huang said it might have been given an extension to June.
The FSC's actions would allow Shopee Pay to operate without the license until July 1 next year, well after the presidential election, which would harm consumers' rights and destabilize Taiwan's finances and national security, Hsu said.
Additional reporting by Reuters
Comments will be moderated. Keep comments relevant to the article. Remarks containing abusive and obscene language, personal attacks of any kind or promotion will be removed and the user banned. Final decision will be at the discretion of the Taipei Times.