Medigen staff out on bail in insider trading probe
FRAUD PROBE: The vaccine maker's parent company was investigated after prosecutors received a tip-off of alleged irregular trading and financial statement fraud
Medigen Biotechnology Corp chairman Stanley Chang (張世忠) was released on bail yesterday after being questioned over allegations of insider trading activities involving the company's COVID-19 vaccine-making subsidiary, Taipei prosecutors said.
Chang and 17 other people were on Thursday taken in for questioning by prosecutors after investigators conducted raids and seized documents at 16 venues, including the Medigen Biotechnology Corp office and the homes of some of the suspects.
Medigen Biotechnology Corp is the parent company of Medigen Vaccine Biologics Corp (MVC), which develops and manufactures the Medigen COVID-19 vaccine, the only domestically made COVID-19 vaccine that received emergency use authorization in Taiwan.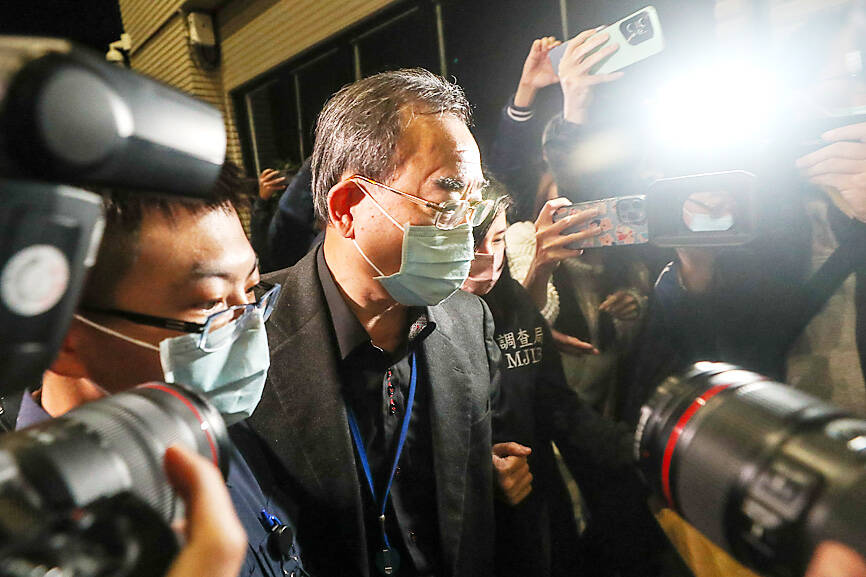 Medigen Biotechnology Corp chairman Stanley Chang is surrounded by reporters at the Shilin District Prosecutors' Office in Taipei yesterday morning.
Photo: CNA
The investigation, headed by the Ministry of Justice's Investigation Bureau and local prosecutors, was originally focused on insider trading allegations against MVC.
However, during that investigation prosecutors were tipped off to look at other practices involving Medigen Biotechnology Corp, including alleged insider trading, irregular trading and financial statement fraud, the Shilin District Prosecutors' Office said in a statement.
The raids came as prosecutors intensified their probe after finding that corporate insiders passed inside information to relatives or friends to help them make money buying or selling MVC shares from February 2020 to July last year, the bureau said on Thursday.
Chang was released on NT$300,000 bail, while his sister, Chang Tzu-ling (張姿玲), and her husband, Huang Tzu-liang (黃子亮), both members of the parent company's board of directors, were released on bail of NT$500,000 each, prosecutors said.
Former Medigen Biotechnology Corp chief financial officer Bill Ou (歐朝銓) was released on NT$100,000 bail, prosecutors said.
MVC shares were listed on the over-the-counter market on the Taipei Exchange in April 2018. It started 2020 trading at about NT$19 per share, but skyrocketed to NT$85 per share in mid-July that year as the COVID-19 pandemic took hold around the world.
It fell back to NT$59 the next month and traded at NT$60 to NT$70 for the rest of year.
However, as rumors about its vaccine started to emerge, the stock soared from about NT$72 on Feb. 2 last year to NT$159.59 on Feb. 23, then fell to about NT$115 on Feb. 26 before rising again to NT$211 on April 13.
The stock peaked at NT$280.20 on May 17 last year, tumbled to below NT$130 on June 8 and rebounded again to NT$200 just days later.
The huge price swings, accompanied by seemingly well-timed rumors of whether the vaccine would be approved, led to suspicions of insider trading.
Comments will be moderated. Keep comments relevant to the article. Remarks containing abusive and obscene language, personal attacks of any kind or promotion will be removed and the user banned. Final decision will be at the discretion of the Taipei Times.