Taiwan sows its language, culture with US centers
Taiwan and the US on Friday celebrated the second anniversary of a language education initiative that aims to encourage more Americans to learn Mandarin at Taiwanese study centers as China's language and cultural centers close across the US.
"Over the past two years, we have significantly increased Mandarin and English language learning and exchange opportunities. Here's to the future!" the US Department of State' Bureau of Educational and Cultural Affairs wrote on Twitter.
Attached to the post was a graphic that showed that the number of US students in the bureau's exchange programs in Taiwan has increased to about 130 from 90 over the two years since the initiative was launched on Dec. 3, 2020.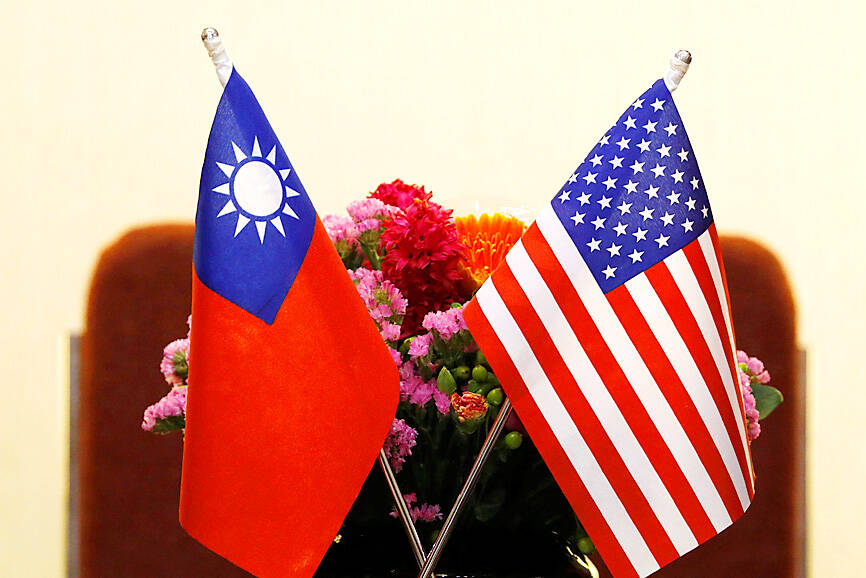 The flags of Taiwan and the US are pictured at the Legislative Yuan in Taipei on March 27, 2018.
Photo: Tyrone Siu, Reuters
The number of students attending the US-sponsored Mandarin programs is expected to rise to nearly 190 by the end of next year, the graphic showed.
"Taiwan-US Education Initiative is growing from strength to strength and we hope to tell more stories about Taiwan in the years to come," the Taipei Economic and Cultural Representative Office (TECRO) in the US wrote in response.
The office, Taiwan's de facto embassy in the US, followed that with a short video to introduce the Learn and Study in Taiwan Web site, which provides information on how to access to Mandarin learning courses in Taiwan and the US.
The US-Taiwan Education Initiative aims to expand collaboration in the area of language education and to safeguard academic freedom.
"The initiative will highlight and enhance Taiwan's role in providing Chinese language instruction to Americans and to people around the world," then-American Institute in Taiwan director Brent Christensen said at its launch.
The initiative grew as the US began to close Beijing-supported Confucius Institutes, which were Chinese language and cultural learning centers that some governments have said are intended to extend China's influence abroad.
As of June 21, there were "104 Confucius Institutes that have closed or are in the process of closing" in the US, the National Association of Scholars said, adding that 18 remain.
The number of Taiwan Centers for Mandarin Learning in the US is growing, with 34 being established so far, TECRO said.
With an increasing number of US students learning Mandarin at Taiwan's language centers, the office hopes that Taiwan can broaden its influence overseas by teaching Americans about Taiwan's democratic society and pluralistic culture, and facilitate greater cooperation between the two countries.
Comments will be moderated. Keep comments relevant to the article. Remarks containing abusive and obscene language, personal attacks of any kind or promotion will be removed and the user banned. Final decision will be at the discretion of the Taipei Times.