Chinese warplanes cross Taiwan Strait's median
GREATER NUMBER: The sorties might have been a response to the US and the EU expressing concern on Friday over China's 'provocations' in the Taiwan Strait
Twenty-five Chinese military aircraft and four naval ships were detected around Taiwan from 6am Saturday to 6am yesterday, including eight airplanes that had crossed the median line of the Taiwan Strait and another two that entered Taiwan's air defense identification zone (ADIZ).
The People's Liberation Army (PLA) aircraft that entered Taiwan's southwestern ADIZ were a Y-8 anti-submarine plane and a BZK-005 uncrewed aerial vehicle, the Ministry of National Defense said.
The aircraft that flew across the median line include two Sukhoi Su-30 fighter jets, four J-16 multipurpose fighters and two J-10 jets, the ministry's official Web site showed.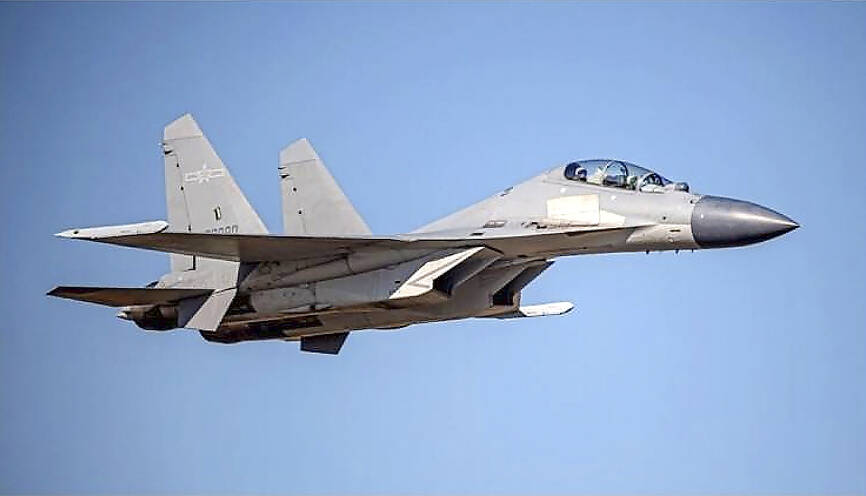 A Chinese J-16 fighter flies in an undisclosed location in an undated photograph.
Photo: AP / Ministry of Defense
Taiwan's armed forces monitored the situation and tasked combat air patrol aircraft, navy vessels and land-based missile systems to respond to China's actions, the ministry said.
The sorties occurred following the US and the EU expressing their concern on Friday in Washington over what they said were China's "provocations" in the Taiwan Strait.
The two sides after bilateral meetings "expressed concern about China's provocations that increase the risk of crisis in the [Taiwan] Strait."
It was unclear whether Beijing was trying to send a message to the US and the EU. China's government sees such statements and warnings as interference in its "internal affairs."
The number of sorties over Saturday and Sunday were more than usual.
The defense ministry has been posting information about Chinese warplane and naval vessel activities since Sept. 17, 2020, amid a growing frequency of incursions by Chinese military aircraft into Taiwan's ADIZ.
An ADIZ is an area declared by a country to allow it to identify, locate and control approaching foreign aircraft, but it is not part of territorial airspace as defined by international law.
Comments will be moderated. Keep comments relevant to the article. Remarks containing abusive and obscene language, personal attacks of any kind or promotion will be removed and the user banned. Final decision will be at the discretion of the Taipei Times.