Taipei to end YouBike 1.0 service next month
Taipei is to end the YouBike 1.0 service on Dec. 3, with bicycles only from the YouBike 2.0 service to be available after that date, the Taipei City Government said on Friday.
However, New Taipei City plans to keep the first-generation YouBike service until 2025.
From Dec. 6, people who rent a YouBike 1.0 bicycle in New Taipei City and return it to a station in most Taipei districts would be charged a NT$350 handling fee, the Taipei Department of Transportation said.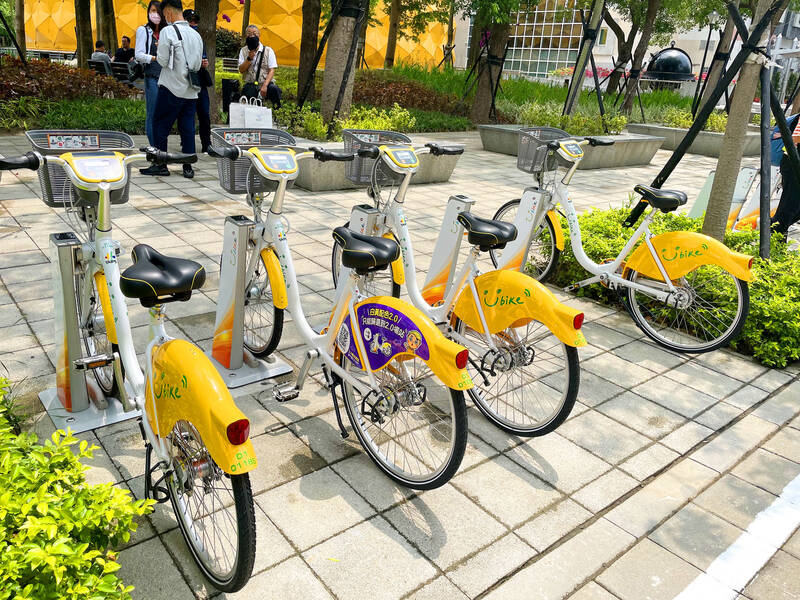 A YouBike 2.0 rental station is pictured in Taipei on Friday.
Photo: Tsai Ya-hua, Taipei Times
The handling fee is to be delayed until Dec. 9 in Taipei's Nangang (南港) and Guandu (關渡) districts — both of which border New Taipei City — due to the popularity of the service in those areas.
The Taipei City Government said it had reached its target of 1,200 second-generation stations since the YouBike 2.0 system was introduced in May last year.
The target was set for the retirement of the older system.
YouBike 2.0 bicycles feature smart controls on the handle bars instead of on the stands, making it easier to install and maintain the stations.
Taipei officials are working with the counterparts in New Taipei City to distribute information about the termination of the YouBike 1.0 service, Taipei Department of Transportation official Liao Yun-ling (廖苑伶) said.
New Taipei City Transportation Department section director Wu Cheng-yen (吳政彥) said the city would maintain YouBike 1.0 alongside YouBike 2.0 before retiring the old system in 2025.
Both systems are available at every YouBike station in New Taipei City, making it easy for users to have a choice when renting and returning the bikes, and to ride a YouBike2.0 to Taipei.
In the 13 years since the service's introduction, YouBike 1.0 usage has surpassed 200 million rides, the Taipei City Government said.
With the introduction of the second-generation service, usage of the initial system had fallen to 8.5 percent of rides in Taipei as of the end of October, down from 42 percent at the end of last year, it said.
Comments will be moderated. Keep comments relevant to the article. Remarks containing abusive and obscene language, personal attacks of any kind or promotion will be removed and the user banned. Final decision will be at the discretion of the Taipei Times.