Make Taiwan 'indespensable,' but do not provoke China, US pundit says
'BUILD BRIDGES': The US and China should look for ways to regain trust, despite China being 'much more closed than it was 10 years ago,' Thomas Friedman said
Taiwan should make itself "indispensable" for the global economy and refrain from provoking China, three-time Pulitzer Prize winner Thomas Friedman told a business forum in Taipei yesterday.
Friedman, who writes opinion articles about foreign affairs, globalization and technology for the New York Times, was commenting on Taiwan-US-China relations at a forum held by Taiwan-based Global Views monthly, in a pre-recorded video.
"If I were president for a day of Taiwan, I would be focusing on building and reinforcing my strengths," Friedman said.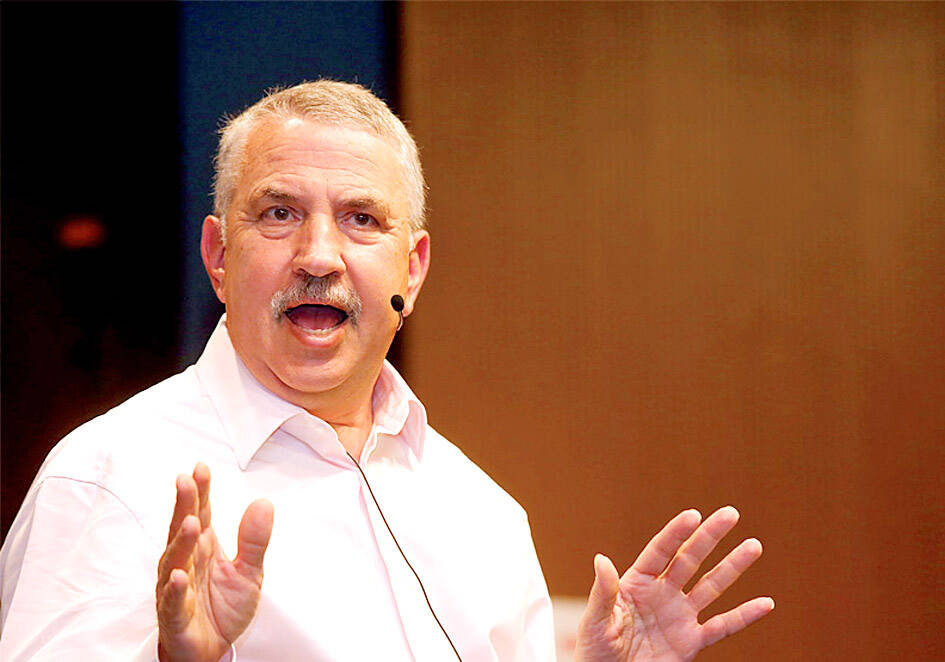 Columnist Thomas Friedman delivers a speech at a seminar held by Asia Society in Hong Kong December 16, 2008.
Photo: Reuters
"Taiwan is the single greatest chipmaking country in the world, thanks to TSMC [Taiwan Semiconductor Manufacturing Co]. And I would be looking for areas where I can reinforce my global leadership to make myself indispensable for the global economy," which would make China less likely to attack Taiwan, he said.
"Every day that Taiwan remains a thriving economy, and independent, for me, is a good day," Friedman said.
However, Taiwan should refrain from provoking Chinese leaders or altering the "status quo" in the Taiwan Strait, he said.
Referring to China as a "bear," Friedman said Taiwan should not be "looking to poke the bear … because you never know when the bear is just going to swipe you with its paw."
Instead, Taiwan should "stay low-key" and "be quiet" while continuing to arm itself, Friedman said.
"You [Taiwan] are small, and your neighbor is very big. The history and the future is on your side. The only thing that can interrupt it is if this very, you know, big neighbor, decides for its own internal reasons to do so," he said.
Speaking on the US-China relationship, Friedman called on Washington to "always seek to build bridges where possible and draw red lines when necessary" amid the lack of trust that exists between the two biggest economies in the world.
Friedman said the US and China had built close relations for three decades since the two established diplomatic ties in 1979, until the relationship started unraveling about five years ago.
US companies had lobbied for stable relations between Washington and Beijing because they believed there were opportunities in China, Friedman said.
However, US businesses increasingly felt they were not really benefiting from those opportunities, as they faced continued theft of intellectual property and China breached international trade rules, he said.
"Economically, what was a win-win relationship for American businesses in China stopped being so win-win," Friedman said.
China, under the leadership of Chinese President Xi Jinping (習近平), has changed tremendously, as Xi sought to fight corruption for the purpose of retaining control and asserting authority, he said.
"China today is so much more open than it was 40 years ago, when I first visited it, but it's so much more closed than it was 10 years ago," he said, urging the US and China to look for ways to build trust.
Comments will be moderated. Keep comments relevant to the article. Remarks containing abusive and obscene language, personal attacks of any kind or promotion will be removed and the user banned. Final decision will be at the discretion of the Taipei Times.