Taiwan's inclusion in Interpol gaining support globally
Taiwan's efforts to participate in Interpol have gained wider international support, despite not receiving an invitation to attend its annual meeting this year, the Ministry of Foreign Affairs said on Saturday.
The 90th Interpol general assembly was held from Tuesday to Friday in New Delhi, including chiefs of police and senior officials from its 195 member countries to discuss global policing issues.
More than 1,375 executive agencies, parliaments, international parliamentary groups and senior politicians from 50 countries at the assembly voiced support for Taiwan's meaningful participation, the ministry said.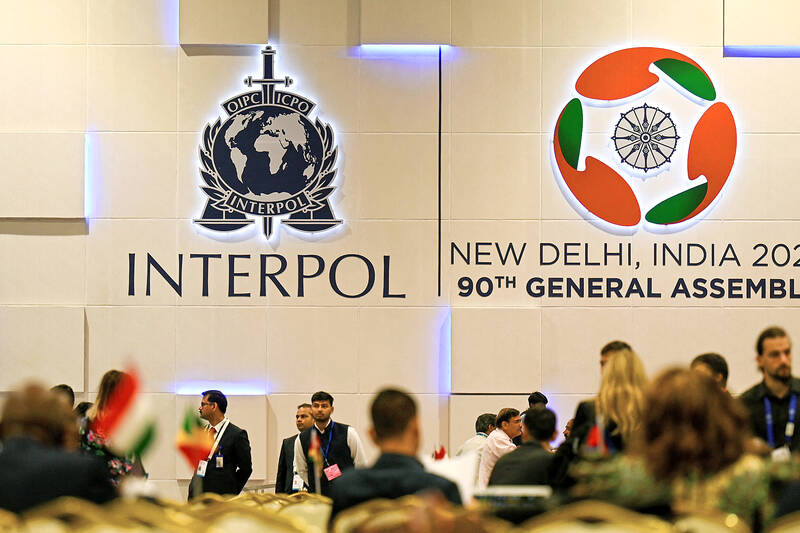 Delegates gather at Interpol's 90th general assembly in New Delhi on Tuesday.
Photo: AFP
They included 10 of Taiwan's 14 diplomatic allies, which wrote letters, issued statements and made social media posts to voice their support, it said.
Allies said that Taiwan's admission to Interpol could help global efforts to prosecute cross-border crime, and address threats and challenges faced by the world, it said.
British Minister of State for Asia, Energy, Climate and Environment Amanda Milling and Dutch Minister of Foreign Affairs Wopke Hoekstra also advocated for Taiwan's Interpol participation, the ministry said.
The US, Japanese and Australian missions in Taiwan additionally expressed support on their Facebook pages, or shared short films made by Taiwan that lobby for international support for its participation in Interpol.
Parliaments in the Marshall Islands and Czech Republic, along with 16 US state congresses and the US Council of State Governments' Eastern Regional Conference, approved resolutions to support Taiwan's participation in Interpol, MOFA said.
US representatives John Curtis and Gerald Connolly, who is co-chair of the US Congressional Taiwan Caucus, wrote a joint letter urging the US executive branch to help Taiwan join Interpol, while lawmakers from Canada and South Korea also voiced their support, it added.
The ministry said that Taiwan is deeply encouraged by and grateful for all of the support, and for the international recognition of Taipei's potential to contribute to the organization.
Taiwan joined Interpol in 1961, but was forced to withdraw in 1984 after the organization switched its recognition to Beijing. Its participation has been blocked since then under a resolution passed at Interpol's 53rd General Assembly the same year.
Comments will be moderated. Keep comments relevant to the article. Remarks containing abusive and obscene language, personal attacks of any kind or promotion will be removed and the user banned. Final decision will be at the discretion of the Taipei Times.