Three police forces make human trafficking arrests
'EASY MONEY': Among four people arrested in Taipei was a woman surnamed Yeh, who was allegedly hired to gain the confidence of potential female victims
Authorities investigating international human trafficking rings have arrested suspects in Taipei, Hsinchu and Kaohsiung this week as they look to help their victims return to Taiwan.
Taipei police said they arrested four suspects they believe work for a group headed by a man surnamed Su (蘇) and seized records indicating that the group had sent 17 young Taiwanese to Cambodia.
Searches were conducted on Monday at several locations in Taipei and other cities after family members of victims gave information to the authorities, said Huang Li-heng (黃立恆), a captain at the Criminal Investigation Division in Taipei.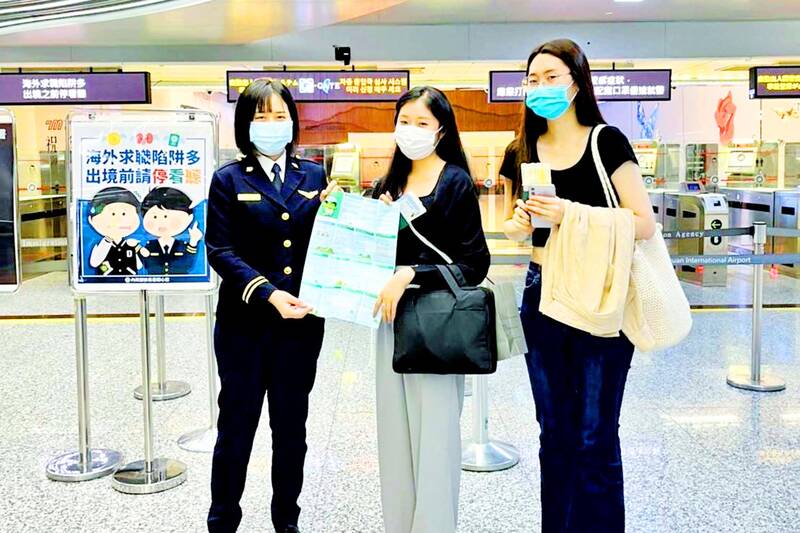 A National Immigration Agency officer at Taiwan Taoyuan International Airport on Wednesday poses for a photograph with two travelers next to a sign urging people to check the details of overseas job offers carefully.
Photo courtesy of the National Immigration Agency via CNA
"When gathering evidence and tracking down members of this group, we managed to stop a female victim from boarding a flight to Cambodia," Huang said at a news conference yesterday.
The criminal ring headed by Su had circulated job adverts on social media, which touted high pay and easy work, along with the promise that "we take care of everything for you, including air tickets, accommodation and daily meals."
Those promises are lies and such adverts target young people who lack social and work experience, Huang said.
"Once the victim arrives in Cambodia, their passport and mobile phone are taken, they are confined and ordered to make calls for telecom scams. They are beaten up if they do not cooperate," he said.
Among the four people arrested was a woman surnamed Yeh (葉), who was allegedly hired to gain the confidence of women with promises of easy money, as Su's group specifically targeted young female jobseekers, he said.
"We are working with the families of the 17 victims linked to this case, of which four have been rescued, although they had to pay US$20,000 each to a human trafficking gang in Cambodia... We are doing everything we can to find the other victims and get them home," Huang said.
Meanwhile, Kaohsiung police said that officers arrested members of a trafficking ring headed by a man surnamed Tsai (蔡), nicknamed "Brother Dan" (丹哥), as well as evidence of them colluding with Cambodian traffickers.
Officers raided locations in Kaohsiung and Pingtung County earlier this week and took five people in for questioning, Kaohsiung Police Captain Hong Sung-tien (洪松田) said yesterday.
Hong said that this human trafficking ring has a clear connection with a Taiwanese man surnamed Liu (劉), a Kaohsiung resident who, when the job scams started receiving publicity, departed with his wife to Cambodia.
"We have gathered evidence that Liu is an important suspect who collaborated with Taiwanese gangsters to send people to Cambodia. The main contact was Brother Dan and Liu would wire US$3,000 commission for each Taiwanese who landed in Cambodia, where Liu's gang would take over," Hong said.
Separately, Hsinchu County police arrested a man surnamed Yen (顏), who is suspected of having participated in a scheme to send a 30-year-old woman to Cambodia, who is now reported missing.
A search of Yen's residence found evidence that he booked the 30-year-old woman's flight and had contact with the victim, Hsinchu police officer Yang Tsung-kun (楊宗昆) said.
Yen is likely to be charged for contravening the Human Trafficking Prevention Act (人口販運防制法), he said.
Comments will be moderated. Keep comments relevant to the article. Remarks containing abusive and obscene language, personal attacks of any kind or promotion will be removed and the user banned. Final decision will be at the discretion of the Taipei Times.