Keelung District Court fines man for police baton attack
A man who assaulted a driver with a police baton in a traffic altercation must pay NT$2,000 for carrying a banned weapon in his vehicle, the Keelung District Court ruled last month.
The man, surnamed Chang (張), 47, was driving along an alley of Keelung's Renyi Road when the vehicle driven by a man surnamed Chou (周) blocked his way, the court filing showed.
Chang approached Chou with the baton, leading to an altercation in which both men were injured, it showed.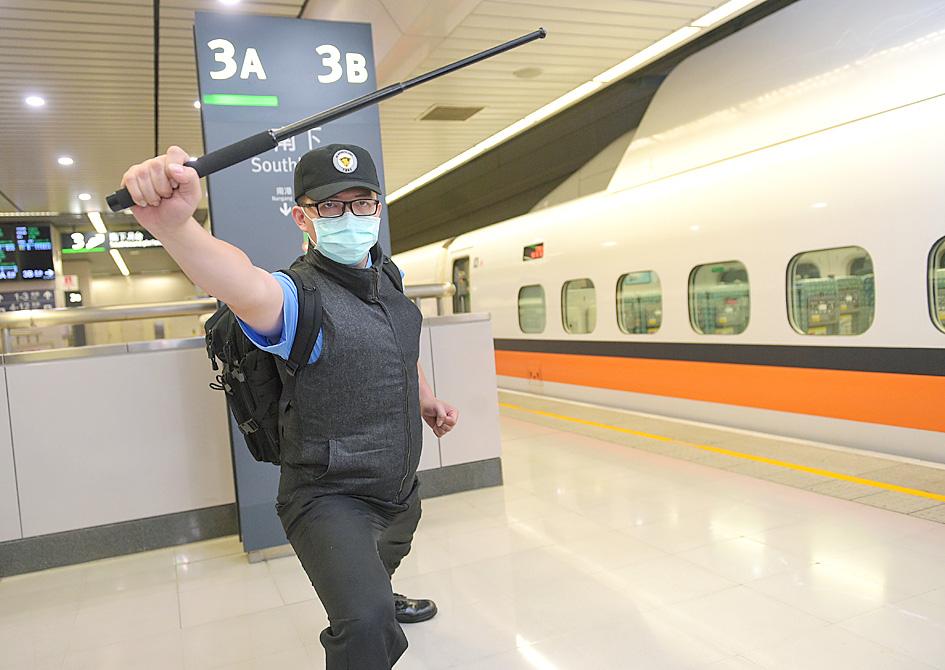 A Taiwan High Speed Rail security guard displays a baton on a platform in Taipei Railway Station on May 13.
Photo: Chang Chia-ming, Taipei Times
Responding to a call, officers from the Keelung Second Police Precinct broke up the fight and apprehended Chang, the court said, adding that the officers immediately realized that it was a police baton and confiscated it.
The use of police batons by civilians was in 1992 outlawed by a police executive order based on the Social Order Maintenance Act (社會秩序維護法), the court said.
According to the act, the unauthorized manufacturing, sale, transportation, carrying or brandishing of a restricted item is punishable by no more than three days detention or a fine of NT$30,000, it said.
A police source said that 31 items on the standard-issue police equipment list are banned for civilian use.
However, certain police equipment such as batons, including stun batons, restraints, handcuffs and net guns, may be carried by licensed security personnel including neighborhood guards, the source said, adding that equipment owned by licensed civilians may not be transferred to others.
A license for such equipment is valid for two years, they said.
Members of the public may carry baseball bats and pepper spray for self-defense purposes, they added.
Comments will be moderated. Keep comments relevant to the article. Remarks containing abusive and obscene language, personal attacks of any kind or promotion will be removed and the user banned. Final decision will be at the discretion of the Taipei Times.