Government innovation drive sees success
EVOLUTION: AP Plasma has developed a way to glue shoes that no longer harms the environment, while PicSee can increase the number of likes one gets on social media
Government efforts to promote start-ups and innovative technology is seeing some success, with AP Plasma Corp applying plasma technology to shoe manufacturing, and PicSee becoming a must-have tool for uploading one's daily life onto social networking platforms.
The traditional shoe industry has long used a highly toxic chemical to glue the sole to the shoe, a practice that is very damaging to the environment, AP Plasma manager Wang Hung-yi (王弘壹) said on Thursday.
By using plasma to treat the original materials, their base characteristics are changed, altering the chemical bonds, Wang said, adding that applying non-toxic resin to shoes removes the need for highly toxic chemical glues.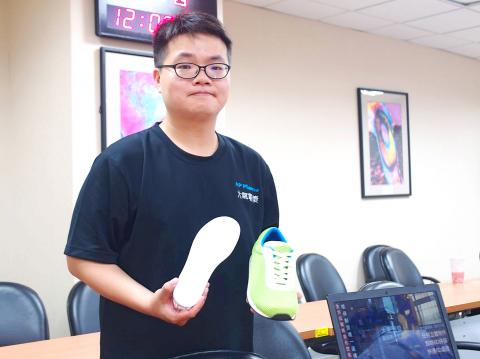 AP Plasma Corp manager Wang Hung-yi holds up a pair of shoes in Taipei on Thursday, while explaining that plasma technology can be used to replace toxic glue in shoes.
Photo: Chien Hui-ju, Taipei Times
The company is collaborating with Pou Chen Industry and hopes to apply the same technology to all macromolecule rubber products, Wang said.
The introduction of the technology could make the traditional shoemaking industry cleaner and more eco-friendly, as well as more competitive, Wang said.
PicSee cofounder Ray Wei (方選) said there is great market potential in Southeast Asia for his firm.
Representatives of start-ups that are to attend the Echelon Asia Summit, which is to be held at the Singapore Expo on Thursday and Friday, pose in Taipei on Thursday.
Photo: Chien Hui-ju, Taipei Times
PicSee's services shorten the length of Web addresses for easier sharing on social Web sites and can help increase the amount of "likes" on social networking services, Ray said.
Vietnam has 45 million Internet users, 2.6 times that of Taiwan at 17 million, Ray said, adding that Taiwanese YouTube channel This Group of People has about 2 million subscribers, while the most popular YouTube channel in Thailand has more than 10 million subscribers.
Meanwhile, the Ministry of Science and Technology is scheduled to take nine leading start-ups to the Echelon Asia Summit at the Singapore Expo on Thursday and Friday.
Both AP Plasma and PicSee are to attend.
The ministry is to have a Taiwan pavilion at the expo for the first time this year and hopes to break into Southeast Asia's innovative technology industry, ministry official Chiu Chiu-hui (邱求慧) said.
The nine companies would include start-ups in the fields of smart technology in medicine, artificial intelligence, smart manufacturing and statistical analysis, Chiu said.
Comments will be moderated. Keep comments relevant to the article. Remarks containing abusive and obscene language, personal attacks of any kind or promotion will be removed and the user banned. Final decision will be at the discretion of the Taipei Times.