Hualien Earthquake: Japanese specialist team arrives in Hualien
ASSISTANCE: Experts with high-tech search-and-rescue equipment have been sent from Japan to support efforts to search for survivors of Tuesday's earthquake
The first international search-and-rescue team from Japan has arrived to help with efforts in Hualien after a magnitude 6.0 earthquake struck on Tuesday night, Ministry of Foreign Affairs spokesperson Andrew Lee (李憲章) said yesterday.
"The government of Japan has answered our requests for aid and has sent a team of seven experts and two advanced scanners," Lee said.
Japanese Prime Minister Shinzo Abe wrote a personal letter to President Tsai Ing-wen (蔡英文) expressing the nation's condolences over the earthquake and said that the Japanese team has been dispatched to help in the continuing search-and-rescue operation.
Calligraphy by Japanese Prime Minister Shinzo Abe with the text "Taiwan, good luck" is pictured yesterday on Abe's official Facebook account.
Screen grab from the Prime Minister of Japan 's Facebook account
Officials from the Japanese Ministry of Foreign Affairs, the Japan International Cooperation Agency, the Tokyo Fire Department, the Tokyo Police Department and the Japan Coast Guard's Tokyo branch are also coming to Taiwan, Lee said, adding that two officials from the Taiwan-Japan Relations Association and the Japan-Taiwan Exchange Association would accompany the group to facilitate communications.
The search-and-rescue team arrived at Taipei International Airport (Songshan airport) at 12:30pm and was flown directly to Hualien.
Lee thanked to the Japanese government on behalf of the Ministry of Foreign Affairs for dispatching a professional team and its high-tech equipment in such a short time.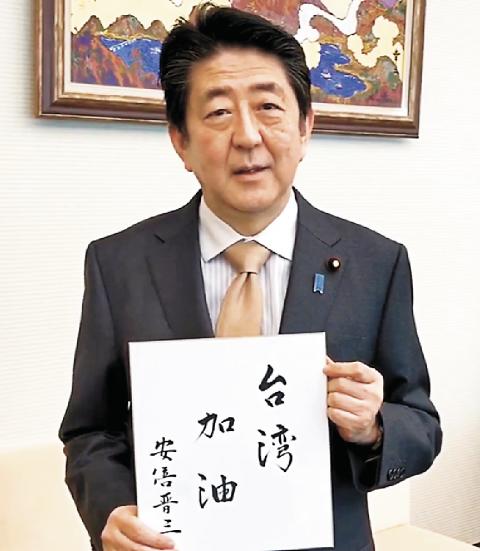 Calligraphy by Japanese Prime Minister Shinzo Abe with the text "Taiwan, good luck" is posted yesterday to Abe's offical Facebook account.
Screen grab from the Prime Minister of Japan 's Facebook account
Japanese Minster of Foreign Affairs Taro Kono also telephoned Minster of Foreign Affairs David Lee (李大維) to express his concern and condolences.
As of 10am yesterday, representatives from 25 countries, including diplomatic allies the Holy See, Belize, Haiti, Nicaragua, Saint Lucia, the Dominican Republic and Guatemala, arrived in Taiwan to express their support and condolences.
Tsai thanked world leaders for their concern and condolences on her official social media sites.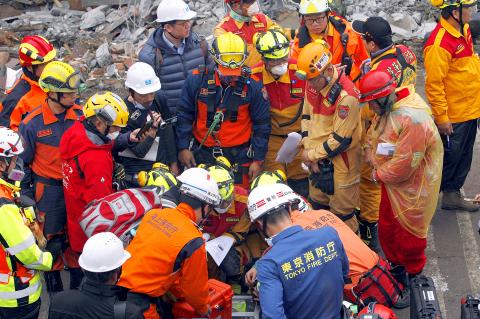 Japanese and Taiwanese rescue workers join a search and rescue operation at the site of the Marshal Hotel building collapse in Hualien yesterday.
Photo: AP
"Taiwan is grateful to the many offers of assistance & support coming from around the world. Although relief efforts in Hualien are sufficient, your warmth & kindness have been felt by people of Taiwan," she wrote on Twitter.
Tsai also responded to Abe's Facebook account, which offered condolences and showed a picture of his calligraphy.
"A true friend during such difficult times... Our friendship and values will be manifested with humanitarian aid," Tsai tweeted in Japanese.
Netizens alleged that the original phrasing of Abe's letter had been changed due to Chinese pressure.
The letter, posted on the Japanese Prime Minister Residence's account, initially addressed Tsai as, "President," but the title was dropped less than two hours later.
Content on site are considered official governmental documents.
Netizens praised Japan for "having the guts" to address Tsai by her official title, a source said.
Japan-Taiwan Exchange Association Department of General Affairs Director Michi Kakizawa said he was not sure why the letter was changed, adding that the association delivered the letter from "Prime Minister Abe to President Tsai."
Comments will be moderated. Keep comments relevant to the article. Remarks containing abusive and obscene language, personal attacks of any kind or promotion will be removed and the user banned. Final decision will be at the discretion of the Taipei Times.