Rainbow Village in Taichung listed in global guidebook
Taichung's Rainbow Village, created by amateur artist Huang Yung-fu (黃永阜), was one of two Taiwanese destinations listed in Lonely Planet's Secret Marvels of the World guidebook last month.
The village, known for its vibrant colors, received international recognition from two other sources this year.
It ranked third in an online survey by Japanese travel agency H.I.S. asking Japanese netizens to rank photo-worthy destinations in Taiwan that they wanted to visit the most.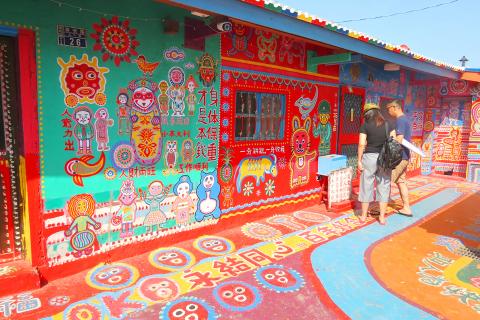 A painted house in Taichung's Rainbow Village is pictured on Oct. 26. The colorful village painted by 95-year-old veteran Huang Yung-fu — known as "Rainbow Grandfather" — was named one of the best attractions in Taiwan by Lonely Planet last month.
Photo: Su Meng-chuan, Taipei Times
British lifestyle Web site Culture Trip included the Rainbow Village in its "10 Most Instagrammable Spots in Taiwan."
In response to his sudden rise to fame, 95-year-old veteran Huang, nicknamed the "Rainbow Grandfather," said that he never imagined such a thing would happen, adding that he found it a little baffling.
"I am being watched by others, but I am watching others, too," he said.
Huang said he enjoys other people's company, especially the joy and laughter of his audience.
In 2008, Huang painted on the walls and floors of his self-built residence inside an old veterans' village in Taichung's Nantun District (南屯).
Two years later, when his house was listed for land readjustment by the government, Huang said the public started a campaign to save the Rainbow Village.
Letters flooded the mayor's mailbox and the Taichung City Government made an exception allowing him to keep his house, he added.
Last year, more than 1.25 million people visited the Rainbow Village, the city government said.
Huang said that as long as his health allows, he almost always greets his visitors and that he still begins working at 4am almost every day.
The self-taught artist said he draws whatever comes to mind, including animals, puppets and even childhood memories.
He was hospitalized for a week early last month due to pneumonia after a cold, Huang said, adding that after checking out of hospital, he put his painting on pause to allow his body to rest and readjust.
He wanted to recover quickly so that he could continue painting, Huang said, adding that his energy has recovered and he has resumed painting.
"There are already a lot of images in my head and I want to paint all of them," Huang said.
Comments will be moderated. Keep comments relevant to the article. Remarks containing abusive and obscene language, personal attacks of any kind or promotion will be removed and the user banned. Final decision will be at the discretion of the Taipei Times.