Moriarty urges defense spending
OPTIMISM: The AIT chairman commended the nation's willingness to play a positive role in fixing global issues, saying Washington is working on how best to deepen ties
American Institute in Taiwan (AIT) Chairman James Moriarty on Thursday called on Taipei to invest more in self-defense, as the US' commitment to Taiwan's security alone will not protect the nation in an increasingly complex regional environment.
While Moriarty reiterated the US' commitment to providing defense services to Taiwan, he asked that Taipei increase its defense spending, which he said falls short of what is needed to address the changing environment.
"While we commend Taiwan for the considerable strides it has made, it can and must do more as the security threat against it continues to evolve," Moriarty told a forum on Taiwan-US relations held by the Washington-based Brookings Institution.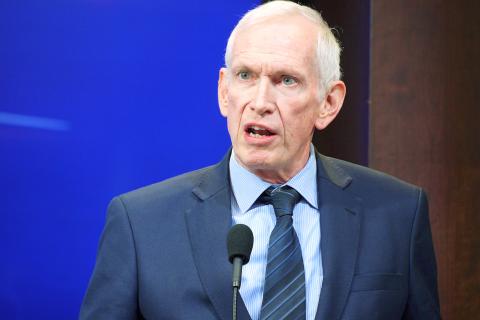 American Institute in Taiwan Chairman James Moriarty speaks at a conference in Washington on Thursday.
Photo: CNA
He compared Taiwan's military spending as a percentage of GDP with that of other nations facing outside threats, such as Israel, South Korea and Ukraine, and found it lacking.
"Taiwan must do better," Moriarty said. "We believe that a Taiwan that is secure, confident and free from both isolation and coercion is better able to engage Beijing constructively."
Moriarty in his speech championed not just Taiwan-US security cooperation, but also an expanded economic partnership.
"Taiwan faces both security and economic challenges, and thus, Taiwan's continued economic security and vitality are equally important to the United States," he said.
Just as Taiwan-US political relations will continue to function under the guidelines of the US' Taiwan Relations Act, Taiwan-US economic relations will continue to work under the framework of the Trade and Investment Framework Agreement, Moriarty said.
On cross-strait relations, Moriarty said that the US would continue to urge both sides of the Taiwan Strait to engage in constructive dialogue and "to demonstrate patience, flexibility and creativity in finding ways to engage with each other in order to avoid miscalculation and resolve their differences."
He said there should be no unilateral attempt by either side to change the "status quo," but rather urged a peaceful resolution of differences that is acceptable to the people of both sides.
Stable cross-strait relations are of interest not just to Taiwan and China, but also the US and countries in the Asia-Pacific region, Moriarty said.
Throughout his speech, Moriarty commended Taiwan's willingness and ability to play a positive role in addressing global problems and asked that Taiwan take comfort in knowing that the discussion in Washington is not "whether to deepen our relationship with Taiwan," but "how best to."
The US would therefore continue to support Taiwan's membership in international organizations in which statehood is not a requirement and its meaningful participation in organizations where statehood is required, Moriarty said.
Comments will be moderated. Keep comments relevant to the article. Remarks containing abusive and obscene language, personal attacks of any kind or promotion will be removed and the user banned. Final decision will be at the discretion of the Taipei Times.