Most view 'two systems' as failure: poll
DISSATISFIED YOUTH: Tsai received a 57 percent dissatisfaction rate among 20-to-29-year-olds, who likely believe she has not gone far enough, a commentator said
More than half of Taiwanese view the "one country, two systems" framework as a failure and support the nation "going its own way" as Hong Kong marks the 20th anniversary of its handover to China, a survey published yesterday by the Taiwan Thinktank showed.
More than 52 percent of respondents said that the "one country, two systems" model applied in Hong Kong has proved a failure, with only 22 percent viewing it as a success.
More than 63 percent were pessimistic about Hong Kong's democracy, with only 22 percent expressing optimism.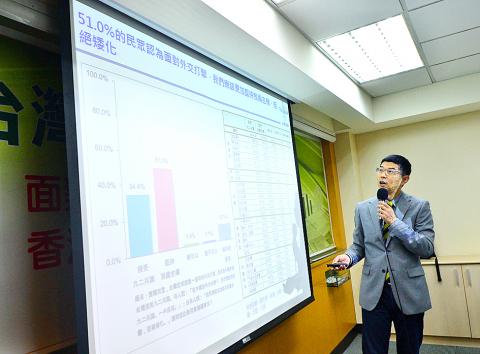 Taiwan Thinktank poll center director Chou Yung-hong yesterday in Taipei presents the results of an opinion poll on the "one country, two systems" framework.
Photo: Wang Yi-sung, Taipei Times
Proposed by former Chinese leader Deng Xiaoping (鄧小平) in the 1980s, the formula of extensive local autonomy beneath overarching Chinese sovereignty was initially directed at Taiwan before being applied to Hong Kong in 1997, but has failed to win local support.
More than 73 percent of respondents said they are not willing to accept reunification under a "one country, two systems" formula, with only 19 percent expressing support.
Numerous other questions focused on how the nation should respond to China's diplomatic offensive following the severing of relations with Panama and forced changes to the name of numerous overseas representative offices.
When asked how to respond to China's offensive, 40 percent of respondents chose "going our own way," compared with 33 percent in favor of "maintaining the status quo" and 18 percent who opted for "compromising with China."
When asked whether the nation should accept the so-called "1992 consensus" or insist on maintaining sovereignty, 51 percent chose maintaining sovereignty, compared with 34 percent who preferred to accept the "1992 consensus."
Fifty-five percent supported referring to foreign representative offices in Taiwan to being "stationed in Taiwan" — as was the practice during former president Chen Shui-bian's (陳水扁) term — rather than being "stationed in the Republic of China," with 28.4 percent opposing the proposal.
More than 69 percent of respondents supported shifting resources from maintaining formal ties with the nation's 20 remaining diplomatic allies to "participating in international society."
"Regardless of name usage, where to invest our diplomatic resources or the overall direction for our foreign policy development, there seems to be some divergence between public opinion and the government's current track," Taiwan Thinktank deputy executive director Lai I-chung (賴怡忠) said, referring to President Tsai Ing-wen's (蔡英文) emphasis on maintaining the cross-strait "status quo."
Meanwhile, Tsai's approval rating is 29 percent, according to the poll, with 56 percent of respondents disapproving of her performance.
Overall support for pension reform was 49.8 percent, with 36 percent of respondents expressing dissatisfaction.
"What is interesting is that levels of dissatisfaction are highest among young people, who are probably dissatisfied because they feel reform has not gone far enough," Taiwanese Association for Northeast Asia Studies deputy secretary-general Doong Sy-chi (董思齊) said.
The 20 to 29 age group had a 57 percent rate of dissatisfaction, more than 20 percentage points higher than any other age group.
The survey collected 1,133 valid samples and has a margin of error of 3 percentage points.
The "1992 consensus" — a term former Mainland Affairs Council chairman Su Chi (蘇起) admitted making up in 2000 — refers to a tacit understanding between the KMT and the Chinese government that both sides acknowledge there is "one China," with each side having its own interpretation of what "China" means.
Comments will be moderated. Keep comments relevant to the article. Remarks containing abusive and obscene language, personal attacks of any kind or promotion will be removed and the user banned. Final decision will be at the discretion of the Taipei Times.