228 REMEMBERED: Ko cries giving 228 memorial speech
Taipei Mayor Ko Wen-je (柯文哲) yesterday gave a an emotional speech in Pingtung County marking the 69th anniversary of the 228 Incident shortly after he completed a 520km bicycle ride from the nation's northernmost tip to its southernmost tip, saying it was time to celebrate the tragic history with sweat instead of tears.
An emotional Ko became teary several times during his speech, which seemed similar to his 228 speech in Taipei last year.
"I was moved to tears giving a speech [recalling the memories of my grandfather] in the 228 ceremony last year, but my father did not shed a tear. Fathers are stronger when their children are weak. It is a father's nature to protect their children. It was then I decided my father and I would not cry anymore on 228 Memorial Day. We have to move on from sad histories, so I chose to commemorate the 228 Incident in a different way this year," Ko said.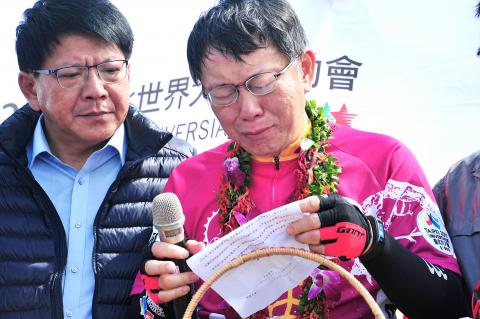 Pingtung County Commissioner Pan Meng-an, left, looks on yesterday in Oluanpi as Taipei Mayor Ko Wen-je reads a statement marking the 69th anniversary of the 228 Incident.
Photo: Tsai Tsung-hsien, Taipei Times
"I challenged myself with a 'twin tower' bicycle trip — from Taiwan's northernmost Fuguijiao Lighthouse [in Keelung] to its southernmost Oluanpi Lighthouse [in Pingtung County] — to seek redemption for the soul with a 520km physical undertaking. In the past, our tears were filled with rancor and hate. Today, we opened up a future of tolerance and forgiveness with sweat," Ko said.
The 228 Incident refers to an uprising that began on Feb. 27, 1947, against the then-Chinese Nationalist Party (KMT) regime and the resulting crackdown that left tens of thousands dead and led to nearly four decades of martial law.
Ko's grandfather, Ko Shih-yuan (柯世元), survived the 228 Incident, but died three years later of injuries he reportedly suffered while tortured and beaten by KMT troops.
Saying he did not feel lonely on the road because he was accompanied by his grandfather's spirit, Ko Wen-je said his grandfather, an elementary school teacher, insisted on kindness and courage.
"Taiwanese have to be the owners of Taiwan. Taiwanese have to decide their own fate and Taiwanese have to build a new world of fairness and justice. That is my goal and belief. I would like to encourage us all with the idea of a 'Taiwan achieved with a sea of tolerance,' so we can learn from history and leave the sadness behind," he said.
Comments will be moderated. Keep comments relevant to the article. Remarks containing abusive and obscene language, personal attacks of any kind or promotion will be removed and the user banned. Final decision will be at the discretion of the Taipei Times.