Taipei introduces direction stickers for foreign tourists
LOST IN TRANSLATION According to the Taipei City Government, the stickers will make it easier for visitors who do not speak Chinese to ask for directions
Foreign visitors to Taipei can now wear a direction-inquiry sticker to get help finding their way around town, the Taipei City Government announced, in its latest effort to create a more tourist-friendly environment.
The blue stickers are available at 12 travel service centers.
Visitors who need directions can have the destination written in Chinese on the sticker, and carry it with them to get assistance more easily, Taipei City's Department of Information and Tourism said yesterday.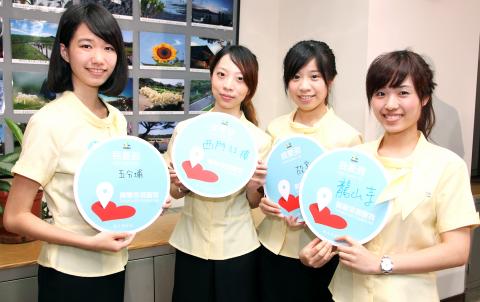 Staff at a Taipei tourist information center hold up models of stickers that will be handed out to tourists as part of a new initiative that started yesterday.
Photo: Lin Hsiang-mei, Taipei Times
Commissioner of the department Chao Hsin-ping (趙心屏) said 65 percent of foreign visitors to the service centers were seeking directions to tourist attractions.
The sticker, which says "I am going to .... Thanks for guiding me" in Chinese and English, will help foreign visitors and demonstrate the city's friendliness, she said.
"Staff at the service centers used to write down the name of the destination and directions on memos for visitors who do not speak Chinese, and the sticker will help them get directions more easily," she said.
"We also hope local residents who see visitors with such stickers in the streets can offer helps," she said in a press conference at Taipei City Hall to introduce the stickers.
Yoshifumi Katakura, a Japanese travel writer who has lived in Taiwan for 16 years, said as the number of foreign visitors to Taipei has increased sharply over the years, the sticker is a friendly service for visitors who do not speak Chinese or backpackers who come to Taipei without a tour guide.
According to the department, 6.4 million foreign tourists visited Taipei last year.
More than 98 percent of foreign visitors are from China, followed by visitors from Japan, Hong Kong and Macau and South Korea.
Jule Foster, a visitor from Canada, applauded the department's latest idea, and said the sticker should be helpful in areas with few or no English signs.
"I was in Maokong this morning, and didn't find much English guidance in the area. It'd be nice and helpful to get around town with such a sticker," she said.
Sarah Wantulok, a student from Poland, on the other hand, said she would not take the sticker because she has no trouble asking for directions on the streets.
"People are friendly here, and I can always get directions from local people, even though I don't speak Chinese," she said.
Comments will be moderated. Keep comments relevant to the article. Remarks containing abusive and obscene language, personal attacks of any kind or promotion will be removed and the user banned. Final decision will be at the discretion of the Taipei Times.