'Grandma Hsiu-mei,' oldest comfort woman, passes on
The Taipei Women's Rescue Foundation yesterday confirmed that the oldest comfort woman in the world, Huang Wu Hsiu-mei (黃吳秀妹), passed away from respiratory failure on Oct. 3 at the age of 96.
"Before she did not want to talk publicly about her experiences, out of concern for her family's feelings, but after receiving positive responses from many people, she became more willing to speak for all the comfort women and attended events in Japan, Australia, and South Korea," foundation chairperson Huang Shu-ling (黃淑玲) said.
According to the foundation, Huang Wu Hsiu-mei was forced to become a comfort woman by the Japanese colonial government in 1940 and was sent to China's Guangdong Province to serve the Japanese Imperial Army.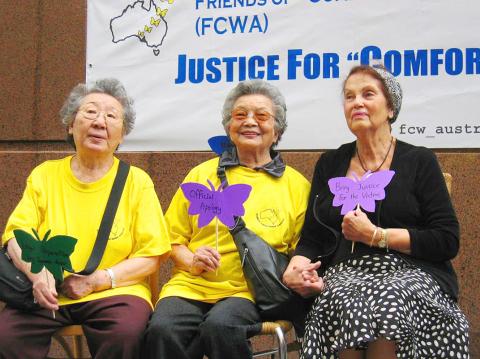 Gil Won-ok from South Korea, left, Huang Wu Hsiu-mei from Taiwan, center, and Jan Ruff O'Herne from Australia, all former comfort women, attend the Justice for 'Comfort Women' conference in Sydney, Australia, on March 7, 2007.
Photo: EPA / Taipei Womens Rescue Foundation
Speaking about her experience, she once said: "I was mistreated badly and my health has been poor since then. The Japanese government may forget, but I will never forget [what happened]."
"Grandma Hsiu-mei" was an active spokesperson seeking justice for comfort women and demanding compensation from the Japanese government.
Foundation officials said about 50 comfort women have passed away in the past 20 years; only eight are now left in Taiwan, with an average age of 87. They have yet to receive an apology or admission of wrongdoing from the Japanese government, foundation officials said, so there is still much work to be done to seek justice for these elderly victims.
The foundation is planning a memorial for "Grandma Hsiu-mei" on Dec. 9, which is to coincide with the 20-year anniversary event to commemorate the start of the movement in support of Taiwanese comfort women.
Comments will be moderated. Keep comments relevant to the article. Remarks containing abusive and obscene language, personal attacks of any kind or promotion will be removed and the user banned. Final decision will be at the discretion of the Taipei Times.