Agricultural losses exceed NT$5 billion
COUNTING THE COST Farmers have been hit hard, with 43,527 hectares affected; 432 schools have been damaged and the Hongyeh Hot Spring Zone has been buried
The Council of Agriculture said that as of 5pm yesterday, the nation had sustained NT$5.06 billion (US$153 million) in agricultural losses, with 43,527 hectares of farmland damaged by flooding and strong winds.
In addition to Kaohsiung, Pingtung and Hualien counties qualifying for cash relief and low-interest loans under the Agricultural Natural Disaster Relief Regulations (農業天然災害救助辦法), the council's Statistics Office Director Cheng Shuo-liang (鄭碩亮) said that Yunlin, Chiayi, Tainan and Taitung counties were also able to apply for aid.
Miaoli and Taichung counties and Chiayi City have also met guidelines and are eligible to apply for cash relief, he said.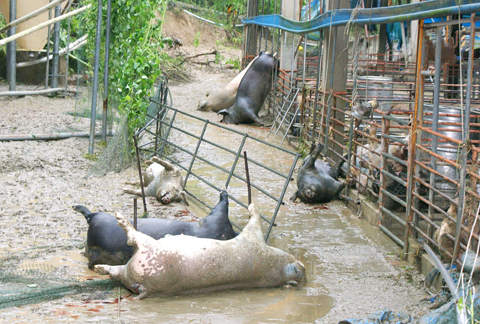 Pigs lie dead after drowning at a pig farm, where floods caused by heavy rains brought by Typhoon Morakot washed away 700 pigs, in Tainan County's Lungchi Township yesterday.
PHOTO: WU CHUN-FENG, TAIPEI TIMES
Crops worth NT$2.39 billion and covering 43,527 hectares have been damaged, Cheng said.
"Banana farms have been hit the hardest, with 4,960 hectares affected, followed by papayas, guavas and leafy vegetables," he said.
Asked if the damage caused by Typhoon Morakot would break records, Cheng said the highest agricultural damage in history was caused by 1996's Typhoon Herb, which led to NT$18.5 billion in losses. Typhoon Haitang in 2005 caused NT$7.7 billion in losses, he added.
However, the numbers for Morakot are climbing steadily, Cheng said.
"This is not the final number, as we are still tallying … So far the damage caused by Morakot is the seventh largest in history," he said.
Besides damage to homes, many dog kennels in southern Taiwan also suffered traumatic losses from the storm. In one kennel located beneath the Kaoping Bridge (高屏), dozens of dogs drowned in their cages, Animal Rescue Team Taiwan said, adding that those who wish to help can visit their Web site at www.savedogs.org.
To reduce possibility of disease outbreaks and pest manifestations to a minimum, the Environmental Protection Administration's (EPA) Department of Environmental Sanitation and Toxic Substance Management Director-General Yuan Shaw-ying (袁紹英) urged people to begin cleaning up as soon as possible, starting with waste that rots easily.
"The EPA has contacted environmental protection bureaus of local governments and asked that they begin work now. People should cooperate with their local cleaning teams and clean up their homes," Yuan said.
In related news, the Ministry of Education's latest statistics showed that the damage caused by Morakot to schools nationwide amounted to about NT$70 million (US$2.1 million).
A total of 432 schools, the majority of which were primary and junior high schools, have been damaged, the ministry said.
Schools in Tainan County suffered the most serious damage, the ministry said.
Ministry of Education Secretary-General Pan Wen-chung (潘文忠) said the government would grant funding for reconstruction this week and hoped to complete the work before the new semester begins on Aug. 31.
About 200,000 households in northern Kaohsiung City and parts of Kaohsiung County had their water supply cut off for the next three days after the Kaoping River (高屏溪) flooded and contaminated the water supply.
The water will remain cut off in the city's Kushan, Zuoying and Nanzih districts and townships in the county such as Gangshan (岡山), Yanchao (燕巢), Lujhu (路竹), Hunei (湖內), Ciaotou (橋頭), Yong'an (永安), A-lian (阿蓮) and Renwu (仁武) until midnight tomorrow.
Meanwhile, the Tourism Bureau estimated that damage to scenic areas would top approximately NT$570 million. The Maolin National Scenic Area and its tourist center in Liukuei (六龜), Kaohsiung, was completely destroyed by a flood.
The Hongyeh (紅葉) Hot Spring Zone has been buried in a mudflow.
The bureau also estimated that the damage to hotels in Nantou, Chiayi, Tainan, Kaohsiung, Pingtung and Taitung had reached NT$137 million.
Meanwhile, 16 Chinese tourists were reported to be trapped in Alishan (阿里山) and 81 tourists were stranded on Green Island and Liouciou Island as they waited for boat services to resume.
ADDITIONAL REPORTING BY SHELLEY SHAN AND FLORA WANG
Comments will be moderated. Keep comments relevant to the article. Remarks containing abusive and obscene language, personal attacks of any kind or promotion will be removed and the user banned. Final decision will be at the discretion of the Taipei Times.