Taipei to preserve historical Japanese-era buildings
The Taipei City Government yesterday started a restoration project on a group of Japanese-style houses built on Qidong Street in the 1920s in an effort to preserve the city's largest group of such buildings.
The narrow street, located at the intersection of Zhongxiao E Road and Jinshan S Road, has a total of 10 houses built for civil servants during the Japanese colonial era. Occupying more than 6,800m², this kind of architecture has become rare even in Japan, Taipei City's Department of Cultural Affairs said.
"The wooden structures make the preservation of historical Japanese buildings a challenge, and even in Japan, most old buildings were destroyed or dismantled to make way for urban renewal projects," Teng Wen-tsung (鄧文宗), a division chief in the department, said during a press conference in front of the houses yesterday.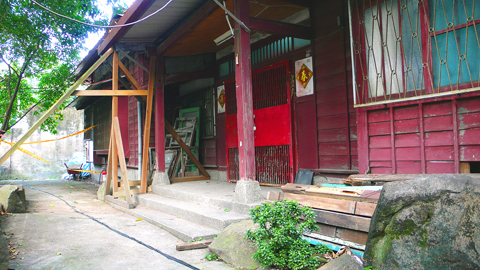 A Japanese colonial-era wooden house is pictured in a compound on Qidong Street in Taipei yesterday. Ten houses built in the 1920s for Japanese colonial civil servants are to be restored and opened to the public.
PHOTO: LIN HSIANG-MEI, TAIPEI TIMES
The area originally comprised 17 houses, but seven were torn down by Bank of Taiwan, which owned the land, in 2002.
To preserve the remaining houses, the government revised regulations in the Cultural Assets Preservation Act (文化資產保存法) and protected the houses as "temporary historical sites" before formally listing them as municipal historical sites in 2004.
Although the 10 remaining houses have been abandoned for years, the interior decorations and a total of 12 old trees are well preserved, Teng said.
The buildings show how people lived during the Japanese colonial era, Teng said.
The restoration project will cost NT$22 million (US$650,000) and will be completed next year.
Chu Chen Pao-kuei (褚陳寶貴), a local resident, said the efforts to preserve the houses were initiated by the local community. The community will cooperate with the department and the Council of Cultural Affairs to preserve the buildings, Chu said.
Lee Yong-ping (李永萍), commissioner of the department, said the restored houses would be open to the public.
Comments will be moderated. Keep comments relevant to the article. Remarks containing abusive and obscene language, personal attacks of any kind or promotion will be removed and the user banned. Final decision will be at the discretion of the Taipei Times.