`Grand master Lee' takes on the younger generation
PUBLICITY The former president dressed up as the hero of a popular Japanese comic book to promote a new Web site aimed at young people
Wearing the traditional costume of a Japanese kendo grand master and looking like the hero of a famous Japanese comic book, former president Lee Teng-hui (李登輝) yesterday took an unprecedented step in posing for a series of publicity pictures with two young students of the Lee Teng-hui School. \nThe photos will be used to promote a new Web site aimed at introducing young people to Lee's philosophy and beliefs on Taiwan-centered national identification. \nInspired by a well-known Japanese comic book by Akira Miyashita about life in a private kendo school, the publicity campaign is the brainchild of Freddy Lim (林昶佐), lead singer of the Taiwanese black metal band Chthonic (閃靈樂團) and former student of the Lee Teng-hui School's young leaders' program. \nLim said Lee very closely resembles the comic book's hero, a 80-year-old kendo grand master, in both appearance and mettle. \nHe said the former president was pleased with his idea of presenting his ideas to the younger generation by playing the comic book's hero. \n"I've been thinking about how to offer young people like me a chance to get to know about former president Lee's enthusiasm and vigor, which have deeply influenced me," Lim said. \n"And we think a new Web site is a very good medium to realize such an idea, and presenting Lee as a kendo master based on the comic book character should capture the attention of young comic-book enthusiasts," he said. \nLim said that the Web site would be different from the usual sites promoting political figures. \n"The Web site is more like a database that will introduce Lee's philosophy and his viewpoints on literature, arts and national identification from young people's perspective. It will become a platform for young people to interact and talk about Lee," he said. \nHsieh I-hong (謝易宏), a National Taiwan University student majoring in political science, has also noted similarities between Lee and the comic's hero. \n"Former president Lee is very similar to the comic's hero, since they both believe in the importance of responsibility to the country and society and stress courage and perseverance," Hsieh said, adding that Lee was known as a proficient kendo practitioner when he was a high-school student. \nThe Web site's address will be announced at a news conference next Tuesday, Lim said.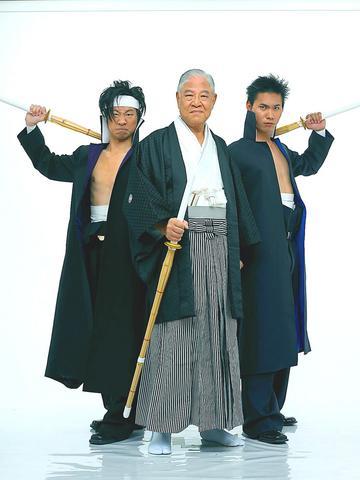 Former president Lee Teng-hui and two young models, dressed like characters from a Japanese comic book, pose for publicity shots yesterday to promote a new Web site in an effort to attract young voters.
PHOTO COURTESY OF THE LEE TENG-HUI SCHOOL
Comments will be moderated. Keep comments relevant to the article. Remarks containing abusive and obscene language, personal attacks of any kind or promotion will be removed and the user banned. Final decision will be at the discretion of the Taipei Times.