Ninad Malwade stars in Taipei cricket final
Ninad Malwade backed up his innings of 47 not out with two late wickets, helping Taipei-based PCCT defeat Formosa in the final of the T10 Annual Taiwan Cricket tournament at Taipei's Yingfeng Cricket Ground yesterday.
Formosa's Anthony Liu hit 50 in the reply, but rued a lack of runs at the start of their innings that left his side seven runs shy of the win.
In the fifth over, Liu turned the game around after the first four overs had yielded only 26 runs. He hit a lookaway hook shot into the square-leg fence on his first ball from Usman Javed and followed it up with three more sixes in the over.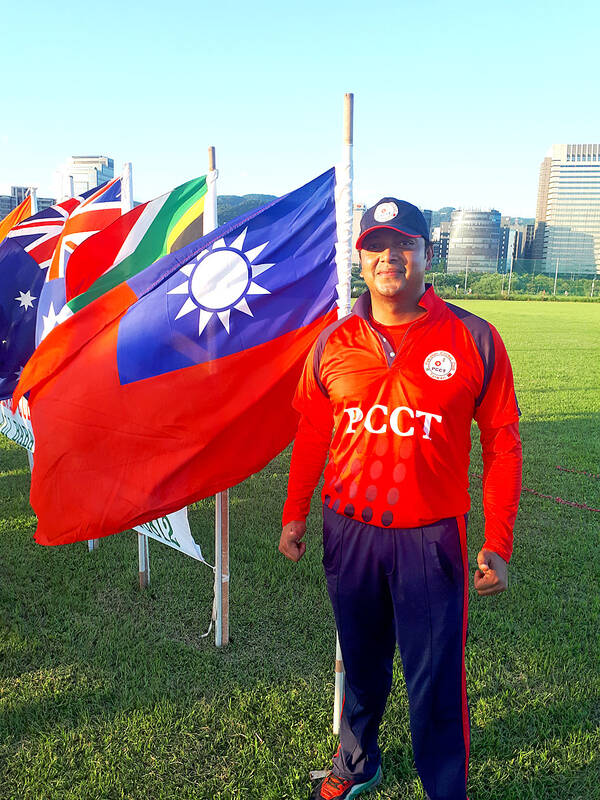 PCCT all-rounder Ninad Malwade poses for a photograph ahead of a presentation ceremony at the T10 Annual Taiwan Cricket tournament at Yingfeng Cricket Ground in Taipei's Songshan District yesterday.
Photo courtesy of Taiwan Cricket
Formosa kept themselves in the game for the next three overs before Malwade took the ball. He had Liu caught in the deep and took another wicket while only conceding three runs to leave Formosa too much to chase in the last over.
The founders of the new national body for cricket in Taiwan attended the final and were impressed with the hitting ability on display.
"Anthony is very impressive. He is a very good hitter," association vice chairman Joe Peng said.
It was raining sixes in the morning's first semi-final as Formosa piled on 128-1 with Liu (28) hitting three sixes, Sandeep Patel (38 not out) one and Vishwajit Tawar (47 not out) four in their win over the Raging Bulls.
Pankaj Tirkey hit 52 in the reply, clearing the boundary four times himself, and Vijay Ganisetti made 12 of his 22 runs in the same manner, but they were never in the hunt for the mammoth target, finishing their 10 overs on 91-4.
The second semi was dominated by Malwade, who scored 59 not out, as PCCT made short work of a target of 90 set by the Taipei Indians. The highlight of the game was from wicketkeeper Salman Akram, who executed a spectacular catch behind the stumps, diving high to his left to snare a thick edge from the bat of Murugan Subramani (21).
The Taipei Indians won the playoff for third, piling on 96-7 in their 10 overs and restricting the Raging Bulls to 63-3.
Comments will be moderated. Keep comments relevant to the article. Remarks containing abusive and obscene language, personal attacks of any kind or promotion will be removed and the user banned. Final decision will be at the discretion of the Taipei Times.