Kennedy wins 17th, D-backs top Padres
RED-HOT: Arizona pitcher Ian Kennedy topped the National League with the 6-1 win, while Tampa's David Price struck out 14 in seven innings against the Blue Jays
NATIONAL LEAGUE
Ian Kennedy topped the National League with his 17th win of the season as the Diamondbacks beat the San Diego Padres 6-1 for their sixth consecutive win on Sunday.
Arizona have allowed just five runs over their impressive winning streak, and Kennedy (17-4) continued the stingy pitching, striking out seven batters over seven innings.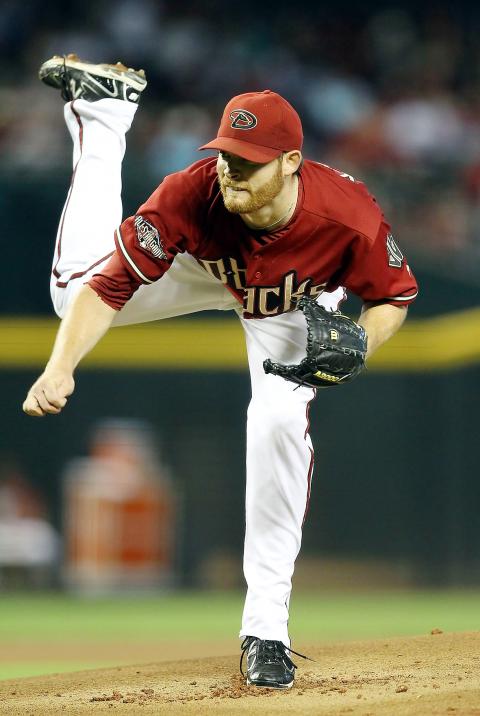 Starting pitcher Ian Kennedy of the Arizona Diamondbacks pitches against the San Diego Padres during their Major League Baseball game at Chase Field in Phoenix, Arizona, on Sunday.
Photo: AFP
The red-hot right-hander has now won nine of his last 10 starts to help the D-Backs establish a four-game lead over the San Francisco Giants in the National League West.
"We weren't playing well before this, so we're kind of making up for it," Kennedy told reporters. "It's nice to do this at home, go on this streak against guys in our division. It's a lot of fun right now."
Kennedy's 17th win of the year surpassed Los Angeles Dodgers starter Clayton Kershaw's 16 for the lead in the NL.
Kennedy and the D-Backs fell behind 1-0 to the Padres in the top of the second, but a pair of home runs gave them control.
Collin Cowgill, who went four-for-four on the day, tied the game with a solo blast in the bottom of the second, before Aaron Hill's two-run shot in the third gave the home team a 3-1 lead.
The homer was the first for Hill since he joined Arizona through a trade with Toronto on Tuesday, while Cowgill also hit an RBI double in the eighth as the Diamondbacks added three more runs.
The loss was the fourth straight for the NL West bottom-feeders San Diego (60-74).
"Their pitching has really come on," Padres manager Bud Black said. "The two guys at the top of their rotation, Kennedy and Daniel Hudson, have come into their own with confidence and stuff. Their bullpen has been revamped. That's the biggest thing, pitching."
Cory Luebke allowed three runs in a little more than five innings to take the loss for the Padres, who had a solo homer from Orlando Hudson in the second.
Brewers 3, Cubs 2
In Milwaukee, Wisconsin, Corey Hart homered for the second time in as many days as the Milwaukee Brewers swept the Chicago Cubs on Sunday.
Zack Greinke (13-5) improved to 10-0 at Miller Park and did not allow a hit until Marlon Byrd's fifth-inning effort. In the bottom of the inning, Greinke singled, stole a base for the first time in his career and scored on Hart's blast.
Greinke struck out seven, scattering four hits and two walks.
John Axford allowed a solo homer to Tyler Colvin in the ninth and third baseman Casey McGehee bobbled two balls before tagging out Byrd to end it. Axford got his 40th save.
The Brewers completed their second straight three-game sweep over the Cubs to improve to 21-5 this month, tying the franchise mark for most wins in a month set in June 1978.
Reds 5, Nationals 4
In Cincinnati, Ohio, Joey Votto led off the 14th inning with his second home run of the game, lifting the Cincinnati Reds over the Washington Nationals.
Votto hit a full-count pitch from Collin Balester (1-3) into the left-field bleachers to push the Reds over .500 for the first time since July 3.
His second career game-ending homer sent the Nationals to a sixth straight loss, tying their season high.
Johnny Cueto and five Reds relievers combined for 19 strikeouts, tying the team record.
Bill Bray (4-2) allowed one hit in the 14th to get the win.
Washington manager Davey Johnson and bench coach Pat Corrales and Reds manager Dusty Baker all were ejected.
In other NL action, it was:
‧ Rockies 7, Dodgers 6
‧ Cardinals 7, Pirates 4
‧ Astros 4, Giants 3, 11 inns
AMERICAN LEAGUE
AP, TORONTO
David Price struck out a franchise-record 14 in seven dominant innings, Desmond Jennings hit a pair of solo home runs and the Tampa Bay Rays beat the Toronto Blue Jays 12-0 on Sunday.
Price (12-11) broke the team mark for strikeouts shared by Scott Kazmir and James Shields.
Relievers Brandon Gomes and Cesar Ramos each struck out two.
Jennings homered on the first pitch of the game from Brandon Morrow (9-9) and got a career-high four hits. He drove in three runs, scored three, drew a walk and also stole a base from the leadoff spot.
Sean Rodriguez added a two-run homer and Matt Joyce doubled twice during a six-run ninth as the Rays improved to an AL-best 20-9 since July 28.
Orioles 2, Yankees 0, first game
Yankees 8, Orioles 3, second game
In Baltimore, Maryland, Curtis Granderson homered twice to take the major league lead with 38, rookie Ivan Nova won his 10th straight decision and New York split a day-night doubleheader with Baltimore.
Granderson hit a three-run drive in the third inning and a solo shot in the seventh. He moved past Jose Bautista, who has 37 homers, and assumed the major league lead in RBIs with 107.
Nova (14-4) gave up three runs and seven hits in seven-plus innings, striking out seven and walking two. The right-hander has won seven straight starts and is 10-0 in 11 outings since June 3.
Brian Matusz (1-7) allowed six runs and six hits — including three home runs — in 5-1/3 innings. Adam Jones had two RBIs for the Orioles, whose six-game winning streak ended.
In the first game, Rookie Zach Britton (8-9) allowed four hits over seven innings, and Baltimore extended their winning streak to a -season-high six games.
The Orioles had not won six in a row since April 2008.
The game was scoreless until the seventh, when Nick Markakis doubled and Vladimir Guerrero singled.
Twins 11, Tigers 4
In Minneapolis, Minnesota, Luke Hughes hit two home runs to help the Minnesota Twins take out their hitting frustration on Brad Penny and the Detroit Tigers, ending a seven-game losing streak.
Hughes drove in five runs for the first time in his career, backing Brian Duensing (9-13) and sparking the Twins to just their fourth win against the Tigers in their last 19 meetings.
Rangers 9, Angels 5
In Arlington, Texas, Josh Hamilton broke out of a slump with a long two-run homer and the tiebreaking RBI single for AL West-leading Texas. Hamilton's homer in the third off Jered Weaver tied the game at 4-4, and his single in the seventh put the Rangers ahead 6-5.
In other AL action, it was:
‧ White Sox 9, Mariners 3
‧ Royals 2, Indians 1
Comments will be moderated. Keep comments relevant to the article. Remarks containing abusive and obscene language, personal attacks of any kind or promotion will be removed and the user banned. Final decision will be at the discretion of the Taipei Times.