Ivanisevic enjoys return
Goran Ivanisevic waited three years to play one match. It was everything he'd wished for.
Ivanisevic is back at Wimbledon for the first time since winning the title as a wild card in 2001. After missing the tournament the past two years with injuries, he can still claim to be a "defending" champion.
The 32-year-old Croat picked up where he left off Monday -- slamming aces, hamming it up for the crowd, blowing kisses and winning in straight sets on Center Court.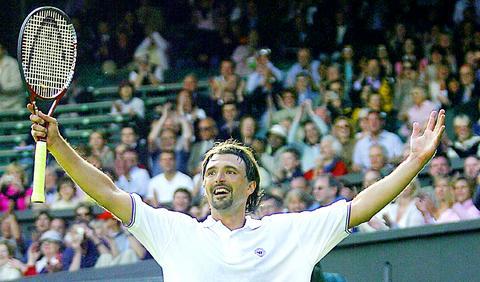 Goran Ivanisevic of Croatia celebrates his upset victory over Mikhail Youzhny of Russia during the first round of the 118th Wimbledon Tennis Championships in Wimbledon, London, Monday. Ivanisevic won the match 6-3, 6-7, 6-2.
PHOTO: AFP
"Beautiful," he said after beating Mikhail Youzhny of Russia 6-3, 7-6 (4), 6-2.
Ivanisevic hasn't lost a match at Wimbledon in four years. After beating Pat Rafter in a dramatic five-set final for his first and only Grand Slam title, he missed the 2002 tournament after left shoulder surgery and pulled out in 2003 after knee surgery.
This, his 15th career Wimbledon, will be his final tournament of any kind.
PHOTO: AFP
And he's making the most of it.
"I just came here to say goodbye and have fun," Ivanisevic said. "If I win a couple of matches, it's great. If not, it's also great."
The way he looked on the opening day, who knows how far he could go.
Ivanisevic, who has won only two matches in nine tournaments this year, looked like the Goran of old -- whipping left-handed serves, volleying with authority, ripping baseline shots.
He said he doesn't expect to win the tournament, and would be happy just to get to the second week.
"If I play well, nobody's going to beat me easy, especially since I don't have any goals," he said. "I'm retiring after this Wimbledon. I'm going to enjoy myself every minute on the court. If somebody wants to beat me, he's going to have to play really good tennis."
Ivanisevic was given the honor of following Roger Federer, last year's champion, for the second match on Centre Court. It was the first time he'd played a first-round match on the sport's most famous stage.
"When I saw this crowd, I thought, `That was worth it for these two years, struggling, doing therapy, all kinds of therapy, being up and down,'" he said. "It was worth it to fight and come back and be today on Centre Court."
Ivanisevic hit 13 aces, 17 volley winners and plenty of unreturnable baseline shots. He broke three times and never lost serve. Luck was on his side, too, with several net cords going his way. He suggested the gods of Wimbledon were behind him.
"Today, everything, really, like, they still want me to play here," he said. "You know, they don't want me to lose first round."
Ivanisevic's next match, against Filippo Volandri of Italy, almost certainly won't be on Centre Court.
"If I play like this, I can play here in the parking [lot]," he said.
Ivanisevic paid tribute to another former champion making an emotional Wimbledon comeback. Nine-time champion Martina Navratilova, 47, playing singles here for the first time in 10 years, served and volleyed to a 6-0, 6-1 win over Catalina Castano of Colombia in 46 minutes.
"I cannot compare myself to her," Ivanisevic said. "She is another level. She is from another planet. She is one of the few women tennis players I respect. ... She's my hero."
Navratilova is the oldest woman to win a singles match at Wimbledon since Madeline O'Neill of Britain reached the third round in 1992 at the age of 54.
"It's great to be out there, great to have that opportunity," Navratilova said. "When people say, `Why are you doing it?' I guess the answer is, because I still can, bottom line."
Her next match will be against Gisela Dulko of Argentina -- the 19-year-old who beat her in straight sets in the first round of the French Open last month.
The first day also featured another Wimbledon staple -- rain. There were four rain delays in all; six matches weren't completed and 18 never started.
In between rain drops, Federer opened defense of his title with a 6-3, 6-3, 6-0 victory over British wild card Alex Bogdanovic. It was the Swiss star's 18th straight win on grass -- the longest streak since Pete Sampras won 23 in a row from Wimbledon in 1998 to Queen's in 2000.
Another former men's champion, 2002 winner Lleyton Hewitt, beat Jurgen Melzer of Austria 6-2, 6-4, 6-2. Venus Williams, champion in 2000 and 2001, swept 106th-ranked Marie-Gayanay Mikaelian of Switzerland 6-3, 6-0.
Venus' sister, two-time defending champion Serena, was paired in the first round Tuesday against Zheng Jie of China.
In men's play, second-seeded Andy Roddick was matched against Wang Yeu-tzuoo of Taiwan and No. 5 Tim Henman against Ruben Ramirez-Hidalgo of Spain.
Defending champion Roger Federer can't be accused of having an overloaded entourage at Wimbledon.
Attempting to defend a Grand Slam title for the first time, the 22-year-old Swiss star still doesn't have a coach or employ anyone to monitor his rivals.
"I don't have any spies here. I'm the only spy around," the top-ranked Federer said Monday after his 6-3, 6-3, 6-0 win over Andy Bogdanovic in the tournament opener on Centre Court.
He lists Lleyton Hewitt, Andy Roddick and Tim Henman as serious challengers.
POSITIVE SPIN
Lleyton Hewitt, the 2002 Wimbledon champion, has already gone one better at the All England Club than he did last year, and says he's thankful for small mercies.
Hewitt was upset by Ivo Karlovic last year and became only the second men's singles defending champion since 1967 to be bundled out in the first round at Wimbledon.
"The good thing was ... I only had one [entry-ranking] point to defend, so I wasn't worried about my ranking taking a dive," Hewitt said after his first-round win over Jurgen Melzer of Austria.
RECORD SETTING
Japan's Ai Sugiyama beat Amanda Janes of Britain 3-6, 6-2, 6-3 in the first round as she started her 38th consecutive Grand Slam tournament, the longest streak among active players.
Wayne Ferreira had to wait another night to set a new record for most consecutive Grand Slam tournaments contested by men. His first-round match against Ivan Llubicic of Croatia was postponed until Tuesday after four rain delays.
Comments will be moderated. Keep comments relevant to the article. Remarks containing abusive and obscene language, personal attacks of any kind or promotion will be removed and the user banned. Final decision will be at the discretion of the Taipei Times.