Rescue teams enter Puli, a town destroyed
SHATTERED LIVES The town of Puli in Nantou County has been cut off from the outside world since Tuesday's earthquake. When rescue teams finally made it in by helicopter yesterday, what they found was a scene of devastation far beyond what they had expected
As the dust settled in Puli from the worst earthquake in Taiwan this century, the town's many dispossessed residents are slowly coming to terms with the difficult future that awaits them.
Families camped outside their broken and destroyed homes have to deal with not only the fear, shock and trauma from the earthquake, but also the powerful aftershocks that continue to shake the ground around them.
Most have set up camps in open-air spaces, scattered throughout the town, in parks and in schools.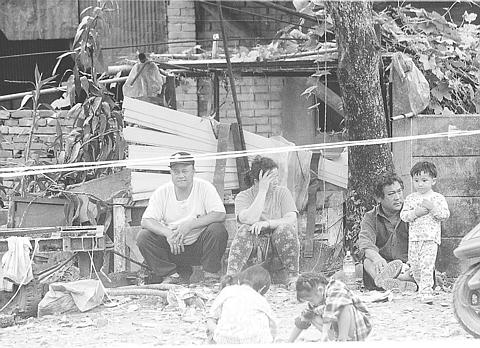 Members of a family in Puli sit in shock at the entrance of their partially destroyed home, waiting out the continuing aftershocks outside.
PHOTO: LIN CHENG-KUNG, LIBERTY TIMES
There is really no other place for them to go where they can feel safe, said Liao Yu-chen.
Liao was sitting in the playground of Puli's elementary school yesterday, surrounded by scores of other families facing a similar plight.
"When the quake hit, it felt like the end of the world," Liao said, describing her feelings on the night the earthquake destroyed the town.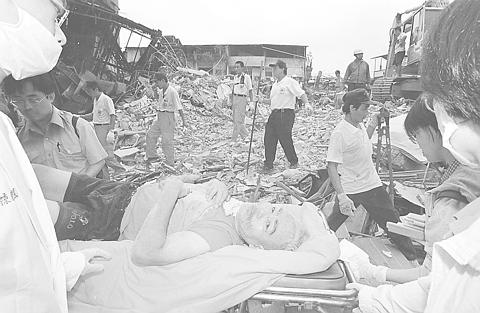 Rescuers and medical personnel in Puli attend to a survivor who had been pulled out from a collapsed building, 30 hours after the initial quake. The man, who had once survived a stroke, had suffered no apparent injuries.
PHOTO: CHANG YING-YING, TAIPEI TIMES
Luckily, she was able to get her family out of their home, which split nearly in two.
Now Liao, like many others, is stuck. She cannot return to her destroyed home, but is frightened to leave Puli.
"The roads are terrible -- I wouldn't go anywhere," she said. "Not only that, but aftershocks are a concern."
Just yesterday morning, Liao returned to her home to retrieve a gas cooker. But as she did, an aftershock hit again.
But yesterday, for thousands like Liao, there was a glimmer of hope. Rescue helicopters came and went several by the hour, bringing in food and water and taking away the injured.
Premier Vincent Siew (蕭萬長) flew in yesterday to survey the damage in the town, which is isolated and difficult to get to after a bridge on the main road linking it with the outside world was destroyed.
They soon discovered that the damage in Puli is much more serious than the government initially estimated.
"It wasn't until 30 hours after the earthquake that we realized the extent of damage that had been sustained," said government spokesman Chen Chien-jen while visiting Puli.
"We were prepared, but in retrospect there was more that could have been done."
He said the government was now focusing on three immediate goals -- an urgent need to handle the bodies of those who lost their lives, shelter and tents for survivors who lost their homes, and for roads to be cleared of debris.
The government has also announced a relief budget of NT$3 billion -- as well as NT$1billion in immediate aid for Nantou, and another NT$1.5 billion for Taichung County.
Chen also said the government would be looking into the structural integrity of the affected buildings to find out why they had collapsed so easily.
Some buildings, he said, were not up to standards, pointing to the fact that many newer buildings had been destroyed.
"Those responsible should be investigated," he said.
At the Taichung veteran's hospital ambulances streamed in, bringing injured people lifted by helicopter from Puli.
A 32-year-old woman, her head wrapped in bandages, said she was in the town of Chongshi when the earthquake struck and the ceiling fell on her.
She was trapped for an hour before being rescued, but had to endure a 10-hour wait before she was taken to a hospital. She said her husband was suffering from exposure
The hospital, a mess on Tuesday as it struggled with the stream of patients, was operating normally yesterday but was packed with the injured.
In neighboring Yunlin County, US search and rescue workers combined their efforts with a local team in Touliu City, about 60km west of Puli, to save people trapped in two toppled buildings.
Workers had made contact with a 33-year old man, Hsu Tse-tai (許澤泰) a novelist, who was stuck beneath what remained of a 16-story building that had sunk five floors when it collapsed on Tuesday.
The workers were able to communicate with him, and had even fed him intravenously, as well as given him oxygen, into the small space within which he was trapped.
Last night his brother came down from Taipei to see if he was okay. There was rescue work going on the other side of the building, but his brother began to move through the rubble to where he thought the apartment would have been.
After some effort, he removed some debris, and started to call out his brother's name, and his brother called back (at 1pm yesterday), and have been trying to get him out ever since. His leg is pinned down by a slab of concrete. At press time last night, rescuers were chipping away at the slab and were confident of freeing him.
International rescue teams began arriving in Taichung yesterday.
Sccording to one member of the USAID team, the help that was being provided was, in his opinion, the best-organized that the group has encountered in its work abroad.
All three of the buildings that collapsed in Touliu were built by the same construction company, which declared bankruptcy over a year ago.
The other building had sunk deep into the ground, and the extremities of the 12-story apartment complex had split open, leaving a huge gaping hole in the middle, exposing metal rebar and concrete.
It was believed that at least four people were still trapped inside a complex that had housed 236 residents. Twenty survivors were pulled out, and another seven bodies were recovered.
But while rescue teams have managed to reach areas like Tou-liu and Puli, some areas remain cut off from the outside.
Aid has come too slowly, said Chung Lin-tong, a farmer who lives in Niomen outside of Puli.
Chung, along with his son came to Puli by motorbike to get milk powder for his newborn eight-month-old child. He and his family are living in their car outside of their country home which is no longer safe to live in. When the earthquake hit, Chung said, he had only one thought, "get my family and get out of the house."
Comments will be moderated. Keep comments relevant to the article. Remarks containing abusive and obscene language, personal attacks of any kind or promotion will be removed and the user banned. Final decision will be at the discretion of the Taipei Times.