Newsmakers: Elected from jail, Yen thanks Matsu
CONTROVERSIAL FIGURE Yen Ching-piao, who was elected in Taichung County to the legislature, has the goddess, and a KMT faction, to thank for his success
By 6pm on Jan. 2, newly elected legislator Yen Ching-piao's (顏清標) house was full of his supporters waiting to welcome him home.
He had been detained for more than 300 days for corruption, attempted murder and firearms charges before he was finally sentenced to 11 years and released on NT$5 million bail on Jan. 2 pending an appeal.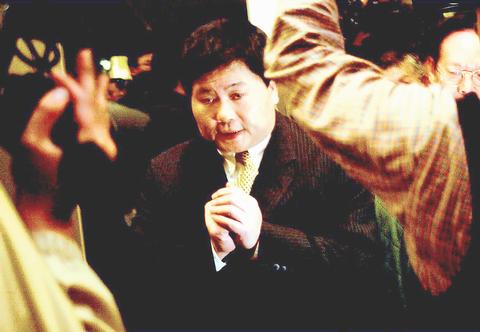 Yen Ching-piao: happy to be home.
TAIPEI TIMES FILE PHOTO
Yen, an independent legislator-elect from Taichung County, is the first politician in Taiwan to run a political campaign from behind bars and win.
For Yen, his supporters and his family, who ran the legislative campaign for him, his release is a gift from the goddess Matsu.
Following a visit to his ill mother, Yen led his family to the Chen Lan Temple (鎮瀾宮) to express his appreciation to Matsu.
Yen will join other legislators-elect and take the oath of office in the Legislative Yuan on Feb. 1.
Political analysts and Yen's family said that Yen's triumph in the Dec. 1 election was thanks to Yen's efforts in his constituency and his innocent image, despite the criminal charges.
"Yen has done a lot of work in his constituency in Shalu and Lungching," said Wang Yeh-li (王業立), a political scientist at Taichung's Tunghai University. "Although he is a controversial figure, we expected that he would receive a lot of votes even before the result was announced."
Yen's son, Yen Kuan-heng (顏寬恆), said his father's detention united his supporters more than ever.
"President Chen Shui-bian (陳水扁) indicated that my father wouldn't be released when he came to campaign for the DPP's candidates in Taichung, saying that Matsu would be helpless," the younger Yen said.
"President Chen's remark enhanced the impression that my father was being persecuted, which really helped us in the election."
Yen Kuan-heng filled out his father's registration papers and campaigned on his behalf while Yen's case wound its way through the legal system during the campaign.
"I don't understand why my father is adored by his supporters, especially as he is a controversial figure," Yen said. "But I have seen something specific about him -- he can make friends with individuals from all kinds of backgrounds."
However, DPP legislator Chiu Tai-san (邱太三), who represents Taichung County, sees Yen's success as a result of a local faction's help. He said the KMT's black faction (黑派) in Taichung would have been destroyed if Yen failed in the election.
"The Dec. 1 election was a crucial battle for the KMT's black faction," Chiu said. "Since Yen was the only candidate who could coordinate all the faction's supporters, the faction tried its best to help Yen."
Yen, who married at 17, was nicknamed "Wintermelon Piao" by his grandfather for his short and stout figure.
After a government crackdown on organized crime in 1986, Yen spent three-and-a-half years in Green Island's maximum-security prison. His participation in local politics began soon after his release.
As a member of the KMT's black faction in Taichung County, Yen worked as a borough warden (里長) for more than three years before becoming a county councilor. At 35, he became the youngest ever member of the Taiwan Provincial Assembly.
Yen was elected chairman of the board of the Chen Lan Temple in Taichung County in January 1999.
His attempts to lead Matsu followers on a pilgrimage to China via Kinmen to worship the goddess Matsu in June 2000 made him more popular than ever.
Yen engaged in various bus-inesses, including gravel plants, cement factories and restaurants and became associated with gangsters and inter-faction rivalry.
Yen's secretary, Liu Shu-mei (劉淑媚), a National Taiwan University graduate and former director of Taichung County's reconstruction bureau, said her boss was a respectable individual.
"Many of my friends have asked me why I want to work for a gangster, but he is really not the kind of person the media have portrayed," Liu said.
"I became involved when he decided which candidate to support in the presidential election, and his decision to support James Soong (宋楚瑜) really earned my respect."
Liu said the KMT tried very hard to attract Yen's support for its candidates, but Yen finally turned down the KMT's request because of his cooperation with James Soong in the Taiwan Provincial Government.
"He is not well-educated, but he is an accommodating individual," Liu said. "He always tries his best to fight for the public interest. Most of those who criticized him have no idea about him at all."
The DPP's Chiu, however, holds a different view.
"He does a lot for his constituency, but what a legislator needs to do is not this kind of thing," Chiu said.
"He is just not professional enough for policymaking and debate, which are what legislators really need to do."
Comments will be moderated. Keep comments relevant to the article. Remarks containing abusive and obscene language, personal attacks of any kind or promotion will be removed and the user banned. Final decision will be at the discretion of the Taipei Times.