What is USB-C, the socket replacing Apple's Lightning cable? 蘋果終於改用 USB-C 淘汰Lightning接頭
Bye, Lightning cable. Hello, USB-C.
Apple is ditching its in-house iPhone charging plug and falling in line with the rest of the tech industry by adopting a more widely used connection standard. A big part of the reason is a European Union common charging rule that's coming soon for the 27-nation bloc.
Here's a look at the USB-C plug and what it means for consumers: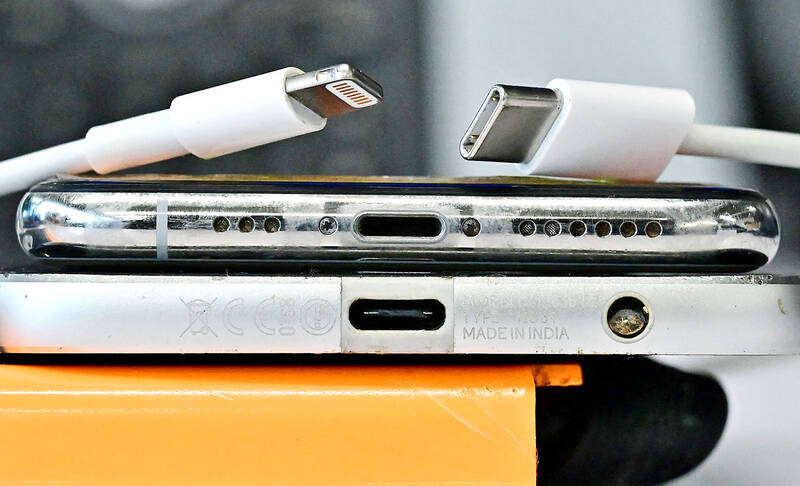 A USB-C charger (R) and a traditional Apple Lightning charger (L) are seen on an Apple iPhone with Lightning port above an Android phone with a USB-C port on Sept. 11, 2023 in Los Angeles, US. USB-C充電線(右)及蘋果傳統的Lightning充電線(左),下方為配備Lightning充電孔的蘋果iPhone,疊放在配備USB-C接口的安卓手機上。9月11日攝於美國洛杉磯。
Photo: AFP 照片:法新社
WHAT IS USB-C AND HOW CAN I TELL IT APART FROM OTHER PLUGS?
The first part of the acronym stands for Universal Serial Bus, and it replaces earlier versions of the USB cables used on everything from printers and hard drives to computer mice and Kindle readers.
The USB-C plug comes in a different shape than its predecessors — an elongated oval. It's also symmetrical and reversible, which eliminates one of the common gripes about previous versions like the rectangular USB-A connectors because there's no wrong way to plug it in.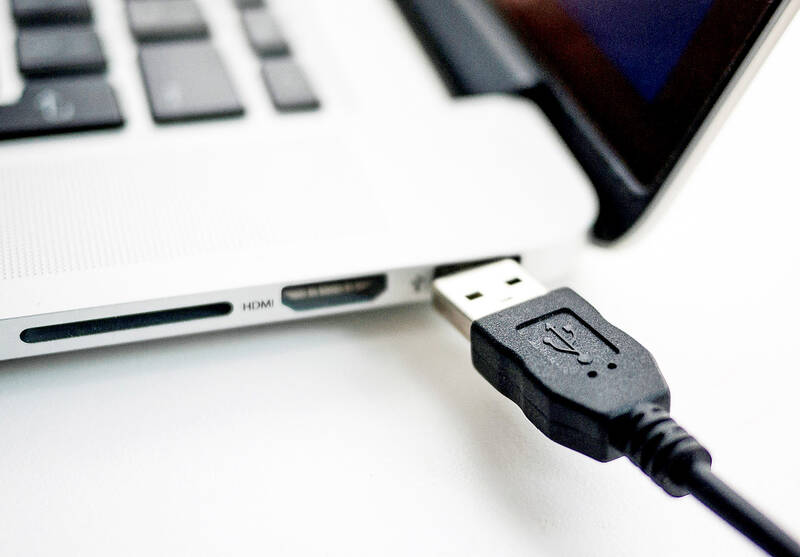 A photo illustration shows a USB-A device being plugged into a laptop computer July 31, 2014. 插在筆記型電腦接口的USB-A接頭,攝於2014年7月31日。
Photo: Reuters 照片:路透
WHAT'S SO GREAT ABOUT USB-C?
USB-C cables can carry more power so laptops can be charged faster, and they enable faster data transfer speeds, allowing a big trove of files to be copied from a computer to an external hard drive. At the same time, they can pump out a video signal to a monitor and supply power to connected accessories.
The USB-C connector also is designed to be future-proof. Its shape won't change but newer versions — and the devices they connect to — will come with upgraded capabilities. That means users will have to beware because older devices might not be able to support the latest specs.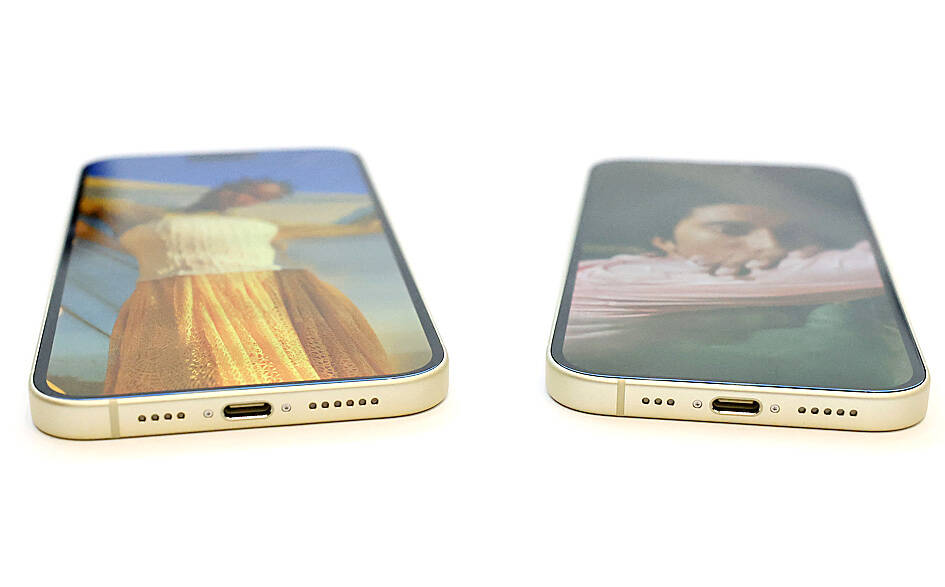 A USB-C port is visible on the brand new Apple iPhone 15 during an Apple event on Sept. 12 in Cupertino, California, US. 9月12日在美國加州庫比蒂諾舉行的蘋果發表會中,全新蘋果iPhone 15機身上可見USB-C接孔。
Photo: AFP 照片:法新社
It's also slimmer than boxy USB-A plugs, making them a better fit for newer devices that keep getting smaller.
WHY IS APPLE USING IT?
Apple has long championed its proprietary Lightning connector for iPhones even though pretty much no one else used it. It resisted the EU's common charging push, citing worries that it would limit innovation and end up hurting consumers.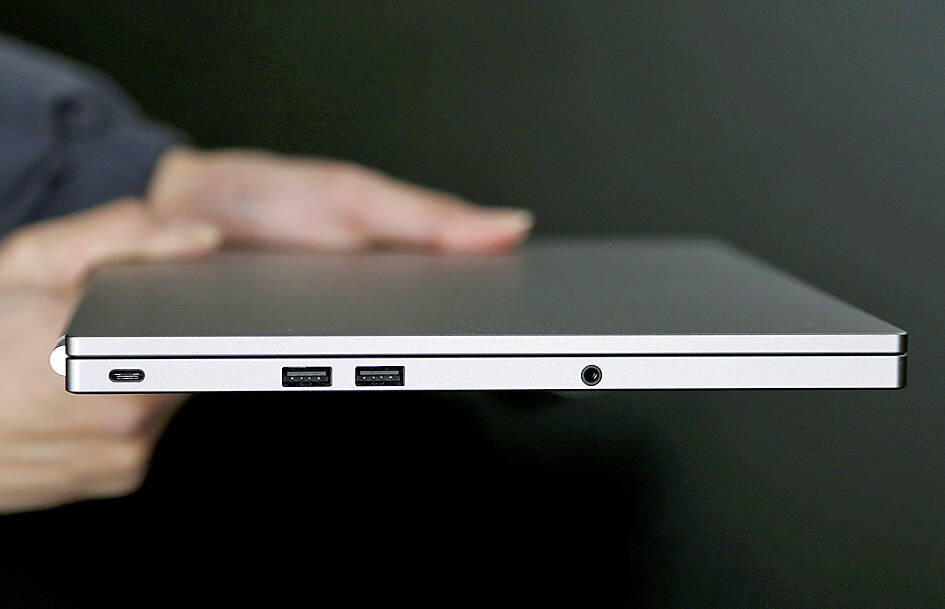 This March 10, 2015 photo shows, from left, the USB-C port, two standard USB ports, and headphone jack on a laptop, in San Jose, California, US. 筆記型電腦上的USB-C接口(左起)、兩個標準USB接口和耳機插孔。2015年3月10日攝於美國加州聖荷西。
Photo: AP 照片:美聯社
Apple held out even as others started adding USB-C connectors into their devices. But after the EU proposal won a key approval last year, the US tech giant gave in and didn't look back.
A company executive unveiling the latest iPhone on Tuesday last week didn't even mention the Lightning cable as she introduced its replacement.
"USB-C has become a universally accepted standard so we're bringing USB-C to iPhone 15," said Kaiann Drance, vice president of iPhone product marketing.
She said USB-C has "been built into Apple products for years" and can now be used on MacBooks, iPads, iPhones and AirPods.
WHAT ROLE DID EUROPE PLAY?
Apple's shift is an example of how European Union regulations often end up rippling around the world — what's known as the "Brussels effect" — as companies decide it's easier to comply than make different products for different regions.
The EU spent more than a decade cajoling the tech industry into adopting a common charging standard. The push to impose rules for a uniform cable are part of the bloc's wider effort to make products sold in the EU more sustainable and cut down on electronic waste.
The EU's common charging rule won't actually take effect until fall next year. It covers phones, tablets, e-readers, earbuds, digital cameras, headphones and headsets, handheld video game consoles, keyboards and mice, portable speakers and navigation devices.
It also standardizes fast-charging technology and gives consumers the right to choose whether to buy new devices with or without a charger.
(AP)
再見,Lightning傳輸線。哈囉,USB-C。
蘋果正捨棄自家的iPhone充電接頭,採用更廣泛使用的連接標準來與其他科技公司一致。很大一部分原因是歐盟27國即將實施的共同充電規則。
以下為USB-C接頭概觀,及其對消費者的意義:
什麼是USB-C?它跟其他接頭如何區分?
該縮寫詞的第一部分USB代表的是「Universal Serial Bus」(通用序列匯流排),它取代了用於印表機、硬碟、電腦滑鼠和Kindle電子書閱讀器等各種設備的早期USB電線。
USB-C接頭的形狀與其前身不同,而呈細長的橢圓形。它也是對稱的,且兩面都可用,這去除了過去的形式(如矩形USB-A接頭)常為人詬病的一個缺點,因為不會插錯方向。
USB-C有何優點?
USB-C線材可承載更多電量,因此筆記型電腦可以更快充飽電,資料傳輸的速度也會加快,從而可將大量文件由電腦複製到外接硬碟。同時,USB-C可將影像訊號輸出到監視器,並為連接的配件供電。
USB-C接頭的設計也具有未來性。它的形狀不會改變,但其新版本及連接設備的功能將會升級。這表示用戶必須注意,因為舊設備可能無法支援最新的規格。
它還比方方角角的USB-A接頭更細薄,更能適用於體積不斷縮小的新型設備。
蘋果為何採用它?
蘋果的iPhone長期以來一直擁護其專有的Lightning接頭,儘管幾乎沒有別的廠商用過Lightning。蘋果抵制歐盟統一充電接頭的措施,理由是擔心它會限制創新,且到頭來會傷害消費者。
即便其他公司開始在其產品上設置USB-C接頭,蘋果仍堅持己見。但歐盟的提案在去年獲得關鍵批准後,這家美國科技巨頭屈服了,且不再回首。
最新款iPhone上週二發表,蘋果高層主管在介紹替代Lightning的傳輸線時,甚至沒有提及Lightning一詞。
iPhone產品行銷副總裁凱茵.德廉斯說道:「USB-C已成為普遍接受的標準,因此我們將USB-C 引入iPhone 15」。
她說USB-C「多年來一直內建於蘋果產品中」,現在可以在 MacBook、iPad、iPhone和AirPods上使用。
歐洲發揮了什麼作用?
蘋果公司的轉變是歐盟法規最終擴散至全球的一個例子,即所謂的「布魯塞爾效應」,因為公司認為遵守法規比為不同地區製造不同產品更容易。
歐盟花了十多年的時間勸導科技業採用共同的充電器標準。推動實施統一線材的規定,屬於歐盟政策大方向之一,為了使在歐盟銷售的產品更具永續性,並減少電子廢棄物。
歐盟統一充電器的規定要到2024年秋季才會真正生效。它涵蓋手機、平板電腦、電子閱讀器、耳塞式耳機、數位相機、耳機與耳麥、手持電玩控制器、鍵盤及滑鼠、可攜式喇叭與導航設備。
它還標準化了快速充電技術,並賦予消費者選擇權,購買新機時可自行決定是否購買充電器。
(台北時報林俐凱編譯)
Comments will be moderated. Keep comments relevant to the article. Remarks containing abusive and obscene language, personal attacks of any kind or promotion will be removed and the user banned. Final decision will be at the discretion of the Taipei Times.