What do we know about COVID variant XBB.1.5? 新冠病毒變異株XBB.1.5傳染力極強
The Omicron subvariant of SARS-CoV-2, XBB.1.5, is causing concern among scientists after its rapid spread in the United States in December last year.
Here is what we know so far:
WHAT IS THE XBB.1.5 SUBVARIANT AND HOW DOES IT BEHAVE?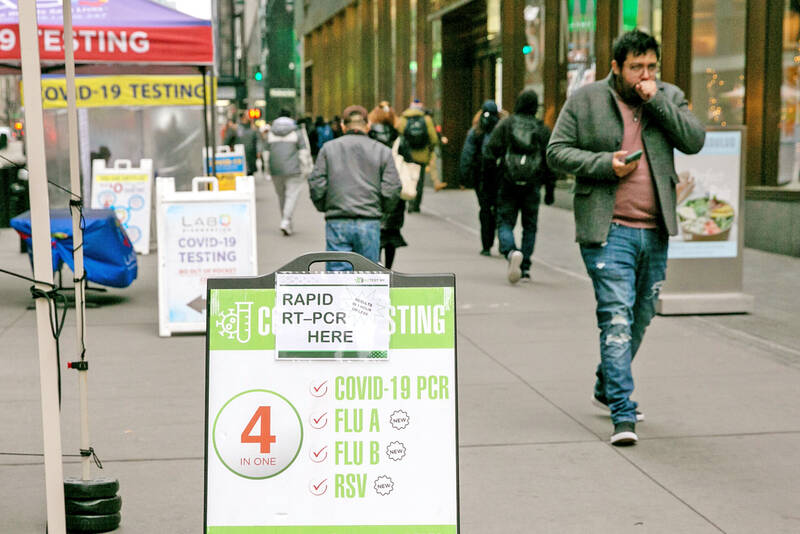 COVID-19 testing centers are open on the sidewalk in New York, New York, US on Jan. 10. The latest COVID-19 variant, known as XBB.1.5, has quickly been spreading in New York City and across the nation. The World Health Organization confirmed on Jan. 4 it is the most transmissible variant found yet. COVID-19檢測中心於1月10日在美國紐約州紐約市的人行道上開放。最新的COVID-19變種XBB.1.5,已迅速在紐約市和全美傳播。世界衛生組織1月4日證實,它是迄今發現傳染力最強的變種。
Photo: EPA-EFE 照片:歐新社
The World Health Organization's senior epidemiologist Maria Van Kerkhove said XBB.1.5 is the most transmissible Omicron sub-variant that has been detected so far. It spreads rapidly because of the mutations it contains, allowing it to adhere to cells and replicate easily.
"Our concern is how transmissible it is," Van Kerkhove said in a news briefing on Jan. 4.
XBB and XBB.1.5 were estimated to account for 44.1% of COVID-19 cases in the US in the week of Dec. 31, up from 25.9% in the previous week, according to data from the US Centers for Disease Control and Prevention. It has also been detected in 28 other countries worldwide, the WHO said.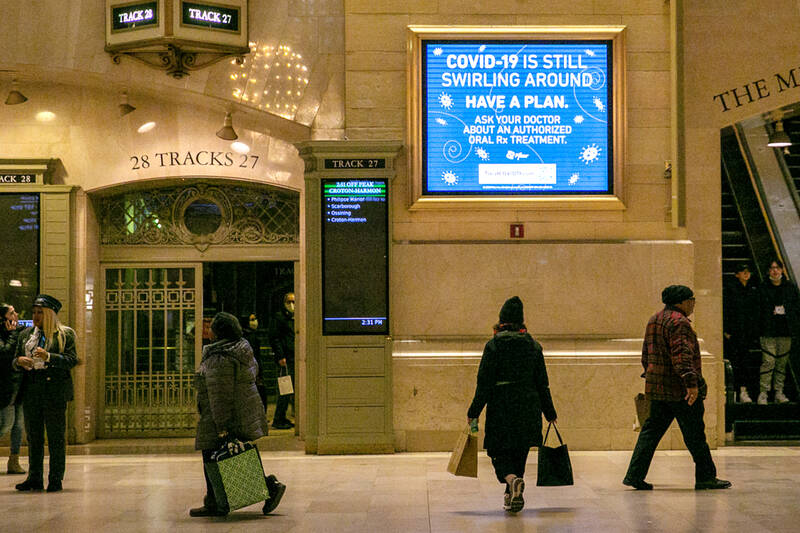 A sign at Grand Central Station encourages New Yorkers to have a COVID-19 treatment plan in New York, New York, US on Jan. 10. 美國紐約州紐約市中央車站的告示,鼓勵紐約人就醫治療COVID-19。攝於1月10日。
Photo: EPA-EFE 照片:歐新社
XBB.1.5 is yet another descendant of Omicron, the most contagious variant of the virus causing COVID-19 that is now globally dominant. It is an offshoot of XBB, first detected in October last year, which is itself a recombinant of two other Omicron sub-variants.
HOW DANGEROUS IS XBB.1.5?
The WHO said it does not have any data on severity yet, or a clinical picture on its impact. It said that it saw no indication that its severity had changed but that increased transmissibility is always a concern.
"We do expect further waves of infection around the world, but that doesn't have to translate into further waves of death because our countermeasures continue to work," said Van Kerkhove, referring to vaccines and treatments.
She said the WHO was unable to currently attribute the increase in hospitalizations in the northeastern US to the variant, given that many other respiratory viruses were also in circulation.
Virologists agree that the emergence of the new subvariant does not mean there is a new crisis in the pandemic. New variants are to be expected as the virus continues to spread.
XBB.1.5 is likely to spread globally, but it remains unclear if it will cause its own wave of infections around the world. Current vaccines continue to protect against severe symptoms, hospitalisation and death, the experts say.
"There is no reason to think that XBB.1.5 is of any more concern than other variants that come and go in the ever-changing landscape of COVID-19 mutants," said Professor Andrew Pollard, director of the Oxford Vaccine Group.
WHAT IS THE WHO DOING ABOUT IT?
The WHO's Technical Advisory Group on Virus Evolution is doing a risk assessment on the subvariant. Van Kerkhove said on Jan. 4 it hoped to publish that in the next few days.
Professor Tulio de Oliveira, a South African scientist who sits on the committee, said the situation was "complex," particularly given the global context of the surge of cases in China after it dropped its zero-COVID policy in December last year.
The WHO said it was closely monitoring any possible changes in the severity of the subvariant with the help of laboratory studies and real world data.
(Reuters)
新冠病毒變異株Omicron的亞變種XBB.1.5,去年12月在美國迅速傳播後,引起了科學家的關注。
我們目前對其所知如下:
XBB.1.5 亞變種及其行為方式為何?
世界衛生組織的資深流行病學家瑪麗亞‧范科霍芙表示,XBB.1.5是目前發現傳播性最強的Omicron亞變種。由於其中的突變,讓它可以粘附在細胞上並輕易複製,因此能夠迅速傳播。
范科霍芙在1月4日的記者會中表示:「我們擔心的是,它的傳播性有多強」。
根據美國疾病管制與預防中心的數據,在12月31日當週,XBB和XBB.1.5估計占美國COVID-19病例的44.1%,高於前一週的25.9%。世界衛生組織表示,在其他28個國家也發現了這種病毒。
XBB.1.5是Omicron的另一個子代,Omicron是COVID-19病毒中最具傳染性的變種,為現今全球主要流行的病毒。它是XBB的一個分支,去年10月首次檢測到,它本身是另外兩個Omicron亞變種的重組體。
XBB.1.5的危險性有多高?
世界衛生組織表示,目前尚無其造成重症程度的任何數據,也沒有關於其影響的臨床情況。世衛並未看到任何跡象顯示其重症程度有所改變,但它較高的傳染力始終令人擔憂。
范科霍芙在談到疫苗和治療時說:「我們確實預計世界各地會出現一波波更多的感染,但這不一定會轉化為更多的死亡數,因為我們的應對措施仍繼續發揮作用」。
她說,鑑於許多其他呼吸道病毒也在傳播,世衛組織目前無法將美國東北部住院人數的增加歸因於該變種。
病毒學家一致認為,新亞變種的出現並不意味疫情有新的危機。隨著病毒持續傳播,新變種的出現在預期之內。
XBB.1.5可能會傳播至全球,但尚不清楚它是否會在全世界造成XBB.1.5感染潮。專家表示,目前的疫苗可以繼續預防重症、住院及死亡。
「沒有理由認為XBB.1.5比在COVID-19變種不斷變化的情況下來來去去的其他變種更令人擔憂」,牛津疫苗小組主任安德魯‧波拉德教授說。
世衛組織有何作為?
世衛組織病毒進化技術諮詢小組正對該亞變種進行風險評估。范科霍芙1月4日表示,希望在未來數天內公佈此消息。
委員會成員、南非科學家圖利歐‧德奧利維拉教授表示,情況「複雜」,特別是考慮到中國去年12月取消COVID清零政策後,病例激增的全球背景。
世衛組織表示,它正藉助實驗室研究和現實世界數據密切監測該亞變種的嚴重程度,及其任何可能之變化。
(台北時報林俐凱編譯)
Comments will be moderated. Keep comments relevant to the article. Remarks containing abusive and obscene language, personal attacks of any kind or promotion will be removed and the user banned. Final decision will be at the discretion of the Taipei Times.