French baguettes listed as cultural heritage by UNESCO 法國長棍麵包獲列為文化遺產 聯合國教科文組織認證
The humble baguette — the crunchy ambassador for French baking around the world — is being added to the UN's list of intangible cultural heritage as a cherished tradition to be preserved by humanity.
The French staple has been deemed eligible to join UNESCO's "Intangible Cultural Heritage" list, an award given to practices or traditions that have been passed down from generation to generation. It includes rituals, performing arts, traditional crafts, and specific food dishes. UNESCO, which is part of the UN, said in a statement on Wednesday last week that baguettes held cultural importance given the "artisanal know-how" needed to make them, as well as the rituals around eating them — not to mention, their "crisp crust around a fluffy center."
The organization said that baguettes are special among other kinds of bread due to the "modes of consumption and social practices" around them, including daily visits to the bakery to pick one up.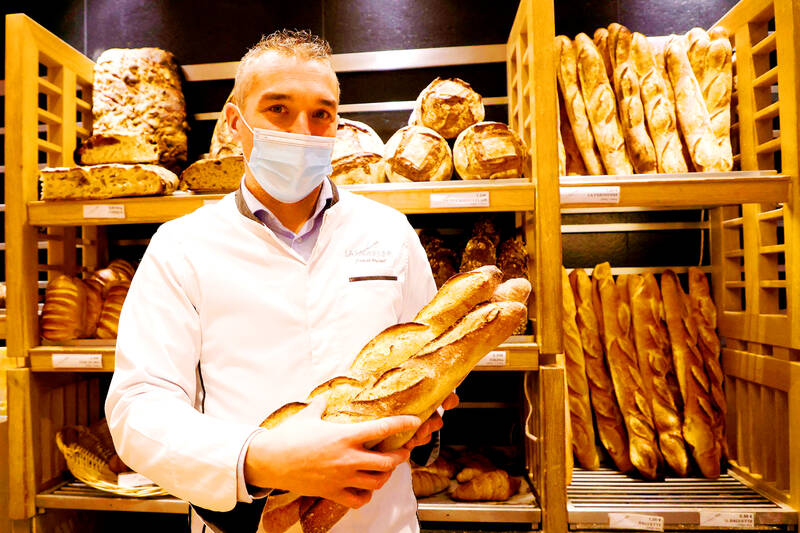 French baker Mickael Reydellet, wearing a protective mask, poses with freshly-baked baguettes at "La Parisienne" bakery in Paris, France on Feb. 17 last year. 法國麵包師米凱‧黑德雷戴著防護口罩,與剛出爐的法式長棍麵包合影。二〇二一年二月十七日攝於法國巴黎之巴黎人麵包店。
Photo: Reuters 照片:路透
French President Emmanuel Macron expressed his joy at the award in a tweet, describing the baguette as "250 grams of magic in our daily lives."
Back in France, bakers seemed proud, if unsurprised.
"Of course, it should be on the list because the baguette symbolizes the world. It's universal," said Asma Farhat, baker at Julien's Bakery near Paris' Champs-Elysees avenue.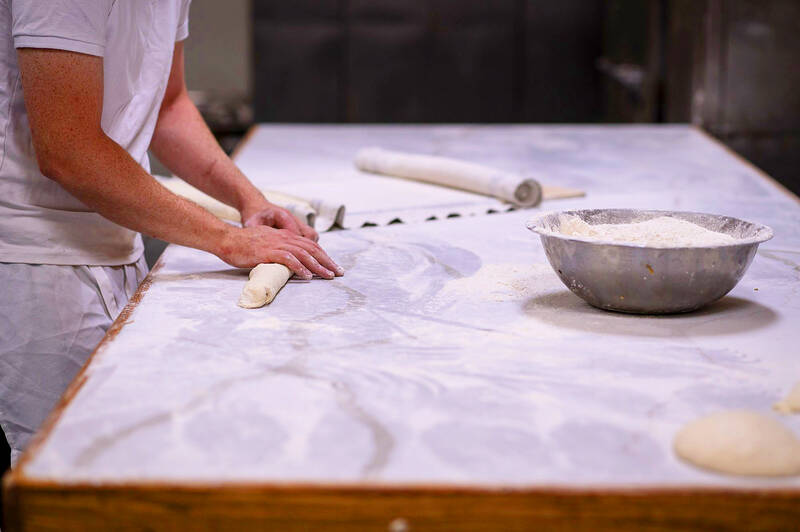 A worker makes baguettes in the kitchen of a french bakery and cafe in Chicago, Illinois, US, on July 16. 一位師傅在法式麵包咖啡廳之廚房製作長棍麵包。七月十六日攝於美國伊利諾伊州芝加哥。
Photo: Bloomberg 照片:彭博社
"If there's no baguette, you can't have a proper meal. In the morning you can toast it, for lunch it's a sandwich, and then it accompanies dinner."
A baguette normally costs just over 90 euro cents (just over $1), seen by some as an index on the health of the French economy.
Although it seems like the quintessential French product, the baguette was said to have been invented by Vienna-born baker August Zang in 1839. Zang put in place France's steam oven, making it possible to produce bread with a brittle crust yet fluffy interior.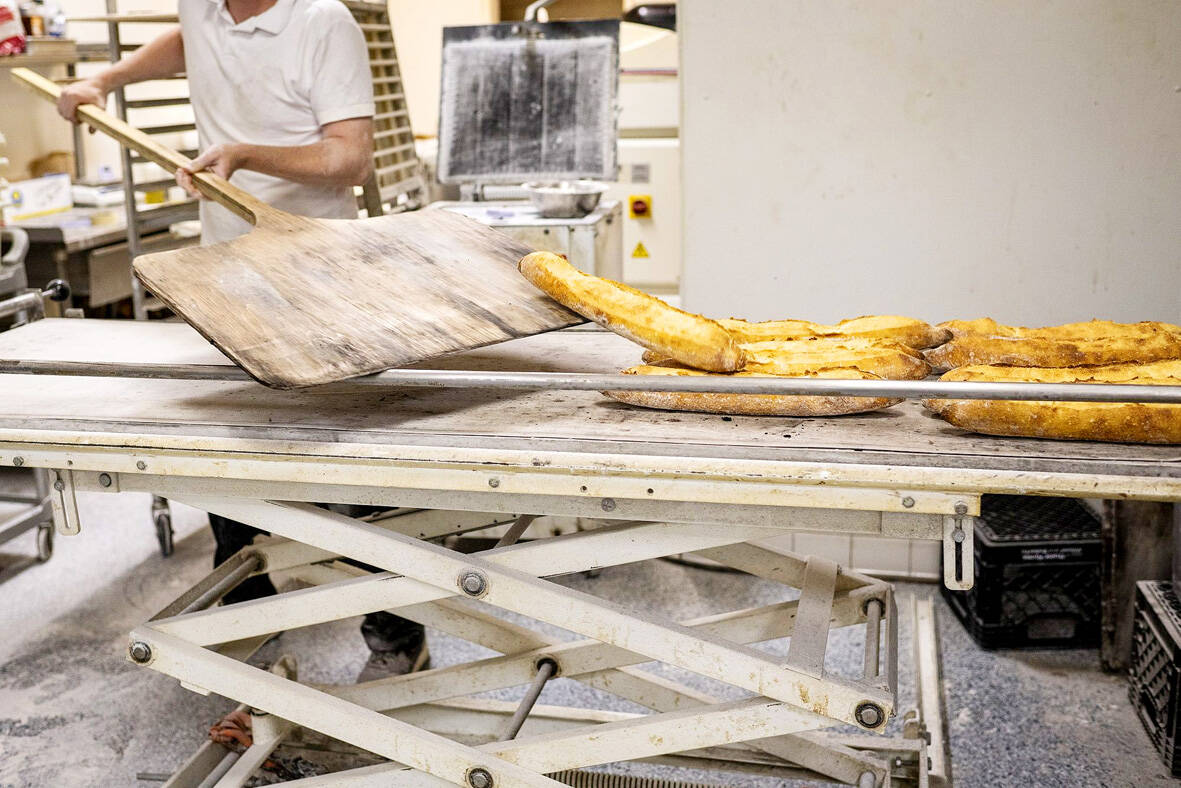 A baker removes freshly baked baguettes from an oven in the kitchen of a french bakery and cafe in Chicago, Illinois, US, on July 16. 麵包師在法式麵包咖啡廳之廚房中將剛出爐的法式長棍麵包取出。七月十六日攝於美國伊利諾伊州芝加哥。
Photo: Bloomberg 照片:彭博社
The product's zenith did not come until the 1920s, with the advent of a French law preventing bakers from working before 4 a.m. The baguette's long, thin shape meant it could be made more quickly than its stodgy cousins, so it was the only bread that bakers could make in time for breakfast.
The baguette joins other traditional foods on UNESCO's list, including Ukrainian borscht, kimchi, flatbread, Belgian beer culture and Neapolitan pizza. Other "intangible" traditions to have been given the status in the past include Chinese acupuncture, dry stone walling and capoeira.
Baguettes are not the first French food to join the list. The "gastronomic meal of the French" was awarded the honor in 2010, with UNESCO specifying that it must begin with aperitifs before dinner, followed by "at least" four courses, then liqueurs. It should also preferably include local foods, and be served with carefully paired wines and on a beautifully set table.
(Bloomberg and AP)
不起眼的法式長棍麵包——法國烘焙聞名世界的鬆脆大使——被收錄為聯合國非物質文化遺產,列為需受人保護的珍貴傳統。
這項法國主食被認可足以列入聯合國教科文組織「非物質文化遺產」名錄,這是授予代代相傳的習俗或傳統,包括儀式、表演藝術、傳統工藝和特定的食物菜餚。隸屬於聯合國的聯合國教育、科學及文化組織〔簡稱為聯合國教科文組織〕,上週三發表聲明說,長棍麵包具有文化重要性,因其製作需要「職人技術」,以及相關的食用儀式——更別說它「包裹鬆軟內部的酥脆外皮」了。
該組織表示,長棍麵包跟別種麵包比起來很特別的是圍繞它的「消費模式與社會習俗」,包括每天去麵包店買一個。
法國總統伊曼紐‧馬克宏在一則推文中表達了他對獲選的喜悅,稱法式長棍麵包是「我們日常生活中的250公克魔法」。
回到法國,麵包師看來對此若不是不意外,就是感到自豪。
「長棍麵包當然應該在名單上,因為它象徵著世界。它是全方位的」,巴黎香榭麗舍大道附近朱利安麵包店的麵包師阿斯瑪‧法哈說。
「如果沒有長棍麵包,你就無法好好吃一頓餐。長棍麵包早上可以用烤的當早餐,午餐用做三明治,然後晚餐用來佐餐」。
一條長棍麵包的價格通常略高於90歐分(略高於1美元),一些人將其視為法國經濟健康狀況的指標。
雖然長棍麵包像是典型的法國產品,但據說它是由維也納出生的麵包師奧古斯特‧臧在一八三九年發明的。他發明了法國蒸汽烤箱,所以才有辦法生產外皮酥脆、內部蓬鬆的麵包。
直到一九二〇年代,因法國法律禁止麵包師在凌晨四點前工作,長棍麵包的生產才達到極盛時期。長棍麵包的細長形狀代表它可以比其他短胖的麵包更快做好,因此它是唯一一種可以趕得及在吃早餐前做好的麵包。
跟長棍麵包一樣也列為非物質文化遺產的傳統食物,還包括烏克蘭羅宋湯、泡菜、薄餅、比利時啤酒文化及那不勒斯披薩。其他被賦予非物質文化遺產地位的「無形」傳統還有中國針灸、乾石牆和巴西戰舞卡波耶拉。
長棍麵包並不是第一個上榜的法國食物。「法國美食料理」於二〇一〇年獲此殊榮,聯合國教科文組織詳述它必須以晚餐前的開胃酒開始,接著「至少」要有四道菜,然後是利口酒;最好還應包括當地食物,佐以精心搭配的葡萄酒和擺設精美的餐桌。
(台北時報林俐凱編譯)
Comments will be moderated. Keep comments relevant to the article. Remarks containing abusive and obscene language, personal attacks of any kind or promotion will be removed and the user banned. Final decision will be at the discretion of the Taipei Times.