ENGLISH DIGEST 實用英語
Change your sheets for a good night's sleep 別讓床單上看不見的髒汙影響你的睡眠
It's delightful to get a relaxing night's sleep on a bed with cool, fresh linens. Research into the science of sleep and hygiene recommends clean sheets because of the issues associated with dirty ones.
Substances like dirt, sweat, body oils and dead skin cells can build up on our sheets. Breathing in these substances and exposing our skin to them contributes to allergies, asthma and skin irritation. Sweat and body oils can also make your sheets and blankets smell disgusting, especially in hot weather.
Some substances that reduce sleep quality can't even be seen with the naked eye. Dust mites are microscopic creatures that live in mattresses and other fabric-covered furniture in most households. They feed on dead human skin cells, so dirty sheets can help dust mites breed more quickly. Dust mites' dead bodies and fecal matter can also bother people's skin and cause allergies and asthma.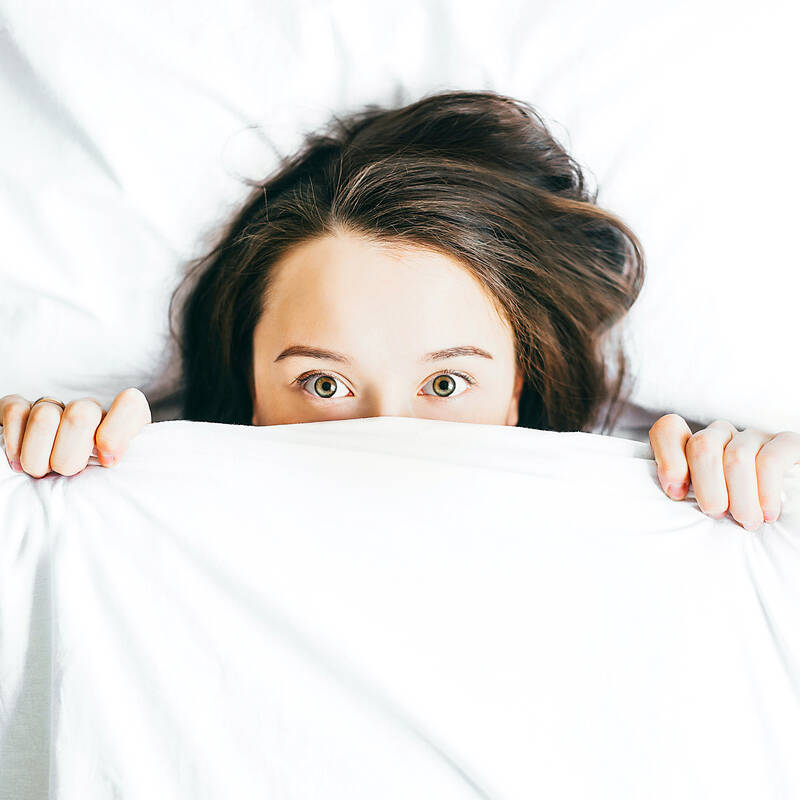 Photo courtesy of Unsplash / 照片:Unsplash提供
Most people should wash or alternate their sheets and covers for pillows and blankets once a week. You may be able to extend this to every ten days or two weeks during cold winters. If pets live in your home and sleep on your bed, increase the frequency to three or four times a week. Likewise, if you have allergies or asthma, wash your sheets more often. Although it might seem excessive, it's worth a try to see if this relieves your symptoms.
When washing sheets, use the hottest water possible listed on the manufacturer's label and gentle laundry soap. You may want to use the rinse cycle in the washing machine twice to get all the soap out. Use a tumble dryer or hang your sheets up to dry. Now that you know all about bed hygiene guidelines, you'll be able to make your bed a pleasant, calm place to rest.
在套有清新涼爽的亞麻床單的床上、享受一夜輕鬆的睡眠是一件令人愉快的事。由於一些與不乾淨的床單有關的問題,針對睡眠以及衛生方面的研究建議我們使用乾淨的床單。
灰塵、汗液、身體的油垢與死皮細胞等物質會堆積在我們的床單上。吸入這些物質並讓我們的肌膚與它們接觸會導致過敏、氣喘甚至是皮膚炎。汗水及身體的油垢也會讓床單和毛毯聞起來很噁心,尤其是在炎熱的天氣裡。
有些會降低睡眠品質的物質甚至是肉眼無法看見的。塵?是一種存在於大多數家庭的床墊與其他紡織品覆蓋家具中的微小生物。牠們以人體的死皮細胞為食,因此不乾淨的床單可以幫助塵?更快地繁殖。塵?的屍體及排泄物也會影響人的皮膚、並引發過敏和氣喘。
大多數人應該每週清洗或更換一次床單、枕頭套和被套。在寒冷的冬天,你或許可以延長至每十天或兩週一次。如果寵物生活在家中並睡在你的床上,就要將頻率增加到每週三到四次。同樣地,如果你有過敏或氣喘,你就要更頻繁地清洗床單。雖然這似乎太過頭了,但很值得一試,看看這是否能緩解你的症狀。
清洗床單時,要使用製造標籤上所列出盡可能最熱的水及溫和的洗衣皂。你可能需要使用洗衣機的沖洗循環兩次以去除所有肥皂。使用滾筒式烘衣機或是將床單掛起來晾乾。既然你已經了解到所有關於床鋪衛生的原則,你就能讓你的床成為一個宜人、平靜的休息空間。
MORE INFORMATION
(bed) linens n. 床包;床套
asthma n. 氣喘
irritation n. 發炎
microscopic adj. 極小的;微小的
fecal matter 排泄物
rinse v. 沖洗;刷洗
tumble dryer 滾筒式烘衣機
KEY VOCABULARY
1. hygiene n. 衛生(情況)
It's important to practice good hygiene and wash your hands thoroughly with soap and water.
保持良好的衛生習慣,並用肥皂和水徹底洗手很重要。
2. expose vt. 暴露;使接觸
Our skin can burn if it is exposed to sunlight for too long. 如果陽光底下曝曬太久,我們的皮膚可能會灼傷。
3. mattress n. 床墊
Gretchen had difficulty sleeping on her friend's guest bedroom mattress because it wasn't soft enough.
格雷琴無法睡在她朋友客房的床墊上,因為它不夠柔軟。
4. fabric n. 布料;織物
The hunter marked trees and bushes with strips of fabric so that he wouldn't get lost in the woods.
那名獵人用布條標記樹木和樹叢,這樣他才不會在森林裡迷路。
5. breed v. 繁殖;生產(三態breed-bred-bred)
After the famous racehorse retired, its owner used it to breed more champions.
那匹知名的賽馬退役後,牠的主人用牠來繁衍更多的冠軍馬。
6. alternate v. 輪流;交替
My parents alternate the days they drive us to school. Mom does it on Tuesdays and Thursdays, and Dad does it the other days.
我的父母輪流開車送我們上學。週二及週四是媽媽負責,其他天則是爸爸。
7. likewise adv. 同樣地
Since Jenna is so popular, when she follows a trend, many of her classmates do likewise.
因為珍娜很受歡迎,當她關注某個潮流時,許多她的同學都會跟著做。
8. excessive adj. 過度的;過分的
The driver lost control of the wheel and crashed into a truck while driving at an excessive speed.
那位駕駛在超速行駛時失去對方向盤的控制,並撞上一台卡車。
9. manufacturer n. 製造商;生產商
Mercedes-Benz is based in Germany but has manufacturers in several other countries.
賓士汽車的總部位於德國,但它在其他幾個國家都有製造商。
學習音檔: https://magazine.english4u.net/Magdata/menu/0sr43
《空中美語》雜誌APP免費下載: https://www.english4u.net/apps/index.aspx
免費收聽當月《空中美語》雜誌課文朗讀及解析 !
文章由AMC空中美語授權使用: https://www.english4u.net
Comments will be moderated. Keep comments relevant to the article. Remarks containing abusive and obscene language, personal attacks of any kind or promotion will be removed and the user banned. Final decision will be at the discretion of the Taipei Times.