SPEAK UP ! 雙語會話
What's in an earthquake emergency kit? (1/2) 地震避難包裡有什麼?(一)
A: There were so many aftershocks after the recent earthquake. It was scary.
B: Do you have an earthquake emergency kit at home?
A: No, I don't. What should I prepare for the emergency kit?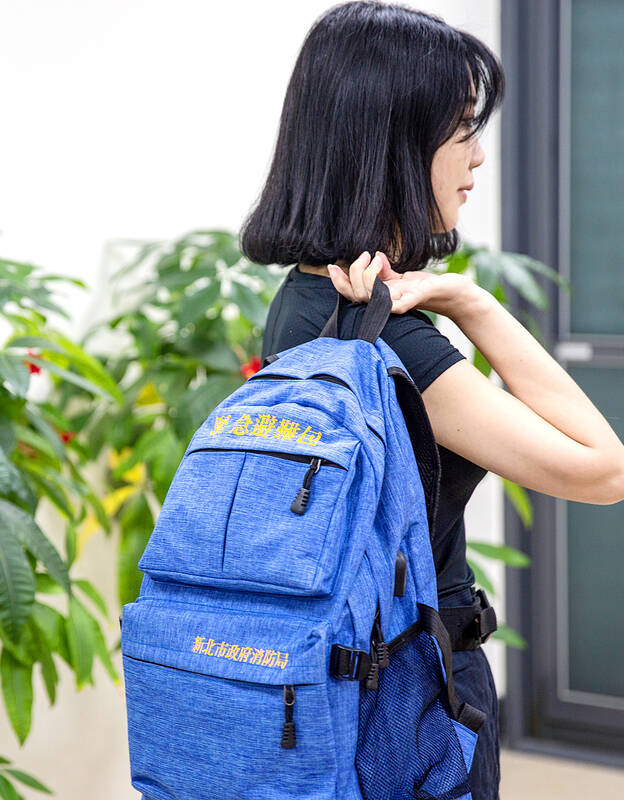 A firefighter carries an emergency kit. 消防員正背著避難包。
Photo copied by Chueh Ching-lun, Liberty Times 照片:自由時報闕敬倫翻攝
B: Taiwan's National Fire Agency recommends that people include seven essential items.
A: Let me guess: drinking water and food are two of the essential items.
B: Correct! The other five are a small blanket, emergency medicine, coarse cotton safety gloves, a flashlight and a whistle.
A: 最近地震後餘震不斷,好可怕。
B: 你家有地震避難包嗎?
A: 沒有耶,避難包裡該準備什麼?
B: 根據台灣消防署建議,應該有七樣必備物品!
A: 我猜要有飲水和食物。
B: 猜對了,還要有小毛毯、急救藥品、粗棉手套、手電筒及哨子。
(Translated by Edward Jones, Taipei Times/台北時報張聖恩)
Comments will be moderated. Keep comments relevant to the article. Remarks containing abusive and obscene language, personal attacks of any kind or promotion will be removed and the user banned. Final decision will be at the discretion of the Taipei Times.