SPEAK UP ! 雙語會話
Hsinchu post office launches drone delivery (1/2) 新竹郵局無人機起飛(一)
A: Wow, look at that drone in the sky!
B: Drones have become increasingly common in recent years. Walmart, Amazon and other companies have all begun promoting drone delivery services.
A: Chunghwa Post is also providing this service.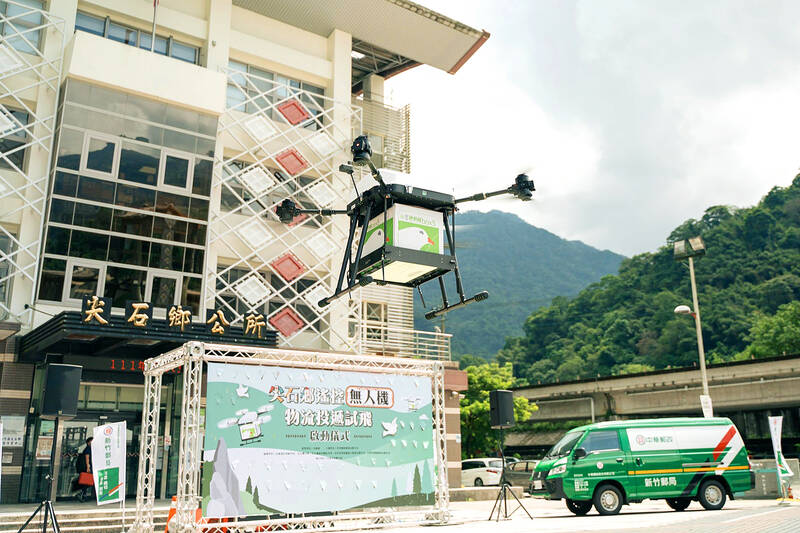 A post office in Hsinchu County launches drone delivery. 新竹縣某郵局啟動無人機服務。
Photo courtesy of Chunghwa Post Co 照片:中華郵政提供
B: Really?
A: Currently, Hsinchu County's Jianshih Township post office is trialing parcel delivery to remote villages by unmanned aerial vehicles.
B: That's fantastic. It will make it much more convenient to post things to mountainous areas.
A: 哇你看,天空中有一架無人機!
B: 這幾年無人機好像越來越普遍,沃爾瑪、亞馬遜等公司,都開始推出了無人機送貨服務。
A: 其實中華郵政也有這項服務唷。
B: 真的嗎?
A: 新竹縣尖石鄉的郵局,正在試辦無人機偏鄉物流運送。
B: 太棒了,以後寄東西到山區就方便多啦。
(Translated by Edward Jones, Taipei Times/台北時報張聖恩)
Publication Notes
Language Tip 語文小提示
Drone An unmanned aerial vehicle (UAV), commonly known as a "drone," is a fully autonomous aircraft that is piloted remotely, without aircrew or passengers onboard.
Comments will be moderated. Keep comments relevant to the article. Remarks containing abusive and obscene language, personal attacks of any kind or promotion will be removed and the user banned. Final decision will be at the discretion of the Taipei Times.