SPEAK UP ! 雙語會話
21% of reptile species may be at risk of extinction (4/5) 21%爬蟲動物面臨絕種(四)
A: Why are reptiles under the threat of extinction?
B: According to one expert, the cause is "over-exploitation and persecution."
A: In what sense?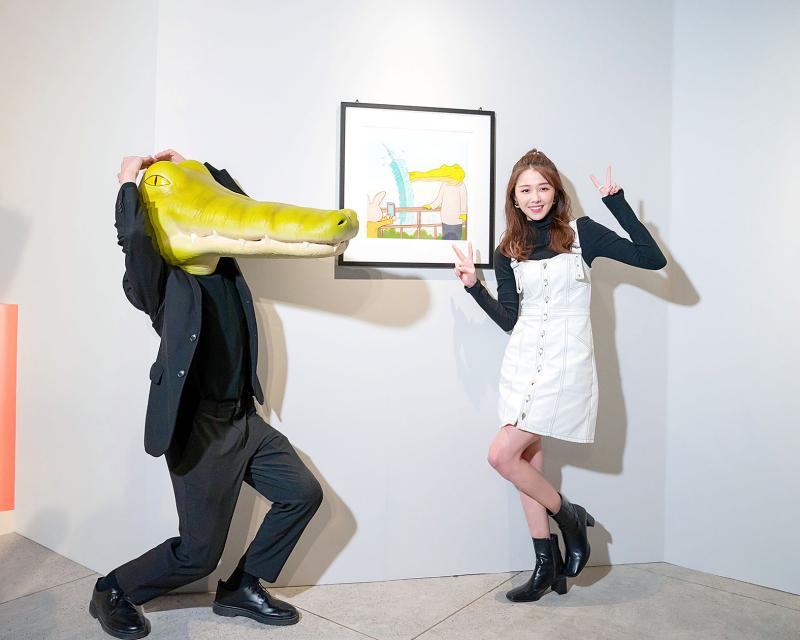 Japanese illustrator Keigo's "Mr Crocodile" exhibition was held in Taiwan. 日本插畫家Keigo筆下角色「鱷魚先生」在台灣展出。
Photo courtesy of the KHAM Inc. 照片:寬宏藝術提供
B: Crocodiles are killed for their meat or are driven out of human settlements. Turtles are poached for the pet trade and are used for traditional medicine.
A: 為什麼爬蟲動物會瀕臨絕種啊?
B: 專家說是因為「過度開發和迫害」。
A: 怎麼說?
B: 鱷魚是因為人類捕食,或被趕出人類居住環境的原因。烏龜是因為寵物交易,或傳統藥材需求所致。
(Translated by Edward Jones, Taipei Times/台北時報張聖恩)
Audio recordings for Speak Up! dialogues will be suspended until further notice due to the pandemic.
Publication Notes
LANGUAGE TIP 語文小提示
poached
The verb "to poach" means to illegally hunt or catch any animals, reptiles or fish that are a protected species. Poach also has another meaning: it is used either as a verb or an adjective to describe any food that is cooked in simmering water, e.g. "I ate two poached eggs for breakfast this morning."
Comments will be moderated. Keep comments relevant to the article. Remarks containing abusive and obscene language, personal attacks of any kind or promotion will be removed and the user banned. Final decision will be at the discretion of the Taipei Times.