SPEAK UP ! 雙語會話
This isn't going to be an easy climb (5/5) 這趟路並不輕鬆(五)
A: Congratulations! We're at the peak. From here, the only way is down!
B: That outcrop is an interesting shape. It looks like a whale to me. The lichen halfway down the side could be the eye.
A: Actually, it's already been given a name. It's known locally as "Dragon Boat Rock."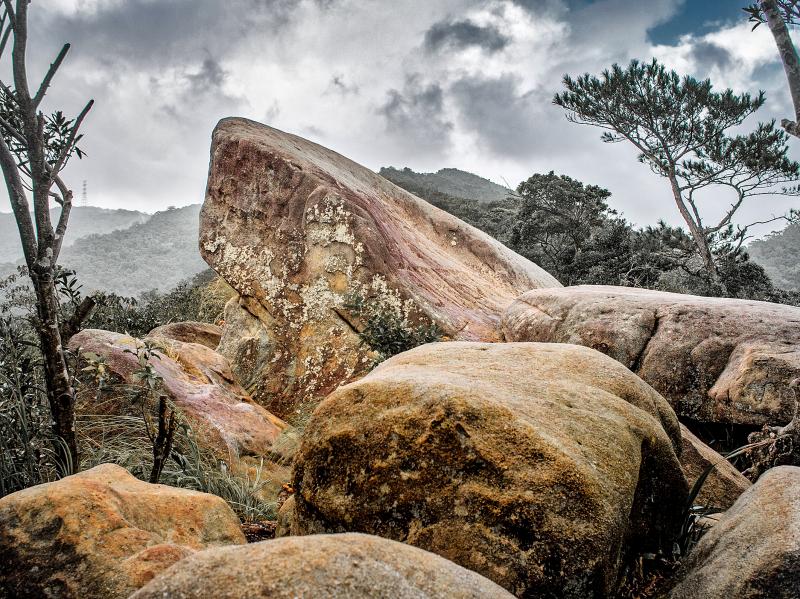 Thick clouds linger over the rock outcrop in the hills of Taipei's Neihu District known as "Dragon Boat Rock" on Oct. 11. 山丘上露出的「龍船岩」,上空烏雲密布,十月十一日攝於台北市內湖區。
Photo: Paul Cooper, Taipei Times 照片:台北時報古德謙
B: Look, there's somebody sitting under the outcrop. I can see their toes poking out of the whale's mouth.
A: It's not a whale. It's a dragon boat.
A: 恭喜!我們登頂了。從這裡開始,就都是下坡了!
B: 這邊露出來的石塊形狀很有趣,看起來像鯨魚。中間的青苔就像牠的眼睛。
A: 其實它已經有名字了。當地人叫它「龍船岩」。
B: 你看,有人坐在岩石底下,我可以看到他們的腳趾從鯨魚的嘴巴裡伸出來。
A: 那才不是鯨魚,是龍船!
(Paul Cooper, Taipei Times/台北時報林俐凱譯)
English 英文:
Chinese 中文:
Publication Notes
Language Tip 語文小提示
"The only way is down"
Here, this is said as a joke. It's a revision of the phrase "the only way is up," meaning a hope that the situation will only get better from now on.
Comments will be moderated. Keep comments relevant to the article. Remarks containing abusive and obscene language, personal attacks of any kind or promotion will be removed and the user banned. Final decision will be at the discretion of the Taipei Times.