Singers stage joint concert in memory of legendary writer Sanmao 齊豫、潘越雲開唱 傳奇作家三毛「回聲」再響
Singers Chyi Yu and Michelle Pan will hold a joint concert at the Taipei Arena tomorrow in memory of their good friend, the late Taiwanese author Chen Ping, better known by her pseudonym Sanmao. By reinterpreting their songs from albums such as "Echo," with lyrics written by the legendary writer, they hope to have her classics such as "Dreamland," "Olive Tree" and "Don't Say Goodbye" performed once again.
Sanmao published dozens of books before committing suicide in 1991, including her 1976 best-seller "Stories of the Sahara," which portrays her experiences living in the Sahara with her Spanish husband Jose Maria Quero. The Ministry of Culture has uploaded the English translation of some of her works on its platform "Books from Taiwan" at www.booksfromtaiwan.tw/.
Sanmao and Jose lived in Spain's Canary Islands in the 1970s. The local tourism authorities announced this year that they have mapped out a tour route in memory of the writer, hoping to attract millions of fans to travel there.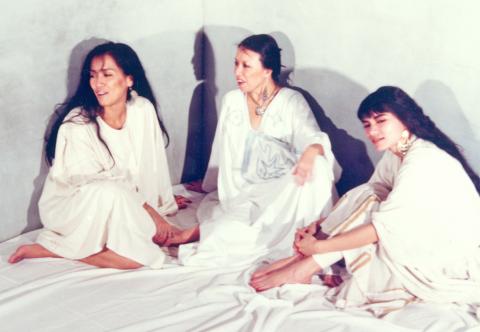 Writer Sanmao, center, and singers Chyi Yu, left, and Michelle Pan in a promotional photo for their 1985 album "Echo." 作家三毛(中)、歌手齊豫(左)、潘越雲,於一九八五年為她們的「回聲」專輯拍攝宣傳照。
Photo: CNA
照片︰中央社
(Eddy Chang, Taipei Times)
歌手齊豫、潘越雲為了紀念她們的好友、已故台灣作家陳平(筆名三毛),將於明日在台北小巨蛋共同舉辦演唱會,重新詮釋由這位傳奇作家填詞的「回聲」等專輯,讓她筆下的「夢田」、「橄欖樹」、「不要告別」等經典重現舞台。
三毛於一九九一年自殺身亡,生前著作豐富,包括一九七六年的暢銷書《撒哈拉的故事》等,該書描述和西班牙夫婿荷西在撒哈拉沙漠獨特的生活經驗。文化部已將部分作品的英語翻譯上傳至其平台「Books from Taiwan」: www.booksfromtaiwan.tw/。
三毛和荷西於一九七○年代曾居住在西班牙的加納利群島,當地旅遊主管年初宣布,已規劃好紀念這位作家的旅遊路線,希望能吸引數百萬粉絲前往旅遊。
(台北時報張聖恩)
Publication Notes
TODAY'S WORDS
今日單字
1. pseudonym n. 筆名 (bi3 ming2) 2. echo n. 回聲 (hui2 sheng1) 3. lyrics n. 歌詞 (ge1 ci2) 4. Sahara n. 撒哈拉沙漠 (sa1 ha1 la1 sha1 mo4) 5. tour route phr. 旅遊路線 (lu3 you2 lu4 xian4)
Comments will be moderated. Keep comments relevant to the article. Remarks containing abusive and obscene language, personal attacks of any kind or promotion will be removed and the user banned. Final decision will be at the discretion of the Taipei Times.