Taiwan's Indigenous Defence Submarine program goes out to tender 潛艦國造啟動 十二月簽設計主合約商
An open tender for the initial design phase for the navy's Indigenous Defence Submarine program will go live today, with the main design contract expected to be signed next month. The tender bid process for the main contractor will be restricted to domestic companies, according to Chief of Staff Vice Admiral Mei Chia-shu.
The Ministry of National Defense estimates design work on the new submarine program will be completed in three years and it will take a further five years to build a prototype, with the first submarine expected to be delivered in 2024 and put into service by 2025, following operational testing and evaluation.
The Legislative Yuan's Foreign Affairs and National Defense Committee on Thursday last week decided to completely abolish the NT$50 million budget for purchasing submarines from abroad next year.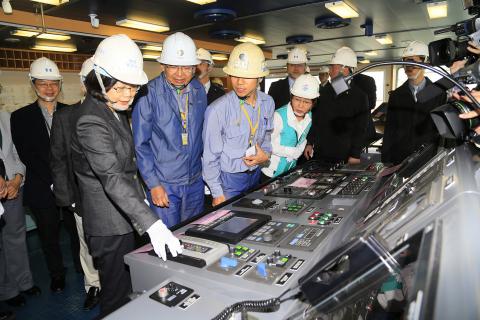 President Tsai Ing-wen, left, as a presidential candidate, inspects a production area at China Ship Building Corporation on Mar 10 this year. 蔡英文總統(前左),今年三月十日就職前於台船廠區巡視。
Photo: CNA
照片:中央社
(Liberty Times, translated by Edward Jones)
「潛艦國造第一階段合約設計」將今日開標,預計十二月就會簽訂潛艦設計主合約商;海軍參謀長梅家樹中將表示 ,潛艦設計主合約商絕對是國內廠商。
根據國防部預估時程,海軍花三年完成新型潛艦構型設計後,將花五年時間建造原型艦,預計二○二四年完成,隔年完成作戰測評後成軍。
立法院外交及國防委員會上週四決議,明年度五千萬元外國潛艦採購預算全數刪除。
(自由時報記者涂鉅旻)
Comments will be moderated. Keep comments relevant to the article. Remarks containing abusive and obscene language, personal attacks of any kind or promotion will be removed and the user banned. Final decision will be at the discretion of the Taipei Times.