Architectural award for Taoyuan Airport Terminal 1 桃機一航廈 獲台灣建築首獎
The publishers of Taiwan Architect Magazine, the Taiwan Architects Association, announced on Nov. 10 that the improvement work on Terminal One of Taoyuan International Airport, completed in June 2013, has been awarded the first prize in the Oscars of the Taiwan architecture world, the 2014 Taiwan Architecture Award.
Members of the evaluation committee noted the way in which the Terminal One improvement project utilized a third floor outside terrace, the design concept being the wings of a giant bird in flight, incorporating the idea of the traditional Eastern curved roof, with the arrangement of the steel struts making the architectural structure more stable. The design also covered the large area of the original platform, so that there was no need to increase the flooring on any floor, and this created imposing new areas such as the third floor arrivals and immigration hall. The cost of this improvement project was only 1/20, and it created only 1/10 of the carbon emissions and produced only 1/30 of the waste soil, compared to pulling down the old terminal and constructing a new one.
(Liberty Times, translated by Paul Cooper)
中華民國全國建築師公會雜誌社十一月十日公布,於二0一三年六月完工的桃園國際機場第一航廈改善工程,榮獲台灣建築界奧斯卡獎─二0一四「台灣建築獎」的唯一首獎。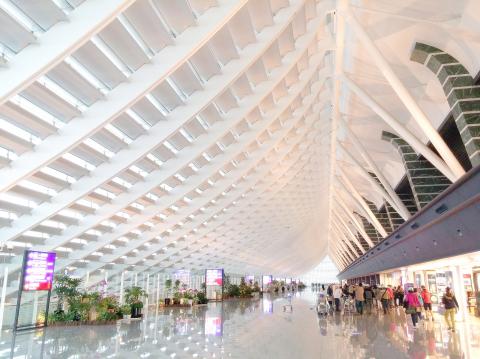 The spacious view in the design of the improved Taoyuan International Airport Terminal One is the highlight of the improvement project. 桃園機場一期航廈改建工程高挑寬闊視野的設計,是改建工程設計上最大的亮點。
Photo: Yao Chieh-hsiu, Liberty Times
照片:自由時報記者姚介修
評審委員認為,第一航廈改善工程在建築設計上利用了三樓室外平台,以飛行中的巨大鳥翼為設計概念,融入東方傳統的大屋頂意象,鋼構骨架排列法也使得建築結構更為穩固,覆蓋原有的平台加大面積,因此無須增加任何樓地板,也營造出氣勢宏偉的三樓入境證照查驗大廳等新擴區。改善工程與拆除舊航廈重建相比,費用僅約二十分之一、碳排放僅十分之一,廢土量更降低至三十分之一。
(自由時報記者姚介修)
Publication Notes
TODAY'S WORDS
今日單字
1. improvement work n. phr.
改善工程 (gai3 shan4 gong1 cheng2)
例: The improvement work for this new area will take at least 10 months.
(這個新區域的改善工程將持續至少十個月。)
2. imposing adj.
氣勢宏偉的 (qi4 shi4 hong2 wei3 de5)
例: The art installation is three storeys tall. It is very imposing.
(該裝置藝術有三層樓高。非常宏偉。)
3. carbon emissions n. phr.
碳排放 (tan4 pai2 fang4)
例: The aim is to reduce carbon emissions by another 5 percent within 10 years.
(目標是十年內再降低百分之五的碳排放量。)
Comments will be moderated. Keep comments relevant to the article. Remarks containing abusive and obscene language, personal attacks of any kind or promotion will be removed and the user banned. Final decision will be at the discretion of the Taipei Times.