Dads told not to walk their daughters down the aisle 爸爸別陪女兒走紅毯
Brides in Stockholm who want their fathers to walk them down the aisle are likely to be told it can't be done, as some pastors are refusing to allow the practice they say is sexist, a pastor said in late September.
"In Sweden we have worked hard in many different ways to eliminate everything that is unequal," said Yvonne Hallin, a Lutheran Church vicar in the Stockholm region.
She said she would not allow the custom in her parish and noted that Stockholm's bishop issued a recommendation in 2003 that pastors discourage it.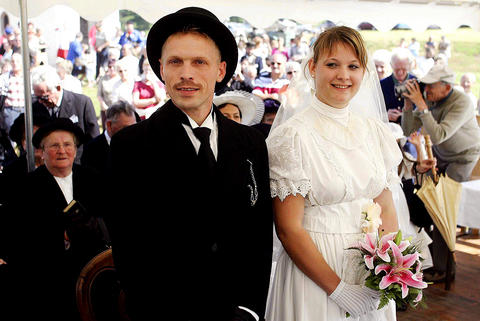 A 19th century wedding reenactment, held in Fresse sur Moselle, France, June 24, 2007. 今年六月二十四日,在法國的Fresse sur Moselle上演一場十九世紀的婚禮.
PHOTO: EPA
Couples who marry "are equal when it comes to finances, politics, values ... but when they come to the church ... the woman suddenly turns into a man's property," she said.
Hallin said she has informed a father who was to walk his daughter down the aisle on Sep. 22 that he would not be doing so.
The news rubbed the mother of the bride the wrong way, who said that the ceremony would go ahead as planned but that the couple had had to give in to the pastor's wishes.
"In this case it wasn't the couple who became angry but the parents," Hallin said, adding that most people "don't find it strange."
She noted that the custom of fathers walking their daughters down the aisle "is not a Swedish tradition. It has been imported from American and British films."
But even in America and Britain, many brides do not have their fathers accompany them while walking down the aisle. Some choose to walk alone as a sign of their independence.
(STAFF WRITER, WITH AFP)
那些希望由父親陪著自己走紅地毯的斯德哥爾摩新娘們可能要失望了,因為有些牧師不容許這樣性別歧視的儀式,一位牧師於今年九月下旬時說。
「在瑞典,我們一直努力以各種方式消除一切不平等的事情,」斯德哥爾摩地區一座路德派教堂的女牧師伊凡.哈琳說。
她說她自己的教區不允許這種習俗,並指出,斯德哥爾摩的主教在二○○三年建議牧師,不要鼓勵這樣的做法。
「夫妻不管是在財務、政治、價值觀等方面都是平等的,但是當他們一來到教堂,女人好像一下子變成男人的財產,」她說。
哈琳說她已通知一位原本今年九月二十二日要陪她女兒走紅地毯的父親不要這麼做。
這件消息惹惱了新娘的媽媽,她說典禮還是會照原定計畫進行,只不過這一對新人還是得向牧師低頭。
哈琳說:「發生這樣的事情,生氣的不是那一對新人,而是他們的父母,」她補充說,其實大部分的人「並不覺得這種做法很奇怪。」
她還表示,父親陪同出嫁女兒走上紅地毯並不是「瑞典的傳統,而是從美國和英國電影上學來的。」
然而即使在美國或是英國,有很多新娘走上紅地毯進行婚禮時,沒有父親的陪同。有些人選擇獨自一個人走紅地毯,象徵她們的獨立自主。
(法新社/翻譯:楊鴻泰)
Publication Notes
TODAY'S WORDS 今日單字
1. aisle n. 走道 (zou3 dao4) 例: Please keep the aisle clear. (請保持走道的暢通。) 2. sexist adj. 性別歧視的 (xing4 bie2 qi2 shi4 de5) 例: His comments were sexist and will not stand. (他充滿了性別歧視的言論,無法成立。) 3. parish n. 教區 (jiao4 qu1) 例: Suzie is friends with many people in her parish. (蘇姬在她的教區裡,有很多的朋友。) 4. import v.i./v.t. 進口 (jin4 kou3) 例: What is it that you're trying to import? (你要進口的東西是什麼啊?)
Publication Notes
SAY WHAT? 說說看
rub sb the wrong way 惹惱某人 If you rub people the wrong way then you do something that makes them angry or irritated. For example, "The lawyer's comments really rubbed the crowd the wrong way; I thought things were going to turn violent." People who are irritated by something might say that something is getting on their nerves. For example, "Huey kept making sexist comments. After a while, he was really getting on my sister's nerves." 如果你「rub people the wrong way 」,表示你做令他們生氣或是惱怒的事情。例如:「那位律師的評論真的惹惱了群眾;我覺得事情會轉趨暴力激烈」。 如果有人因為某事而感到惱怒,他們可能會說「something is getting on their nerves」。例如:「休易一直發表性別歧視的言論。不久之後,他真的惹毛了我姐姐」。
Publication Notes
OUT LOUD 對話練習
Sherry: I went to my best friend's wedding over the weekend. Rory: That must have been fun. Did you get to see a lot of your old friends? Sherry: Yes, and I found out that most of my school friends aren't married yet. Rory: There must have been a crowd trying to catch the bouquet. Sherry: There sure was. I was a bit down in the dumps after I missed out on a chance to grab it. 雪莉:我上週末去參加我最好的朋友的婚禮。 羅力:那一定很好玩。你有見到很多老朋友嗎? 雪莉:有啊,而且我發現我在學校認識的朋友大多還沒有結婚。 羅力:一定有一群人爭先要搶捧花。 雪莉:那是當然的。我還因為沒接到捧花,心情有點低落。 down in the dumps 心情糟透了 People who are down in the dumps are really upset about something. For example, "James was really down in the dumps about losing his cell phone until his wife went and got him a new one." 如果一個人「down in the dumps」,表示他們因為某事而心情糟透了。例如:「詹姆士因為遺失手機,心情糟透了,直到他老婆買了一支新的給他心情才好轉」。
Comments will be moderated. Keep comments relevant to the article. Remarks containing abusive and obscene language, personal attacks of any kind or promotion will be removed and the user banned. Final decision will be at the discretion of the Taipei Times.